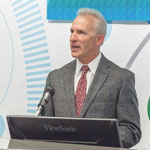 By Rick Outzen
Late Friday, Aug. 3, Pensacola City Administrator Eric Olson notified his department heads that he was resigning, effective 5 p.m. He told them that he had planned to stay on the job no later than November, but Mayor Hayward said that now was the right time for him to leave.
At 5:01 p.m., the mayor's office put out an official statement, "Mayor Hayward announced today that Eric Olson has relinquished his role as city administrator now that the fiscal year 2019 budget workshops are complete."
"Eric has helped lead this Administration—and the city—to new heights. I will miss Eric's insight, unwavering discipline and infectious enthusiasm for the hard work of municipal government," said the mayor. "I am confident that he has laid a strong foundation that will allow our administration to complete the first mayoral transition under our new form of government."
Hayward named Assistant City Administrator Keith Wilkins to replace Olson as city administrator through the end of his term.
Olson served Hayward as his administrator longer than his three predecessors, Bill Reynolds (August 2011-July 2013), Colleen Castille (July 2013-August 2014) and interim Dick Barker (September 2014-March 2015).
The retired Navy officer joined the mayor's office staff in August 2013 as an initiatives coordinator, having worked as a veteran outreach coordinator for Habitat for Humanity. A year later, he was named assistant city administrator when Castille announced her resignation. Privately, city council members were told the mayor would appoint him city administrator in six months once Olson could beef up his resume to show he had at least some municipal leadership experience. Mayor Hayward appointed Eric Olson as city administrator at the end of March 2015.
Troubled Beginning
Olson was supposed to run the city in tandem with Chief Operations Officer Tamara Fountain, who also had no municipal experience before she was hired as a communications consultant to the mayor's office in September 2012. The partnership fell apart when the media began to question Fountain's qualifications and Mayor Hayward misstated that she had a master's degree. Fountain submitted her resignation in August 2015.
Olson immediately got in trouble when he tried to silence the head of the city's oldest neighborhood association, North Hill Preservation Association. Melanie Nichols was questioning the legality of a radio tower in the Long Hollow Conservation District.  Olson contacted Nichols' boss complaining that Nichols, a federal employee, had used her official email account to contact city staff.
When questioned by the media, Olson claimed that he noticed the alleged violation while routinely reviewing council memos. To defend his action, he said that Nichols had sent 349 emails from his office account over three years. He didn't explain why he didn't just call Nichols about the "problem" and instead went to her boss.
Inweekly analyzed the 349 emails that were found. After subtracting auto-replies, forwards, duplications, out of office emails and replies to city employees, the actual number Nichols sent in three years was 63—less than two a month over the three years. City staff knew Nichols and wasn't intimidated by her correspondence.
Olson followed up his blunder with an executive order banning city staff from responding to any emails from federal government accounts. Inweekly and the First Amendment Foundation protested stating the directive violated the citizens' rights to public records. The state attorney's office agreed, and Olson had to rescind his order.
When his dispute with Nichols was reported, the city administrator barely survived a "no confidence" vote when the city council tied 4-4 on the vote.
Six months later, when the city put Fire Chief Matt Schmitt and Deputy Fire Chief Joe Glover on administrative leave, Inweekly discovered that the mayor's office had failed to establish an independent appeal board and changed the appeal process to limit the men's ability to challenge the decision. The newspaper also found the new HR policy manual had been uploaded to the city's website after the chiefs were placed on leave.
Olson met with New Journal's editorial board and came up with this explanation, "There are two boxes that showed up on your door. They're not connected, but they showed up at your door on the same day. One box is an investigation; one box is an HR manual change."
The "two boxes" theory got little traction. Olson also stated on a local morning show that Schmitt and Glover were placed on administrative leave in response to the EEOC complaints they filed. It's illegal to retaliate against an employee for filing an EEOC complaint. Olson's comment has been integral to the chiefs' lawsuits against the city.
Hiding Out
Olson gradually became more reclusive. He instructed city staff to only use emails when absolutely necessary to avoid creating public records. His reports at city council meetings became shorter and often included department heads filling his time with updates. He cut off council members from asking many questions of staff during public meetings and instructed to meet privately with them instead.
The city administrator struggled to complete the mayor's agenda. At the end of his term, Mayor Hayward touted two economic development projects, the fish hatchery at Bruce Beach and DeepFlex at the Port of Pensacola. Olson failed to complete any of them.
The fish hatchery became ensnared in a legal dispute because the city didn't keep track of the commencement deadline or request an amendment to the contract. The Florida Fish and Wildlife Conservation Commission canceled the deal in June.
While he was running for re-election in June 2014, Mayor Hayward announced DeepFlex would bring 200 jobs and $50 million in capital investment to the Port. Because of the collapse of the oil prices, the project had stalled by the time Olson took over city operations. He finally admitted to the council in August 2016 that the project was dead. However, he did nothing to help the Port for the next two years. The council approved an economic feasibility study in September 2016, but the study wasn't started until two months ago.
The mayor's most significant achievement, ST Engineering at the Pensacola International Airport, had to be taken over by consultant David Penzone because the Escambia Board of County Commissioners lost faith in Olson and didn't want him making presentations to their board anymore after dealing with him on the gas tax allocation.
Had he not resigned, Olson would have faced another "no confidence" vote over how he mishandled the city's recycling. In October 2017, the city discontinued sending its curbside recycling to Tarpon Paper and started taking it to the landfill. Olson was forced to send the council a memo regarding the decision when Councilwoman Sherri Myers placed a discussion of recycling on the council's May agenda.
Olson tried to make it look like the recycling had only been a problem since March, but Inweekly discovered the last recycling sent to Tarpon Paper was in late September 2017. The public had faithfully put their recycling bins on the curb every week while Olson hid his decision not to act sooner to work out a recycling contract with the Emerald Coast Utility Authority.
Until last Friday, Mayor Hayward had stood by his administrator after each of his miscues. It's surprising that the mayor wouldn't want Olson to help him complete his final three months in the city hall.
Stay tuned. There may be more to this story.