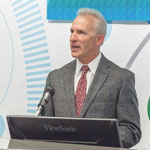 By Rick Outzen
Late Friday, Aug. 3, Pensacola City Administrator Eric Olson notified his department heads that he was resigning, effective 5 p.m. He told them that he had planned to stay on the job no later than November, but Mayor Hayward said that now was the right time for him to leave.
At 5:01 p.m., the mayor's office put out an official statement, "Mayor Hayward announced today that Eric Olson has relinquished his role as city administrator now that the fiscal year 2019 budget workshops are complete."
"Eric has helped lead this Administration—and the city—to new heights. I will miss Eric's insight, unwavering discipline and infectious enthusiasm for the hard work of municipal government," said the mayor. "I am confident that he has laid a strong foundation that will allow our administration to complete the first mayoral transition under our new form of government."
Hayward named Assistant City Administrator Keith Wilkins to replace Olson as city administrator through the end of his term.
Olson served Hayward as his administrator longer than his three predecessors, Bill Reynolds (August 2011-July 2013), Colleen Castille (July 2013-August 2014) and interim Dick Barker (September 2014-March 2015).
The retired Navy officer joined the mayor's office staff in August 2013 as an initiatives coordinator, having worked as a veteran outreach coordinator for Habitat for Humanity. A year later, he was named assistant city administrator when Castille announced her resignation. Privately, city council members were told the mayor would appoint him city administrator in six months once Olson could beef up his resume to show he had at least some municipal leadership experience. Mayor Hayward appointed Eric Olson as city administrator at the end of March 2015.
Troubled Beginning
Olson was supposed to run the city in tandem with Chief Operations Officer Tamara Fountain, who also had no municipal experience before she was hired as a communications consultant to the mayor's office in September 2012. The partnership fell apart when the media began to question Fountain's qualifications and Mayor Hayward misstated that she had a master's degree. Fountain submitted her resignation in August 2015.
Olson immediately got in trouble when he tried to silence the head of the city's oldest neighborhood association, North Hill Preservation Association. Melanie Nichols was questioning the legality of a radio tower in the Long Hollow Conservation District.  Olson contacted Nichols' boss complaining that Nichols, a federal employee, had used her official email account to contact city staff.
When questioned by the media, Olson claimed that he noticed the alleged violation while routinely reviewing council memos. To defend his action, he said that Nichols had sent 349 emails from his office account over three years. He didn't explain why he didn't just call Nichols about the "problem" and instead went to her boss.
Inweekly analyzed the 349 emails that were found. After subtracting auto-replies, forwards, duplications, out of office emails and replies to city employees, the actual number Nichols sent in three years was 63—less than two a month over the three years. City staff knew Nichols and wasn't intimidated by her correspondence.
Olson followed up his blunder with an executive order banning city staff from responding to any emails from federal government accounts. Inweekly and the First Amendment Foundation protested stating the directive violated the citizens' rights to public records. The state attorney's office agreed, and Olson had to rescind his order.
When his dispute with Nichols was reported, the city administrator barely survived a "no confidence" vote when the city council tied 4-4 on the vote.
Pages: 1 2