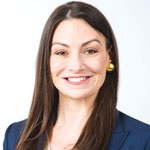 In anticipation of the August primary and November general election, Inweekly has created this series to introduce you to the candidates who will be on your ballots. We'll mostly focus on local stuff, but statewide races and Congress will also be on our radar.
This week, we talked to Nikki Fried—an attorney and children's advocate who's running to be Florida's Commissioner of Agriculture and Consumer Affairs.
—————————————————–
By Rick Outzen
When she announced her candidacy for the Democratic nomination to be Florida's Commissioner of Agriculture and Consumer Affairs, Nikki Fried released a video that made it clear where she stood on two controversial issues—medical marijuana and guns.
"There is no clearer example of our broken government than medical marijuana and this deadly weapon," Fried said in the video, while images of an assault rifle being fired were displayed. "One helps sick and dying Floridians and is over-regulated, and the other one is used to terrorize our schools and our communities and is barely regulated at all."
Fried is a Fort Lauderdale-based attorney and lobbyist that received her undergraduate, masters and law degrees from the University of Florida, where she was student body president, Blue Key Society member and named to the UF Student Hall of Fame.
In 2014, she received an award from the Florida Bar's Legal Needs of Children Committee "for her leadership of Florida's Children First lobbying team," according to her biography. Two years ago, she founded Igniting Florida in 2016 and played an integral role in the passage of HB 307, relating to the usage of medical marijuana for those who are terminally ill.
Recently, Fried stopped by the Inweekly office to talk about her campaign. Fixing the state's regulations regarding medical marijuana was very much on her mind.
"I've been in the cannabis space for four to five years and seen how much it's helping our citizens and how much Tallahassee really messed up its implementation," she said. "It will take somebody like me, who understands the moving parts and understands Tallahassee, to go in and try to fix the cannabis side and expand it."
By expansion, Fried means creating an industrial hemp industry under the Florida Department of Agriculture. She believes it could have a $30-40 billion impact on the state's economy.
"Industrial hemp can be used instead of Styrofoam and paper cups and straws," she told Inweekly. "It would bring more manufacturing jobs back into the state because you need to not only be able to grow the hemp but then process it."
She had the medical marijuana regulations have made it difficult for patients and doctors.
"The patient-doctor regulations are ridiculous," said Fried, "the fact that your doctor has to go through, obviously, your exam, and then the process of the 15-page waiver forms, and then the waiting for your ID cards and the doctor having to put on the registry the amount of dosage and frequency."
She continued, "And so doctors that are in the mainstream aren't getting onto the registry. You're getting these pill mill doctors, just transferring over their practices and making a bad name for the industry. You're not getting medical marijuana into the hands of the people that need it."
Fried would like to see the entire process streamlined and made more accessible for the patients without putting doctors in the situation of getting their licenses revoked.
Pages: 1 2