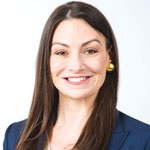 In anticipation of the August primary and November general election, Inweekly has created this series to introduce you to the candidates who will be on your ballots. We'll mostly focus on local stuff, but statewide races and Congress will also be on our radar.
This week, we talked to Nikki Fried—an attorney and children's advocate who's running to be Florida's Commissioner of Agriculture and Consumer Affairs.
—————————————————–
By Rick Outzen
When she announced her candidacy for the Democratic nomination to be Florida's Commissioner of Agriculture and Consumer Affairs, Nikki Fried released a video that made it clear where she stood on two controversial issues—medical marijuana and guns.
"There is no clearer example of our broken government than medical marijuana and this deadly weapon," Fried said in the video, while images of an assault rifle being fired were displayed. "One helps sick and dying Floridians and is over-regulated, and the other one is used to terrorize our schools and our communities and is barely regulated at all."
Fried is a Fort Lauderdale-based attorney and lobbyist that received her undergraduate, masters and law degrees from the University of Florida, where she was student body president, Blue Key Society member and named to the UF Student Hall of Fame.
In 2014, she received an award from the Florida Bar's Legal Needs of Children Committee "for her leadership of Florida's Children First lobbying team," according to her biography. Two years ago, she founded Igniting Florida in 2016 and played an integral role in the passage of HB 307, relating to the usage of medical marijuana for those who are terminally ill.
Recently, Fried stopped by the Inweekly office to talk about her campaign. Fixing the state's regulations regarding medical marijuana was very much on her mind.
"I've been in the cannabis space for four to five years and seen how much it's helping our citizens and how much Tallahassee really messed up its implementation," she said. "It will take somebody like me, who understands the moving parts and understands Tallahassee, to go in and try to fix the cannabis side and expand it."
By expansion, Fried means creating an industrial hemp industry under the Florida Department of Agriculture. She believes it could have a $30-40 billion impact on the state's economy.
"Industrial hemp can be used instead of Styrofoam and paper cups and straws," she told Inweekly. "It would bring more manufacturing jobs back into the state because you need to not only be able to grow the hemp but then process it."
She had the medical marijuana regulations have made it difficult for patients and doctors.
"The patient-doctor regulations are ridiculous," said Fried, "the fact that your doctor has to go through, obviously, your exam, and then the process of the 15-page waiver forms, and then the waiting for your ID cards and the doctor having to put on the registry the amount of dosage and frequency."
She continued, "And so doctors that are in the mainstream aren't getting onto the registry. You're getting these pill mill doctors, just transferring over their practices and making a bad name for the industry. You're not getting medical marijuana into the hands of the people that need it."
Fried would like to see the entire process streamlined and made more accessible for the patients without putting doctors in the situation of getting their licenses revoked.
"The department has just dropped the ball a lot," she said. "We keep hearing that all the stalling has happened in the last seven to eight months, and the new licensing is because the governor doesn't want new licenses under his administration, point blank."
Current Agriculture Commissioner Adam Putnam has been criticized for his agency failing to review national background checks on tens of thousands of applications for concealed weapons permits due to a software issue.
When asked about the snafu, Fried said, "The buck stops at the top. There are systematic problems, and not just the permitting of concealed weapons, but also in the hunting licenses and the security guards. And so what that tells me is there was a culture inside of that office that these things were not important."
She believes the culture of the agency was to see how fast permits could be granted at any cost.
"There's a reason why there's a process," said Fried. "And there's a reason why it's under that department. It's because of consumer protection, and that wasn't done."
She said, "For Adam to have shifted the blame any time along the way is irresponsible on his part. He should have immediately, once figuring out that there was a problem, notified the governor, notified the legislature, notified the public that, 'Hey, look, we've noticed there's a problem. We've fixed it. This is how we're going to make sure we don't do it again.'"
When elected, Fried plans to audit the permitting process, review the rules and determine whether they're adequate.
"We make sure that everybody goes through a proper background check, that it's completed, however long it takes," she said. "Sure, it's maybe going to take a little bit longer, but you know what, you can wait a couple more weeks for your permit. I don't know why you need to be expedited to such an extreme that you're missing major steps along the way."
Besides medical marijuana and gun permits, Fried is concerned about fraud.
"We are number one in fraud in the entire country in South Florida on gas station pumps," she said. "There is a cartel down in South Florida that is skimming the chip readers in all of the gas station pumps."
She continued, "And, especially, I've seen in South Florida the IRS scams, and a lot are senior citizens that are getting these phone calls, and they think they're getting these warrants or getting arrested for not paying their IRS. They don't understand what's going on."
Can a Democrat win a statewide election?
Fried thinks she can because the Republicans are having to move so far to the right to win their primaries.
"All are wanting that Trump endorsement," she said. "That may get them out of the primary, but that won't get them out of the general. You're going to see a lot more Independents that are definitely going to swing toward the Democratic Party."
Fried added, "I believe that my candidacy is a new face of agriculture. I think the state of Florida is looking for something new, something different. While I don't come from traditional agriculture, I'm going to fight like I did. And they're looking for somebody who has the progressive forward thinking of where we can move agriculture and somebody who's gonna protect the consumer."
LEARN MORE ABOUT NIKKI FRIED
Website: nikkifried.com
Twitter: @NikkiFried
Facebook: facebook.com/NikkiForFL