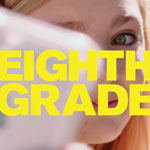 By Joshua Encinias
20th-century poet W. H. Auden called the industrialized world anxiety-inducing, and, in 2018, a lot of that anxiety comes from social media.
Instagram and Snapchat have turned picture sharing into a competition, reversing the words of Fred Rogers, "You don't ever have to do anything sensational for people to love you." Great becomes an enemy of the good; quiet moments are choked of their meaning. The struggle isn't new, and it's experienced by everyone, including teenage girls and famous male comedians alike. That's where the new movie "Eight Grade" finds its sweet spot.
The film explores the anxiety once only experienced by performers that's now ubiquitous and democratized by social media.
Written and directed by 27-year-old comedian Bo Burnham, "Eighth Grade" explores a teenage girl's quiet desperation.
"I felt like my anxiety was very specific to me being a comedian with an audience. Then I would do my shows, and like young kids would come up to me and said they felt like me," Burnham said in an H3 Podcast interview.
15-year-old actress Elsie Fisher portrays Kayla, a normal middle school girl. It's her last week of middle school, and her burgeoning social life is in view. But the gap between who she was in middle school and who she's becoming is a ravine made wider, not minimized, by technology. Kayla's stuck in her room like any other kid, but watching schoolmates on social media drives her FOMO to parrot self-help platitudes on her YouTube channel. It makes her actual social interactions cringy but hilariously relatable.
Since opening at Sundance, "Eighth Grade" has been winning audiences over with its humor and humanity, and Pensacola moviegoers are finally getting a chance to see it. In anticipation of the film expanding and coming to more screens, we talked to Fisher about making the movie and how it compares to her real life.
Pages: 1 2