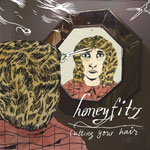 By Joshua Dylan Carroll
"I think I'm gonna bleach my hair again. This time I'll do it on my own. Wild how I'm packing up again."
These lines open the second track off the newest release by Elihu Jones, the artist behind the Western Massachusetts band Honeyfitz.
"Cutting Your Hair" is a four-track EP released earlier this summer and captures the best elements of Jones's road-tested rural pop soundscapes. The rich guitar tones and doubled vocal tracks will be familiar to those who have been following Honeyfitz over the years, while distilling the best of Jones's previous releases into a tight 11 minutes. The digital release is tagged under "bedroom pop"—a descriptor which weaves together the acoustic guitar-driven songs of folk punk with the hazy vaporwave of early Myspace releases. Think Gregory and the Hawk meets Real Live Tigers. The sounds of online DIY that "Cutting Your Hair" triggers is a dreamy side effect of the release, complementing Jones's increasingly distinct composition. Jones recorded all the instruments for the record, continuing to utilize his MPC 1000 for the percussion.
Recently, Inweekly spoke to Jones about "Cutting Your Hair," what's going on in Massachusetts and his upcoming show at The Handlebar.
INWEEKLY: Where's home base for you right now? What are your tour plans for the year?
JONES: I live in Western Massachusetts, which is where I was born and raised. I love it here, and I'm always sad to leave. A big theme in my life has been being a resident of a big college area where lots of people are transplants or are only living here temporarily. I've done three tours this year already. I'll be leaving for my fourth in August.
Pages: 1 2