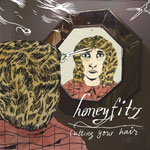 By Joshua Dylan Carroll
"I think I'm gonna bleach my hair again. This time I'll do it on my own. Wild how I'm packing up again."
These lines open the second track off the newest release by Elihu Jones, the artist behind the Western Massachusetts band Honeyfitz.
"Cutting Your Hair" is a four-track EP released earlier this summer and captures the best elements of Jones's road-tested rural pop soundscapes. The rich guitar tones and doubled vocal tracks will be familiar to those who have been following Honeyfitz over the years, while distilling the best of Jones's previous releases into a tight 11 minutes. The digital release is tagged under "bedroom pop"—a descriptor which weaves together the acoustic guitar-driven songs of folk punk with the hazy vaporwave of early Myspace releases. Think Gregory and the Hawk meets Real Live Tigers. The sounds of online DIY that "Cutting Your Hair" triggers is a dreamy side effect of the release, complementing Jones's increasingly distinct composition. Jones recorded all the instruments for the record, continuing to utilize his MPC 1000 for the percussion.
Recently, Inweekly spoke to Jones about "Cutting Your Hair," what's going on in Massachusetts and his upcoming show at The Handlebar.
INWEEKLY: Where's home base for you right now? What are your tour plans for the year?
JONES: I live in Western Massachusetts, which is where I was born and raised. I love it here, and I'm always sad to leave. A big theme in my life has been being a resident of a big college area where lots of people are transplants or are only living here temporarily. I've done three tours this year already. I'll be leaving for my fourth in August.
INWEEKLY: Can you talk about how this new EP came together?
JONES: Making "Cutting Your Hair" was actually a far less collaborative process than my music usually is. There's one song that features Emily Carter of the band OroborO (as well as some other friends) on vocals, but otherwise, I made all the music myself. It's my last project recorded in the way I've traditionally made music, which involves recording all the basic tracks to cassette and then doing digital overdubs. It was mixed by Andrew Oedel at Ghost Hit Recording, who also mixed my record "Old Patterns," and they are an absolute genius. Everyone in my scene is working with him these days, for good reason.
INWEEKLY: Are you collaborating with other artists or collectives on a regular basis?
JONES: Gabe Gill is my pop star friend and my most frequent collaborator. We write together better than anyone else I've ever worked with. I also live with members of Snowhaus and OroborO. It's a huge blessing to be surrounded by other people who are so focused on music. I'm indebted to all of them, even if most of our collaboration is through osmosis.
INWEEKLY: A lot of people that have discovered Honeyfitz first heard you playing while on tour. How do you feel about the state of the scene this year?
JONES: I have some big gripes with the house show/DIY scene, but on the whole, it's a world that I love being a part of. I love feeling tapped into small and close-knit scenes all over the East Coast. Obviously, every town has ebbs and flows in the quality of their scene, but in general, those balance each other out.
INWEEKLY: Any highlights from these most recent tours? What's the weirdest show you've played?
JONES: The wildest show didn't actually happen, which was in Hattiesburg, Miss., this past January. We ended up having to leave the venue before the music even started, but suffice to say the night involved a bar owner who had no idea the show was happening, a non-existent booker and a missing sound person. There have been excellent shows in Clemson, Pittsburgh and Lancaster, though.
INWEEKLY: Are there any records or bands that have come your way recently that you really love? Are there any releases you want to gush about and want people to check out?
JONES: I love being able to listen to music made by my best friends. Gabe Gill put out his debut record this year ("Carousel Pt. 1"), and it's everything I want in a pop record. "Where Blew A Flower, May A Flower No More" by Apricot Blush is an incredible record by a band I toured with this winter. It's like beautiful and weird folk songs. "They Don't End Pretty" is the long-awaited debut from Snowhaus. I like to describe it as pop punk, but only because that drives them crazy. They call it shred pop. OroborO is my favorite new Western Mass band, and their album from this past winter will melt your mind.
HONEYFITZ
WHAT: Honeyfitz with Marona, Ryan Oscillator and Goodwin Rainer
WHEN: 9 p.m. Thursday, Aug. 9
WHERE: The Handlebar, 319 N. Tarragona St.
COST: $5 (for 21 and up), $7 (for under 21)
DETAILS: honeyfitz.us