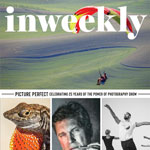 By Jennie McKeon
For 25 years, the Power of Photography Show has displayed the best work from both professional and amateur photographers in the area.
Two and a half decades and literally thousands of images later, there's still much to show.
"It's our silver anniversary," said Timothy Brooks, longtime member of the Wide Angle Photo Club, which hosts the Power of Photography Show.
The Wide Angle Photo Club started in 1988 and to this day features a mix of hobbyists and professionals who all share a passion for photography. The group's name indicates its inclusiveness for anyone who enjoys photography.
Once a month, the group meets to critique their latest work, learn new techniques and socialize. Members range from teens to retired folks. Some have thousands of dollars in photo equipment, and some snap photos with a smartphone. The club's annual fee is just $30.
"We learn from each other about new equipment and software," Brooks said. "The meetings are also a chance to fellowship. We encourage everyone to come to a meeting and check us out."
The Power of Photography Show had humble beginnings at multiple venues including the Santa Rosa County Fair, Cordova Mall and the meeting room of the Holiday Inn on Pensacola Beach before it came to the Pensacola Cultural Center, where it has been the last two years. The event is not only a chance for photographers to exhibit their work, but it's a show that gives back. For the past 12 years, the show has supported Arc Gateway, a nonprofit organization that provides programs and services for individuals with intellectual and developmental disabilities. Over the years, the Power of Photography Show has raised $60,000 for the nonprofit.
"It's really the best of two worlds," Brooks said.
It's also an opportunity for photographers of all skill levels to show their work. It's the largest photography show in the Panhandle with nearly 1,000 images submitted each year. A panel of three judges chooses the best of the entries for display and awards.
Brooks credits Wide Angle member Fernando Alemida for digitizing the submission process to cut costs, leaving more proceeds for Arc Gateway.
It doesn't matter how many years you participate in the show, seeing people enjoy your work never gets old.
"It's the only show I enter, and I always look forward to walking in the show and seeing my photo," Brooks said.
As someone who appreciates photography, Brooks also likes to see the other work exhibited. With the wide range of categories, there is literally something for everyone. Brooks said he's also inspired by the work that comes through the youth category—all photos submitted in that category are displayed in the show.
"Everyone has their own thing… their own style," Brooks said. "Some do a little bit of everything. And cell phones have changed everything in that everybody is a photographer, which is exciting."
Photographers are always challenging their best work, Brooks said. Events like this help engage those creative juices.
"Photographers always keep looking for better photos," he said. "During a recent trip I took, I remember I took a photo and thought it was amazing. But I kept trying to take a better one. I like this show because it shows me what I can do differently."
One category that incites creativity is "Digital Darkroom." Images can get "real funky," said Brooks.
"I'm more of a natural guy, but it does motivate my next photo," he said. "I'll think 'That's cool.' It gives me an idea."
The Power of Photography Show admission is free as a way to give a wide audience access to the photos on display. Brooks said he always wants to encourage people to appreciate photography as a form of art.
"It's not just taking a picture," he said. "I'd like people to appreciate it as they would any 2D art."
POWER OF PHOTOGRAPHY SHOW
WHEN: 5-9 p.m. Friday, Aug 17, 10 a.m.-5 p.m. Saturday, Aug. 18, and 10 a.m.-3 p.m. Sunday, Aug. 19
WHERE: Pensacola Cultural Center, 400 S. Jefferson St.
COST: Free
DETAILS: wideanglephotoclub.org