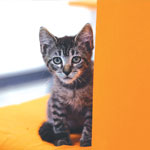 Winners
Escambia County Animal Shelter
The shelter's adoption, transfer and foster rates soared this summer, according to Animal Services Manager John Robinson. During June, July and August, the shelter saw 460 adoptions, nearly doubling the 265 adoptions they had during the same time period in 2017. The euthanasia rate has also decreased significantly. From a high of 61 percent in 2015 from January to August, the same period in 2018 was documented at 39 percent. The shelter also transferred 366 animals to other shelters in June, July and August, up from the 257 animals transferred in the same time period last year.
Friends of the West Florida Library
Friends of West Florida Public Library donated $25,000 to West Florida Public Libraries for youth program needs, such as Summer Reading Club supplies and educational performers and STEAM activities such as WFPL's robotics, science, art and engineering programs. Over the past 40-plus years, the Friends have raised more than $2 million to enhance the programs and services at West Florida Public Libraries.
BARC
The U.S. Environmental Protection Agency last week recognized the Bay Area Resource Council (BARC) as the recipient of a $2 million cooperative agreement. The goal of the project is to develop a new estuary program in the Florida Panhandle. The Gulf of Mexico Program began in 1988 to protect, restore and maintain the health and productivity of the Gulf of Mexico ecosystem in economically sustainable ways.
Losers
Bayview Park Cross
The debate over the constitutionality of the City of Pensacola's cross in Bayview Park may not be settled before Mayor Ashton Hayward leaves office. The U.S. 11th Circuit Court of Appeals unanimously ruled to uphold the lower court's ruling that the city maintaining a cross in a public park was unconstitutional, and the cross must be removed. However, two judges argued the precedent set by the 1983 case of ACLU of Georgia v. Rabun County Chamber of Commerce was wrong and wanted the U.S. Supreme Court to fix it. Judge Charles Ashley Royal wrote of the cross in his concurring opinion, "It is rooted in Pensacola's history. If the cross is a problem, it is only a local problem, not a constitutional problem." The city will appeal.
Amendments 7, 9 and 11
Leon County Circuit Judge Karen Gievers issued a seven-page order saying three constitutional amendments proposed by the Florida Constitution Revision Commission improperly "bundled" unrelated issues. Amendment 7 deals with governance of the state-college system and death benefits for survivors of first responders and military members. Amendment 9 would ban drilling and workplace vaping. Amendment 11 would remove constitutional language that prohibits "aliens ineligible for citizenship" from owning property and would revise language to make clear the repeal of criminal statutes does not affect the prosecution of crimes committed before the repeal. Attorney General Pam Bondi has appealed the ruling.