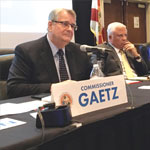 By Duwayne Escobedo
Don Gaetz's father, Jerry, served as mayor of the small town of Rugby, N.D.—the geographic center of North America—and later as a state senator.
At the dinner table, the topic of conversation often turned to politics. Jerry would tell his family about nepotism and pressure to give contracts to certain companies. A straight shooter, it disgusted him. He drilled into his children that public office should never be for private gain.
Those lessons stuck with his son, Don, who crusades today for Florida voters to approve the highest standards and ethics for elected officials in the United States. Amendment 12 appears on the general election ballot in November and would become part of the state constitution if voters support it.
"My father always said in a Democratic form of government, voters pretty much get what they deserve," said Gaetz, who served as Florida Senate president during his 22 years in public office.
"If they want higher standards from local and state government, then here's their chance. It's a simple yes or no," he shared. "We deserve a better government. Let's take a broom to local and state government."
Gaetz first won election as an Okaloosa County school system board member in 1994 and then superintendent in 2000. Gaetz moved on to the Florida Senate where he served from 2006-2016, including as Senate president from 2012-2014.
In the Florida Senate, he introduced eight bills strengthening ethics laws, and six became state laws.
Amendment 12, though, includes the most sweeping changes to how every local and state elected official and public employee conduct themselves, making them more accountable to the communities they serve.
"This last (ethics) crusade is one of the most important I've engaged in my public life," 70-year-old Gaetz said.
Amendment 12 established a six-year ban preventing legislators and other elected officials from lobbying the legislature or any other part of state government after they leave office. The current prohibition on making money as a lobbyist is two years after leaving office, and the ban applies only to the government agency that the official served.
The proposed amendment expands the prohibition against lobbying from the state government to federal and local governments and statewide officeholders, such as Cabinet members. It applies the same probation to state agency department heads who leave their jobs and judges after they leave the bench. Also, elected officials can't do paid lobbying while serving in office.
Additionally, Amendment 12 prohibits officeholders and public employees from using their positions to gain a "disproportionate benefit" for themselves or their families. This measure relies on the nine-member Florida Commission on Ethics to define a "disproportionate benefit" and determine penalties for violators by Oct. 1, 2019.
The "disproportionate benefit" part would take effect on Dec. 31, 2020, while the lobbying changes in Amendment 12 would take effect on Dec. 31, 2022.
The Ethics Commission has nine members, five appointed by the governor and two each by the House speaker and the Senate president. The commission lacks the power to initiate ethics and lobbying investigations on its own. According to its annual report, the commission fielded 180 complaints in 2017, the lowest number since 2011. Of those, 70 were dismissed, 87 were investigated, and 23 are pending.
Why have you heard so little about Amendment 12's lobbying and ethics reforms?
"No one has stood up and said, 'I'd like a debate on the issue. I'd like to take the other side,'" Gaetz said. "There is no Pro-Corruption Caucus. The opposition operates in the shadows."
That's why you won't see any TV or print commercials opposing Amendment 12 or political action committees raising funds to defeat the proposed lobbying and ethics reforms.
Instead, high-ranking Republicans and Democrats privately fight against the attempt to "clean the swamps" of political corruption, Gaetz said. His former peers approached him and asked him to back down from being a champion for the more stringent regulations called for in Amendment 12. Some asked him to water it down or even exempt them from the amendment, Gaetz reported incredulously.
"It's an uphill battle to get passed because there is no organized effort against it," Gaetz said. "Maybe it's just inherent in human beings that they cannot police their own actions. That's why we needed the Ten Commandments, and that's why we need Amendment 12."
Gaetz said the six-year ban against public officials being able to lobby resulted from a measure passed in the state House of Representatives by outgoing House Speaker Richard Corcoran.
Plus, Gaetz said, "Any influence you used to have is pretty much evaporated."
Gaetz said he is unable to swallow the fact fellow legislators get paid to lobby local governments on contracts on the weekends when they return to their homes. It angers him when others enter office with the expectation to earn more money once their term ends.
His father, Jerry, held down three jobs and chose to do public service to support his family. He would talk about officials trying to get relatives hired to "cushy" public jobs or put pressure on local officials to give contracts to certain companies so they could earn a kickback.
"I've seen too many examples of local officials and state officials who monetize public office," Gaetz said. "My father was physically revolted by the idea someone would use public office for private gain. I've tried to carry on that tradition in our family that my father instilled in me."
That's why he hopes this November, voters go to the polls and approve Amendment 12, making Florida the nation's leader in ethics in government.
——————————————
A YES vote on Amendment 12 would:
·Extend the ban on state lobbying by legislators and statewide elected officials from two to six years.
·Prohibit legislators and statewide elected officials from lobbying federal and local government agencies while in office.
·Prohibit top state agency employees from any lobbying while working for the state and from lobbying state government for six years after leaving their job.
·Prohibit local elected officials from getting paid to lobby anyone while in office and from lobbying their own governing body for six years after leaving office.
·Prohibit judges from lobbying any branch of state government for six years after leaving the bench.
·Prohibit any elected official or public employee from using his or her position to gain a "disproportionate benefit," a term to be defined by the Florida Commission on Ethics.
Source: League of Women Voters of Florida