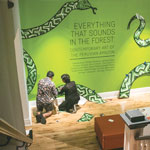 By Sam Smith
The first and only contemporary art exhibit in the United States that is influenced by the Peruvian Amazon can now be experienced in our very own backyard at Pensacola Museum of Art.
Beginning in an undergrad class, Gabriela Germana, independent curator and Ph.D. Candidate in Art History at Florida State University, encouraged students to develop an exhibition project on Peruvian Amazonian art due to her knowledge of Peruvian indigenous aesthetics, the students' relationship with contemporary global art context and borrowed pieces from artist, curator and independent researcher of Amazonian art Christian Bendayán's personal collection.
"The show was a success. I am very proud of the students who, without previously knowing anything about the subject, engaged very well with the pieces and their contexts. Amy Bowman-McElhone, the director of the Pensacola Art Museum, who is also a Ph.D. Candidate in Art History at FSU, proposed to present a bigger show on contemporary Amazonian art in the Pensacola Art Museum," expressed Germana.
By accepting the request, she asked to do the curatorial work alongside Bendayán, who had curated several different shows on the subject in various cities of Peru and abroad. Once the project was developed, Pensacola Art Museum accepted their concept to create an exhibit that included multiple perspectives about the Amazon with great enthusiasm, Germana stated.
The exhibit, titled "Everything that Sounds in the Forest: Contemporary Art of the Peruvian Amazon," opened last month and will be on view through Sunday, Oct. 21. It is a one-of-a-kind collection, consisting of paintings, photographs, embroideries and printings from international artists who were inspired by the Peruvian Amazon.
Germana explained that she feels it is under Bowman-McElhone's direction that the Pensacola Art Museum continues to break away from traditional stereotypes about art, and she believes this exhibit fits perfectly within these walls.
"We wanted to show, through the works of the artists, that the Amazon region is not only a big natural space, a big forest or a place where native communities live but that it is also a place with big cities and a vibrant urban life and that native and urban people and nature are all related to each other in many different ways. We wanted to break the stereotyped vision that presents the Amazon only as an idyllic place, without taking into account the complexities of a space where nature, tradition and modernity coexist," Germana said.
Therefore, these diverse influences account for all the unique sounds that emerge—from wildlife melodies to the native tongues to the hustle of modern cities and all the colorful entities in between. The title of the exhibit came from this concept and was inspired by the book "The Three Halves of Ino Moxo," which was written by a very important Amazonian writer, César Calvo, Germana explained.
Acting as the largest and most bio-diverse region of tropical rainforest in the world, the Amazon encompasses both complex urban life and ancestral groups. This collection features work produced by artists born in the Amazon region, those from Peruvian cities and even some artists from outside of Peru—all sharing a common theme of interest or influence of the Amazon. During the selection process, Bendayán and Germana found that despite different backgrounds, all the artists' interest existed around the same topics.
Artists Graciela Arias Salazar, Christian Bendayán, Lastenia Canayo, Enrique Casanto, Harry Chávez, Frank Gaudlitz, Thomas Locke Hobbs, Silvana Pestana, Gerardo Petsaín, Roldán Pinedo, Adrián Portugal, Inon Sani, Elena Valera, Rember Yahuarcani and Santiago Yahuarcani explore themes such as people, nature, traditional worldviews, ritual practices, myths, local customs and knowledge, gender and social issues.
The individual pieces selected were generously borrowed from Bendayán and Bufeo / amazonía+arte, a dedicated project that promotes and researches Amazonian art from Lima, Peru.
"It is fascinating to see how each big topic has been addressed by each artist according to its own perspective, interests and technique he or she is specialized in," Germana said.
Next to each piece of work, art enthusiasts can gain perspective into the artist's practice by reading the transcription of their influences and thoughts, most of which are extracts, which can be found from interviews in the book "Amazonistas."
From world views deep-rooted in nature, mythology and cosmic imaginary, to the struggle of female identity in new environments, to the bold and bright flora and fauna and honesty of transgender identities— this exhibit explores and opens the narrative that there is more to be seen and heard from the forest floors and walls of the great Amazon.
EVERYTHING THAT SOUNDS IN THE FOREST
WHAT: An exhibition featuring contemporary art of the Peruvian Amazon
WHEN: On view through Sunday, Oct. 21
WHERE: Pensacola Museum of Art, 407 S. Jefferson St.
COST: $7; $4 for children 3-14; free for members, children younger than 3 and UWF students
DETAILS: pensacolamuseum.org