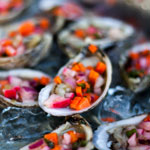 By Stephanie Sharp
Blue Collards Events, a culinary events incubator based in Pensacola, has a vision for growing the market for premium oysters in the Southeast, something beyond the stereotypical dozen oysters with a pitcher of light beer at a local seafood joint. That vision starts with Peat & Pearls.
Peat & Pearls is a four-day culinary event, pairing premium oysters with good scotch, curated wine lists and salon-style events but with a particular goal—focusing on the farmers that are transforming the oysters market as the Pensacola area knows it.
"We try to keep the focus on the farmers and let them tell their stories in their own words," said T.S. Strickland, founder and president of Blue Collards Events and Peat & Pearls event coordinator.
Strickland is hopeful that Peat & Pearls will serve as a platform to engage one-on-one with oyster farmers and immerse guests in the rich narrative of oyster farming on the Gulf Coast.
"If you really care about knowing where your food comes from, if you care about knowing the folks who produced it, if you like to engage with your food in that way, you will definitely enjoy it. That's what we're really all about, connecting people to the sources of their sustenance and really honoring the food."
Similar to how wine lovers can appreciate the ways that growing practices and environments can affect grapes and therefore the wine or how craft beer fans can get into the nitty-gritty of how certain hops or brewing practices can bring about their favorite beer, farming practices and specific environments are reflected in the flavor and texture of a premium Gulf oyster.
"The cool thing about oysters to me, the powerful thing, is that oysters are a metaphor for our coastal environment," said Strickland. "When you get people to engage with oysters in this way, they're really engaging with the stories of these farmers. A lot of them have really incredible, compelling stories. A lot of the traditional working waterfronts along the Gulf Coast are not in a great place. Our wild oyster fisheries are on the decline. That means not just lost livelihoods but really a way of life that's in danger in a lot of these communities. Oyster farming presents a solution to some of those problems."
Peat & Pearls represents not just great food and drink, not just connecting diners with farmers, but an opportunity to explore the depth of connection between the hospitality industry, food culture and the urgent concerns coastal environmentalism.
"We're trying to get people engaged with the story of our coastal environments. Oysters are a sentinel species. You can't produce beautiful oysters if you don't have beautiful water. You can't have good water quality if you don't protect your uplands. Oysters are a great vehicle for getting folks engaged with the environment."
Strickland doesn't expect people to come through the doors looking for a sustainability lesson. He knows they are looking for a great time and good food cooked by amazing chefs.
"But along the way, we hope to do a little bit of educating, definitely."
A NEW HORIZON FOR TOURISM
"At Blue Collards, our goal is to grow the culinary tourism sector in our area and, in the process, to create a local food community that is more just, sustainable and inclusive," said Strickland.
The caliber of talent that's come together for the second annual Peat & Pearls event makes it clear that this is much more than a farmer meet-and-greet or a lesson on healthy coastal environments.
Peat & Pearls' main event, Sunday's Grand Tasting at the Barkley House, will feature oyster farmers and celebrity chefs, along with a storytelling salon, cigar garden, craft corridor and a spirits program by William Grant & Sons. Blue Collards made it a priority to bring in culinary talent from farther afield than area foodies might have the opportunity to experience outside of Peat & Pearls.
"We're bringing in a lot of folks who maybe don't make a habit of coming to Pensacola," said Strickland.
The event spans four days, which is kicked off this year by a new event, the Pearl Promenade. This progressive pairing experience winds down Palafox Street, featuring premium oysters prepared by local chefs and wine from the Treasury Wine Estates portfolio. There will also be a Secret Supper, featuring Chefs Cody and Sam Carroll of New Orleans' Sac-a-Lait and the Food Network's "Cajun Aces."
Another addition to the Peat & Pearls weekend is the Women and Whiskey salon-style event, highlighting the perspective of women working in the oyster and whiskey industries, two spaces traditionally dominated by men. This event with feature a cocktail hour, panel discussion and after party.
"It's really interesting to see over the last few years, there's been a surge of interest from women jumping into the oyster farming industry. More women oyster farmers have popped up along the Gulf Coast and the Eastern seaboard. In the whiskey category, you're seeing a lot more women who are drinking whiskey these days as well," explained Strickland. "Both of those fields are traditionally male-dominated, and we're going to be highlighting the perspective of women in both of those fields at this event."
From the new event programming to details like custom-built raw bars from local maker Jeff Bere of Losobe Woodworks, Peat & Pearls aims to be an experience worth the price of admission and an impactful memory for each guest.
"More and more, people don't want to just go to a restaurant; they want to actually engage with it," said Strickland. "We want to step it up, provide a higher quality experience for travelers."
"We want to honor the oyster farmers. That's really what it's about, celebrating them and giving the pageantry they deserve," he added.
In addition to Peat & Pearls, Blue Collards will be bringing two new event concepts to Pensacola in 2019.
The first, called "Barleybrine," will be held in January and focused on oysters and craft beer. The second, to be held in March, is called the "Hoe Cake Throw Down." Strickland called the latter event a "contemporary riff on the age-old tradition of the harvest festival," focused on cornbread and bourbon.
PEAT & PEARLS 2018
WHEN: Thursday, Oct. 4-Sunday, Oct. 7
DETAILS AND TICKET INFORMATION: peatandpearls.com