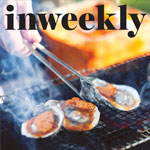 By Joani Delezen, Stephanie Sharp & Toria Clarke
Pensacola definitely knows how to turn up the heat during the summer, but we also know how to have a good time in the fall too. And most of those good times come courtesy of festivals, which we really do have at least one of pretty much every weekend for the next three months.
It doesn't matter if you're a foodie, a dog lover or an appreciator of the arts, there's a fall fest for you.
From the this month's Seafood Festival to November's Foo Foo Festival, here's your annual guide to local and regional can't-miss fall events.
—SEPTEMBER—
Taste of the Beach
Living next to the beach also means living next door to some of the best cuisine. Taste of the Beach is Pensacola Beach's biggest culinary event of the year and features a full day of events, including cooking demos, a chefs' challenge and live music. Admission to Taste of the Beach is free, but sampling the food will cost you. You can buy chef and beer sampling tickets in advance.
Sept. 15, tasteofpensacolabeach.com
Pensacola Seafood Festival
Once again, this annual festival will take over Seville Square, Fountain Park and Bartram Park all in the name of seafood. With art, music and, of course, tons of seafood, you're sure to leave full and entertained. Live music will include sets by William Michael Morgan and The Molly Ringwalds. There's also a children's area with fun activities, like face painting and touch pools with live sea creatures, so be sure to bring the kids too.
Sept. 28–Sept 30, pensacolaseafoodfestival.com
Spahr Brewing's Oktoberfest
Locals Spahr Brewing are currently planning one of the biggest Oktoberfests on the Gulf Coast, and you aren't going to want to miss it. So save the date and get ready for a full day of beer-infused fun.
Sept. 29, facebook.com/spahrbrewing
—OCTOBER—
Pensacola Beach Songwriter's Festival
Pensacola Beach Songwriter's Festival encourages us to hear the stories that inspired the birth of our favorite songs and recognizes the songwriters behind them. The 10th annual event is pairing up with the Nashville Country Music Hall of Fame and will be hosting a workshop in three local schools, where children will be encouraged to participate in creating their own songs. The fest takes place at a stretch of venues along the beach, like Margaritaville, Elks Lodge, Casino Beach Bar and Grille and more.
Oct. 3-7, pensacolabeachsongwritersfestival.com
Peat & Pearls
Peat & Pearls is a four-day culinary experience, pairing oysters with spirits in a series of salon-style events. For more details, check our feature story "Shifting Tides and Trends" click here.
Oct. 4-7, peatandpearls.com
Gary's Home Brew Oktoberfest
For their second Oktoberfest, the team at Gary's will be featuring all Hofbrau German beers. There will also be German music, food, games and more.
Oct. 6, facebook.com/garysbrew
Pensacola Greek Festival
Every year, Annunciation Greek Orthodox Church opens their doors and invites the town to share in their culture. And we love every minute of it. From eating delicious Greek dishes like pastitsio and spanakopita to watching traditional folk dancing, there really is no better way to immerse yourself in all things Greek than at this annual event. This year, the fest will be contributing to Guardian ad Litem of Northwest Florida and will also be accepting donations to Manna Food Pantries.
Oct. 12-14, pensacolagreekfestival.com
Pensacola Interstate Fair
Fall in Pensacola would not be complete without at least one trip to the Pensacola Interstate Fair. This year, in addition to riding your favorite rides like Fireball and Avalanche and eating those curly fries you've been craving for months, you can also see Sugar Ray. That's right, Mark McGrath and company will be performing live at 7:30 p.m. Friday, Oct. 19. There's no reserved seating, so make sure you get there early.
Oct. 18-28, pensacolafair.com
WSRE Wine & Food Classic
WSRE is celebrating the 30th anniversary of their Wine & Food Classic this October. Events will include a walkabout tasting and a dinner and book signing with PBS celebrity chef Sara Moulton of "Sara's Weeknight Meals."
Oct. 19-21, wsre.org/wineandfood
Barktoberfest
Calling all pups and pup owners, Barktoberfest is at a new location this year—the Community Maritime Park. We're hoping a bigger space means a bigger turn out of adorable dogs. Pensacola Humane Society is billing the annual event as "so cute it's scary," and we couldn't agree more. From costume contests to Dachshund races, it really is a full day of straight up cute overload. And don't worry if you don't have a dog but know attending will make you want one—The Humane Express will be on hand and will be full of adoptable animals looking for homes.
Oct. 27, pensacolahumane.org
—NOVEMBER—
Foo Foo Festival
This year marks the fifth anniversary of Foo Foo Festival—which is Pensacola's most expansive and diverse festival, featuring almost two full weeks of art, music, food and more, all highlighting our ever-growing cultural scene. Dozens of events will happen during that 12-day span. One that we're super excited about is CUBED Luminous, which is an outdoor digital arts and music festival. Pensacola Symphony Orchestra and Ballet Pensacola are also joining forces for "See the Music, Hear the Dance," and Sunday's Child is hosting a UNITY project, which will include an interactive, public art structure.
Nov. 1-12, foofoofest.com
Great Gulfcoast Arts Festival
Drawing in more than 200 of the nation's most talented painters, potters, sculptors, graphic artists, craftsmen and jewelers, the Great Gulfcoast Arts Festival is not just one of the most popular local events. It's also one of the most well-regarded arts festivals in the entire country. The annual event dominates Seville Square for three days of live music, arts and crafts. While there, you can learn how to blacksmith or weave while your friends watch dance recitals from local dance schools or community groups. And be sure to check out the Student Art Show too, where over 2,000 pieces of art showcase the talent of local elementary, middle and high school students.
Nov. 2-4, ggaf.org
Mahabhuta Yoga Festival
Are you a certified yogi or just beginning to practice your downward dog? Guess what—it doesn't matter. The Mahabhuta Yoga Fest has something for everyone, including tons of classes and workshops and even concerts.
Nov. 9-11, mahabhutayogafestival.com
————————————————————————
Regional Roundup
Itching to get on the road but don't want to go too far? We've got you covered. These festivals are close enough to home to make an easy getaway but far enough to help you relax and enjoy yourself.
—Mobile—
Ten65
Do you enjoy music? Do you enjoy free festivals? Then Ten65 Fest is the festival for you. The lineup has yet to be announced, but last year's acts included Cage The Elephant and St. Paul & The Broken Bones, so we're sure this year's won't disappoint.
Oct. 5-6, tensixtyfive.com
Mobile International Festival
If you're looking to satisfy your craving for culture, this fest has got you covered. The 35th Annual Mobile International Festival provides the feel of world travel without having to renew your passport. Meet people from over 70 countries while sampling international cuisine, visiting educational exhibits and engaging in different activities from around the world.
Nov. 17, mobileinternationalfestival.org
—Fairhope—
Fairhope Film Festival
With a selection of 70-plus films, you're sure to be entertained for hours on end at this four-day event. Whether you opt to catch a foreign flick or enlighten yourself with a documentary, the Fairhope Film Fest is sure to impress your inner movie critic.
Nov. 8-11, fairhopefilmfestival.org
—Perdido Key/Gulf Shores/Orange Beach—
The Wharf Uncorked Food & Drinks Festival
The 5th annual Wharf Uncorked Food & Drinks Festival is happening this weekend, and you'll definitely want to check it out if you can. This three-day fest combines food and wine tastings with live entertainment, all brought to you with a bit of Southern flare and hospitality. This year, the event will be raising funds for Make-A-Wish Alabama, so you can enjoy yourself and help others at the same time.
Sept. 13-15, thewharfuncorked.com
Flora-Bama's Oktoberfest
Ready to break out your lederhosen? You better be. This festival brings all of your German favorites to the Gulf Coast. There will be brats, with sauerkraut and a variety of German beer, and The Brats, who are a New Orleans-based polka band.
Oct. 14, florabama.com
Hangout Oyster Cook-Off & Craft Beer Weekend
Oysters and craft beer—you can't get more Gulf Coast than that. On Friday, enjoy tastings of dozens of craft beers and live music. On Saturday, indulge in some oysters brought to you by a variety of chefs from across the country, including Food Network Star Martie Duncan. Activities like oyster shucking contests and college football viewing parties will be happening throughout the day, so there really is no reason to miss this annual beachside event.
Nov. 2-3, hangoutcookoff.com
Frank Brown International Songwriters' Festival
The 34th annual Frank Brown International Songwriters' Festival will feature more than 200 nationally-acclaimed songwriters performing along the Florida and Alabama Gulf Coast in over two dozen venues from downtown Pensacola, Perdido Key, Orange Beach, Gulf Shores, Bon Secour and Silverhill, Ala. The 11-day festival provides an opportunity for seasoned and aspiring songwriters and musicians from all over the world to have their songs heard.
Nov. 8-18, frankbrownsongwriters.com
—Destin/30A/Seaside—
Destin Seafood Festival
After you stop by the Pensacola Seafood Festival this month, you might want to take a drive over to Destin next month to get your next seafood fix. Three days of good food from restaurants and Destin Harbor and HarborWalk Village mixed with a little live music is a guaranteed good time.
Oct. 5-7, destinseafoodfestival.com
Baytowne Wharf Beer Fest
Beer lovers unite. This two-day event features two unique tasting opportunities. Friday night is all about the locals with an event called "Beer From Around Here," and Saturday there will be 40 breweries on hand, offering up samples of close to 200 domestic and international craft beers.
Oct. 12-13, baytownewharfbeerfestival.com
Seeing Red Wine Festival
If vino is your thing, you'd better head to Seaside this November. Both wine aficionados and foodies will savor selected Gulf-to-table dishes from some of Seaside's best restaurants while sipping on carefully paired wines from around the globe. Tickets are limited, so you'll want to snag one while you can.
Nov. 8-11, seeingredwinefestival.com
—New Orleans—
Fried Chicken Festival
It's no secret that fried chicken is one of the greatest things in the world, so of course, there's a weekend dedicated to it in one of the greatest cities in the world. Held in NOLA's Woldenberg Park, this festival includes food from more than 35 restaurants, music on two stages, cooking demonstrations and family-friendly activities.
Sept. 22-23, friedchickenfestival.com
NOLA on Tap Beer Fest
NOLA on Tap features over 400 local, national and home-brewed beers, plus it's a dog-friendly festival and the largest annual fundraiser for the Louisiana SPCA. Talk about a win-win.
Sept. 22, nolaontap.org
Tremé Festival
This festival is held in the famous Tremé neighborhood, which is filled with a rich and diverse history. Enjoy food, music, art, and more while donating to a good cause. This year's proceeds will benefit the many cultural destinations found within the historic community. There will be a street festival Saturday and gospel mass and concert Sunday.
Oct. 5-7, tremefest.com
New Orleans Film Festival
Celebrating its 29th year, New Orleans Film Festival has grown into an internationally respected annual event that attracts 25,000 people and 400-plus filmmakers and screens over 200 films each fall. The event works to offer its guests opportunities to connect with the film industry, providing meetings with distributors, funders, broadcasters and other film organizations. This year's closing night film is called "A Tuba to Cuba," and it follows NOLA's own Preservation Hall Jazz Band as they retrace their musical roots from the city of jazz to the shores of Cuba. The band will perform as part of the closing night party.
Oct. 17-25, neworleansfilmsociety.org
Voodoo Music + Arts Experience
Music festival season isn't quite over, folks. This Halloween adjacent festival brings you three days of music, food and costumes. Headliners for this year's fest include Mumford and Sons, Childish Gambino, Arctic Monkeys and Odesza. And it gets even better—Inweekly has partnered with Voodoo to give away a pair of general admission three-day passes to the festival. You can enter the contest here.
Oct. 26-28, voodoofestival.com