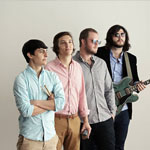 By Jennifer Leigh
Monday, Sept. 24, kicks off the 11th season of WSRE's free concert series StudioAmped.
Artists from all over the Gulf Coast perform at the annual series, which is taped in front of a live studio audience. The shows will air in January and February.
"When we first started the musical concert series, we only had three to five bands per season," said executive producer Billy Harrell. "This year, we will have eight bands and a group of songwriters from the Pensacola Beach Songwriters Festival performing."
StudioAmped provides a platform for local and regional musicians to perform their original work not only in front of a live audience but thousands of TV viewers, said Harrell. And as executive producer, Harrell seeks out those bands for the show.
"It's a fun but sometimes difficult job," he admits. "I find the bands by word of mouth and by keeping up with the local and regional music scene. It's important for me to hear the bands play live, so I go to different bars and musical venues and give them a listen.  When putting together a season, I want to make sure there are different musical genres and styles in the lineup."
Two bands this season, The Krickets and Roadside Glorious, are releasing albums this September, and their performances will feature their new music. For many of the featured bands, StudioAmped can be a launching pad for their musical career.
"Over the years, bands have told me that StudioAmped really helped them get new bookings and pushed them to another level," Harrell said. "It's a win-win situation."
Attending a StudioAmped show also means you get to be a part of the show's production. Your claps and whistles will be part of the recording. And while there's no admission fee, audience members can bring nonperishable food items to be donated to Manna Food Pantries.
STUDIOAMPED
WHERE: Jean & Paul Amos Performance Studio, 1000 College Blvd.
COST: Free (nonperishable food items are collected for Manna Food Pantries)
DETAILS: wsre.org/studioamped
StudioAmped Taping Schedule
Sept. 24 Allman Goldflies Band
Sept. 25 Yeah, Probably
Sept. 26 Luke Langford Band
Sept. 27 The BeachBilly's
Oct. 1 The Krickets
Oct. 2 The Red Clay Strays
Oct. 3 Panzacola
Oct. 4 Roadside Glorious
Oct. 5 Pensacola Beach Songwriters Festival Show: Anne Buckle, Tim Buppert and Jerry Vandiver