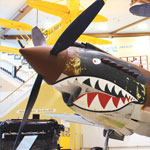 Winners
Chelsea Bramblett
The Florida Coalition for Children awarded the child welfare case manager at FamiliesFirst Network of Lakeview Center its Outstanding Youth Award. The award recognizes those who strive to make life better for foster youth. Bramblett was acknowledged for selflessly sharing her personal experience in foster care with other youth who are aging out of the system to help them gain independence, confidence and success.
National Naval Aviation Museum
TripAdvisor recently announced the 25 winners of its 2018 Travelers' Choice Awards for museums, and the National Naval Aviation Museum (NNAM) once again made the list. NNAM ranked 17th on the list that includes the Smithsonian National Museum of Natural History, the Museum of Modern Arts and the Smithsonian Air and Space Museum. Winners were determined using an algorithm based on the quantity and quality of reviews and ratings for museums worldwide, gathered over a 12-month period.
Chelsey Porter
The Coast Guard Foundation has awarded a record-breaking 177 new scholarships in 2018. Among the recipients is Chelsey Porter, daughter of MKC Jack Porter, from Navarre, who will attend the University of Cincinnati in the fall. In the 28 years of this program, the Coast Guard Foundation has paid out more than $5.1 million to more than 960 college-aged young adults. The Coast Guard Foundation scholarships benefit the children of enlisted men and women who are serving or have served in the United States Coast Guard, whether active duty, reserve, retired or deceased.
Loser
University of Central Florida
Florida House Speaker Richard Corcoran has appointed incoming Speaker Jose Oliva, R-Miami Lakes, to investigate the University of Central Florida for the misuse of $38 million designated for operations to build the 137,000-square-foot Trevor Colbourn Hall, which opened this semester. The transfer of funds violated state policy that restricts that funding to activities like instruction, research, libraries, student services or maintenance. UCF President Dale Whittaker has told the state Board of Governors that the four-year project was under the supervision of William Merck, the school's former chief financial officer, who has since resigned. Last Thursday, eight additional projects were flagged as UCF officials began reviewing spending and procedures. Oops.
Rick Scott
For the past 10 months, Southwest Florida Gulf has seen red tide wreck its economy and environment. The Florida Fish and Wildlife Conservation Commission has reported the bloom spans about 145 miles along the shores, and the agency has documented 115 manatee and 318 sea turtle deaths this year in the region. Fish kills have been reported in Pinellas, Manatee, Sarasota, Charlotte, Lee, Collier and Monroe counties. Scott has urged the FWC to create a Florida Center for Red Tide Research and reestablish the Florida Harmful Algal Bloom Task Force. He wants the agency to ask for more funding for next year after Scott has left office.  Environmentalists have said the governor's proposals are ineffective campaign stunts to help him win Bill Nelson's U.S. Senate seat in November.