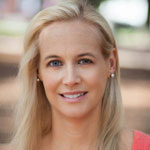 By Rick Outzen
"My Exaggerated Life," an oral biography of the late Pat Conroy as told to Pensacola author Katherine Clark, offers special insights into the life of the celebrated Southern author, whose books "The Great Santini," "The Lords of Discipline" and "The Prince of Tides" were made into award-winning movies.
Clark recorded 200 hours of conversations with Conroy during the spring and summer of 2014. No subject was off limits. He spoke candidly of surviving and overcoming childhood abuse, his battles with depression and alcoholism, and his lack of self-esteem and self-confidence. As depressing as those topics might seem, Conroy's sense of humor shone throughout the telling of his life, giving an uplifting quality to the narrative.
Clark wove the interviews into a book that is a delight for Conroy fans and those who love Southern literature. Inweekly caught up with her recently to talk about her relationship with the author.
She met Conroy in 2009 when she was freelancing for the Mobile Press-Register's book page. Conroy was touring to promote his novel "South of Broad," and Clark's editor asked her to interview the author. His publicist at Doubleday had arranged for Conroy to call her at a specific time on Friday morning.
When her cell phone rang Thursday night, the voice on the other end was Conroy. She told Inweekly, "Pat was apologetic and humble, but he wanted to tell me how much he enjoyed 'Milking the Moon.'"
Clark had penned two oral biographies that had received attention—"Motherwit: An Alabama Midwife's Story" with Onnie Lee Logan and "Milking the Moon: A Southerner's Story of Life on This Planet" with Mobile writer Eugene Walter. The latter was a National Book Critics Circle Award finalist.
"Pat had met Eugene in Italy, and they were good friends," said Clark. "He just wanted to talk about the book."
When the phone conversation ended, Clark realized that she hadn't asked any questions for her upcoming article. She worried about what she would tell her editor about blowing the interview, but the next morning, Conroy called again at the designated time for the article.
The pair became "phone friends." Conroy's list of phone friends included the late Doug Marlette, the Pulitzer Prize-winning editorial cartoonist and uncle of the News Journal's Andy Marlette. Marlette and Conroy talked daily. When the cartoonist was killed in a car wreck in Mississippi, Conroy eulogized him at the funeral.
"First, Pat would call about once or twice a month, but then the calls were nearly every day," said Clark. "I learned that the phone calls were his social life. He had a list of friends that called at the end of every day. I got added to the list."
Conroy's University of South Carolina Press imprint, Story River Books, published Clark's Mountain Brook Series, which included "The Headmaster's Darlings;" "All the Governor's Men," a political comedy based George Wallace's last run for governor of Alabama in 1982; its sequel, "The Harvard Bride;" and "The Ex-Suicide," a satirical comedy of manners about a prominent Alabama family living across the street from the Birmingham Country Club. Conroy was her editor, making suggestions on how to improve each book.
At one point during their daily phone conversations, Conroy joked that Clark would have a great book if she had recorded their calls. She agreed but thought little about it until Conroy had a health scare and was hospitalized for two weeks.
"Pat was confronting his mortality and the fact that he hadn't written everything he wanted to write about his life," she said. "There were things that he had been withholding because all of his work was autobiographical—whether it was non-fiction or fiction."
Clark hesitated because she wasn't interested in doing an oral autobiography with him initially. She explained, "I thought what is left for him to talk about, because hadn't he already mined all of the material from his past?"
Conroy indicated there were parts of his life that he hadn't revealed.
"There were secrets that he had been guarding," said Clark, "things that he had been withholding that he always intended later in his life to write about, but Pat was afraid he wasn't going to be able to get around to it."
The author was also concerned about his legacy and how future generations would perceive him. Clark said, "One thing he said was, 'I don't know what's going to be written about me when I'm gone,' so he was contemplating the day when he wasn't going to be here and others were going to write about those things that Pat had not written about, so he wanted to get this out. He wanted to share these things with someone he trusted."
Clark agreed and initially believed she would have to do the interviews with Conroy in person. Her oral biography with Eugene Walter, the playwright known as "Mobile's Renaissance Man," had been done that way.
"Eugene Walter was a performer," she said. "He had been in Fellini films and needed a live audience. He wanted somebody in the room with him who was witnessing his performance and taking it in."
However, Clark soon realized that Conroy wasn't comfortable with face-to-face interviews.
"Pat was a raconteur, like Eugene, and I just assumed I needed to be in the room," she explained.  Conroy's wife, Sandra, also a novelist, was doing a book tour in south Alabama, and Clark set up Pat staying in Pensacola in her neighbor's guest house for a week.
"We planned to spend the whole week recording," she said. "I would take him to lunch. We went to the yacht club and the country club and a few places around town. I took my recorder, but I began to realize Pat was more guarded with me in person than he was on the phone."
She continued, "He was a little shy about just opening up and spilling his guts, and I realized that our relationship had evolved over the telephone. Pat was used to just telling me anything and everything over the phone. With me not in the room with him, he didn't have to deal with my facial expressions and could just talk."
Conroy and Clark had a rapport on the phone that had been established over four years. They agreed to try to do the book over the phone. She said, "So that's what we did. He got back to Buford, and we just started talking every morning."
She said, "We recorded for five months, every day, sometimes even Saturdays, for about an hour, an hour and a half.
She had tried to start the interviews in chronological order. Clark had a list of questions, but she let Conroy go in whatever direction he wanted.
"No great raconteur is chronological," said Clark. "They go off on all sorts of tangents and detour, and you want them to do it. If he went off subject, it didn't matter. I was getting everything and would be able to put it where I wanted it anyway in the book."
The result is a unique autobiography that will surely win several literary awards. Clark shared, "It was a privilege of a lifetime."