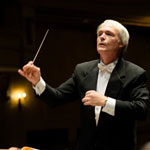 By Stephanie Sharp
This weekend, Pensacola Symphony Orchestra is returning with a bang, opening with a show stacked with high-energy performances, a visiting virtuoso and three selections of music that will leave the audience thrilled for the rest of the 2018-2019 season. As the orchestra comes back together after months apart, opening night promises to be a must-see performance full of key moments demonstrating all the hard work that went into preparing for a new season.
Peter Rubardt begins his 22nd season as music director for the Pensacola Symphony Orchestra, and his excitement for opening night is contagious.
"I always really like opening night to have a lot of zing to it," said Rubardt. "Some concerts have a different kind of depth or a different flavor. The flavor I go for on opening night, I go for high octane."
For this season's opening night, he's chosen Gershwin's "Cuban Overture," Barber's "Concerto for Violin, Op. 14" (which will feature guest violinist Jennifer Koh) and Mussorgsky's "Pictures at an Exhibition."
"I have big ambition every year for opening night. I tend to rehearse really hard and don't let anything slip," said Rubardt. "The musicians look forward to that kind of workout."
Gershwin's "Cuban Overture" is a fun, light-hearted piece that will transport the audience to a sunny and nostalgic Cuban vacation getaway. Inspired by a two-week vacation in Cuba in the early 1930s, Gershwin pulled many elements of Caribbean and Cuban music into this playful arrangement.
"It's a very upbeat tempo," said Rubardt, "a bright, festive way to open the evening."
The piece is accessible in the best possible way. Whether it's your first time at the Saenger for a Pensacola Symphony Orchestra performance or you're a long-time patron, Gershwin's "Cuban Overture" will ignite your imagination and prime your senses for the expansive possibilities of enjoying this type of art.
VISIT FROM A STAR
Returning for her third performance with the Pensacola Symphony Orchestra, renowned violinist and Musical America's 2016 "Instrumentalist of the Year" Jennifer Koh will perform Samuel Barber's "Concerto for Violin, Op. 14." Celebrated for her technical mastery of her instrument and for her creatively-charged virtuosity, Koh brings an elevated sense of excitement to the second piece of the opening night program.
"Being on stage with Jenny is really easy, in the best sense," explained Rubardt. "It goes without saying, she's obviously phenomenally talented."
Rubardt shared that the unique experience of seeing Koh perform a piece like Barber's "Concerto for Violin" is her talent for communicating with the other musicians and with the audience.
"She plays all of it with a natural spontaneous communication and sharing. That makes it really a pleasure to be on stage with her. There's so much musicality flowing out of her. It's like an invitation. It's like she sends out an invitation to all of us. She invites the audience to come into the performance with her."
For Koh, she looks forward to sharing her talent with the orchestra and the Pensacola community for this unique and exciting performance. In particular, Barber's "Concerto for Violin" presents a dizzying display of craft and talent for an accomplished performer like Koh.
"It's incredibly lyrical," explained Koh. "He's a great composer for the violin and bringing something forward that's a very American musical language."
This piece differs from the fun, fanciful Gershwin in the tenderness of the musical journey and the continued dazzlement inherent in the drama and tension throughout the piece. The orchestra supports Koh's virtuosity throughout moments that will leave the audience breathless.
"I love working with Peter, and I'm looking forward to doing that again," said Koh. "One of the exciting things is we've really covered the gamut of violin repertoire."
With this Barber concerto, Koh and Rubardt have a thrilling performance in store to highlight their partnership and artistic collaboration.
"The third movement is just fireworks from beginning to end," said Rubardt. "It's really down [Koh's] alley; it's the perfect piece for her."
INESCAPABLE EXPERIENCES
The orchestra will close out the experience of opening night with Mussorgsky's "Pictures at an Exhibition." This piece, originally written as a memorial for the composer's friend, takes the listener through 10 movements as a journey through an art exhibit.
"That piece is one of the great warhorses that we get to play," said Rubardt. "It's so brilliant, and it brings out the best of each musician on the stage."
For those unfamiliar with Mussorgsky, he's the same composer of "Night on Bald Mountain." With "Pictures at an Exhibition," audiences can expect an intensity and momentum to continually challenge them throughout the piece. Just like walking through an art gallery, Mussorgsky's piece turns musical corners and packs a provocative punch.
"This piece has 10 vignettes, and every one of them hits you in the face. They've set the stage for this kind of instant reaction," explained Rubardt. "It moves very quickly compared to a large scale, purely symphonic work."
Together, the opening night program offers a rousing opportunity to immerse yourself in the experience of live music and shake off the doldrums of music's ubiquity in the company of other art lovers.
"That's one of the great things about playing here is the audience. The crowds are large, warm and there's an energy that's buzzing," said Rubardt. "Everybody's there to have a great time; it's really that simple."
Pensacola Symphony Orchestra's Opening Night
WHEN: 7:30 p.m. Saturday, Oct. 13
WHERE: Saenger Theatre, 118 S. Palafox
COST: $23-$103
DETAILS: pensacolasymphony.com