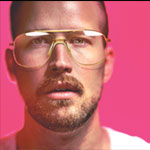 By Savannah Evanoff
Amick Cutler knows what's on the other side of a risk. It's the reason he takes them every chance he gets.
The next few risks in Cutler's line of fire?
Releasing an EP of alternative rock music and traveling cross-country in a camper with his wife Christy and their three sons (AKA "bear cubs").
The two risks aren't separate. Cutler believes going on tour to share his music and stories will combat the "sucky part" about music today.
"Most people, you have 10 seconds to decide whether music is good or bad," Cutler said. "They listen to it and automatically judge the music based off the sound or based off if the first word hooks you. That's very unfortunate because people don't get the opportunity to know the person."
Cutler can't rally behind that mentality.
"I don't feel like I was ever a person designed to separate the music from the person," Cutler said. "I am a person who expresses who I am through music, and who I am is a way deeper well than who I am musically. For me to go out there and travel and do both, share my story, who I am as a person, with my songs is going to have a lot better impact than if people are just thumbing through Spotify if it catches their attention or doesn't."
Cutler has used music as an outlet since he was a teenager, when his sister Kailyn died of leukemia.
"That moment kind of changed the course of my life," Cutler said. "I remember picking up the guitar and spending hours in my room, coping with my thoughts."
Somewhere amid writing a ton of songs, Cutler's personality shifted.
"Where I once was very shy, music just totally changed me," Cutler said. "I totally turned into more of an outgoing person."
The tragedy also gave him a new perspective on life.
"Seeing your 10-year-old sister—all she should care about is surviving—but she, even in the middle of cancer, lived life to the fullest and always had a smile," Cutler said. "At that point, I was like, 'You know what? I'm not going to live for myself anymore. I'm just going to live life to the fullest and make it all I can be.'"
And Cutler has done just that.
He once performed the coffee shop and small venue circuit and brought back a souvenir—a down-on-his-luck man. He met him at a pool hall in Fresno, Calif.
"He was about to get in a fight with a guy," Cutler said. "He was four times as big as me, so I didn't really have any reason to confront him, but I did… for whatever reason, he listened to me. We spent the rest of the night just chatting."
Meeting his wife was no less eventful. They met at Florida State University.
"I told my friend, 'That's the girl I want to marry,'" Cutler said. "Long story short, I walked up to her in the middle of a concert later on and was like, 'Hey, I want to marry you.' We shared cheesecake. She said, 'Yes.' That's all she wrote."
Cutler's latest risk, the EP "Heartache," is a departure from the worship-inspired music he released in the past. Cutler grew up in a pastor's family, so faith-based music was apart of his upbringing.
"Heartache" is alternative rock with a twist of singer-songwriter, Cutler said. It also includes a throwback to 1980s synthetic pop, he said.
In only three songs, the EP confronts heavy material. The track "Honest Love" was inspired by a married couple struggling with lies, drug addiction and a prostitute.
While Cutler admits it is destructive behavior, he explained how the song has a non-judgmental perspective.
"We all are hiding something," Cutler said. "We all have things that we're trying to hold a façade up. What if we looked at it like, maybe that is what honest love looks like. Maybe it looks like reckless abandoned; maybe it's got bumps and bruises; and maybe it doesn't look pretty, but maybe that's what honest love really is."
Another song, "A Kiss," centers on social injustices and racism.
"It's really talking about how when we come head-to-head with things we disagree with and things that our forefathers and generations before us that told us we shouldn't like or shouldn't approve of," Cutler said. "Rather than bringing out the guns, swords and knives, maybe we should embrace with a kiss."
Cutler will perform the songs from the EP and his future full-length album as his family travels the majority of the 50 states. He will perform at coffee shops, campgrounds, homes—anywhere an opportunity arises—starting in January.
Christy, a writer, will help be a mouthpiece for their story, which Cutler reveals involves much struggle.
"Our story really breeds hope and redemption," Cutler said. "It doesn't matter if you're Christian or non-Christian. Everybody wants to believe in something good. I feel like our story really breeds the impossible."
Cutler ultimately wants to give audience members the license to dream.
"Musically, you always want to be able to have an opportunity to share your experience and what you've overcome so people walk away feeling like, 'I could do this too,'" Cutler said. "It's funny, but my family, we believe in Big Foot. We believe in unicorns. We're a family of the impossible."
AMICK CUTLER
WHAT: Amick Cutler EP Release Show with Logan Pilcher
WHEN: 7 p.m. Friday, Oct. 12
WHERE: Upper Room at Innerlight Surf Shop, 655 Pensacola Beach Blvd.
COST: $12
DETAILS: amickcutler.com