The 'Influential' Michael Murdoch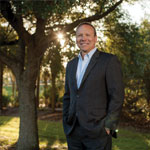 By Duwayne Escobedo
It started with a story that has now become legendary. Michael Murdoch met Joel Smith. Together, they launched AppRiver on April 2, 2002, because Murdoch disliked the idea of starting on April Fool's Day. The two men and a spam filter worked out of a broom closet in Gulf Breeze.
"We hit it off great," Murdoch said. "He has a great tech vision, and I handle the business side."
Today, the fast-growing, cloud-based email and internet security company for mainly small- and medium-sized companies employs about 300 people, so-called "Appers." It has expanded worldwide to Atlanta, Austin, Spain, Switzerland and Canada. Murdoch even has his sights on expanding into England and Asia-Pacific. AppRiver has about 60,000 clients spread out in 69 countries.
The 54-year-old's success led the AppRiver cofounder to earn a spot on the first ever Florida Trend 500 Most Influential Business Leaders list this month. The magazine decided to unveil the new special issue of "people we believe are charting Florida's course" in celebration of its 60th anniversary. Broken down into 16 categories, Florida Trend also recognized eight other Pensacola professionals on its most impactful individuals in the state list.
After graduating from the University of Georgia with a business degree 33 years ago, Murdoch "fell into" the internet technology field. There, he learned how to do profit and loss (P&L) reports and build high-tech companies from the ground up and sell them to larger companies. It all came naturally to him, Murdoch said.
"It's all I've ever done," said Murdoch, AppRiver President and CEO. "IT is a great field to be in. It's one of those industries where if you work hard, it is almost recession proof."
But Murdoch admitted he has experienced plenty of failures, too.
"I failed a whole lot before running AppRiver," he said, chuckling.
Murdoch credits many people for helping him along the way. But he especially credits his parents. His father, George, an Episcopalian priest who succumbed to cancer, and his mother, Marianela, who passed away a year ago at the age of 89, molded his values. His mother, who is from the Dominican Republic, met his father in Puerto Rico in the 1950s. They gave their son his foundation to confidently pursue his dreams.
"My dad always taught me to do the right thing," Murdoch said. "He was my first and best mentor. My mom was the most caring person. We were very tight-knit."
Murdoch runs AppRiver like a family. It's not uncommon for him and other managers to fire up the grill during company cookouts. New employees must beware of the "attack monkey." This hilarious sock monkey cheerfully slays them by electrocution, strangulation, poisoning, hit-and-run and other ways. Once it even took out Murdoch with a heart attack when the monkey showed him his salary demands during a job interview.
"We're serious about what we do, but we have fun doing it," Murdoch said. "Creating a positive environment makes it a lot easier to run a company."
He added that watching his talented co-workers succeed both professionally and personally "gives me more personal satisfaction than just about anything."
Additionally, he cares about AppRiver customers. He and Smith vowed that all of their clients would talk to one of their employees within 24 hours who could help them troubleshoot any problems. AppRiver prides itself in what it calls "Phenomenal Care," annually winning awards for customer service. Plus, it enjoys a 93 percent customer retention rate.
"We never wanted to be one of those companies you call for help, and they say they will call back but never do," Murdoch said. "It's our creed. It's our essence."
Murdoch continually searches for tech startups he can get involved in throughout the Gulf Coast. Currently, he is advising and investing in six companies and looking for more to bolster. He's deeply involved in making the "Innovation Coast" a reality.
"I'm looking for other opportunities to help the next generation, really," Murdoch said.
Who wouldn't want advice from Murdoch, who competes with the biggest companies on the plant and still succeeds?
His latest move came at the end of 2017 when AppRiver joined forces with Marlin Equity Partners, a global investment firm with $6.7 billion in assets. It plans to help AppRiver continue its rapid growth and reach its goal of becoming the go-to IT security provider for businesses around the world. Already, it has acquired New York-based Total Defense earlier this month and Canadian company Roaring Penguin in March.
Murdoch referred to this stage of the company's growth as AppRiver 2.0.
"We're on target for a $100 million in sales this year," said Murdoch as he leans back in his chair in his second-floor office that looks out toward Pensacola Beach. "We want to double, triple, quadruple our sales and create value and at the same time protect the soul of our company. You have to understand our culture, and Marlin's got it."
It's also another opportunity for Murdoch to learn about data-driven analysis from the Los Angeles-based investment firm stocked with advisors and CEOs with experience running national and global companies.
"I get help from people in a bigger company," he said. "They are a great resource to have. You're never too old to keep learning. If you're not changing, not growing, not evolving, then this industry is going to pass you by. You've got to stay relevant and be competitive."
Despite all the energy he puts into AppRiver, Murdoch still manages a balanced life. He recently married his wife, Addie, and they love boating, skiing, traveling and just hanging out as a family.
What's next for AppRiver? Murdoch has a few ideas, which may include taking the company public.
"There's never a dull day," Murdoch said.
————————————————–
Florida Trend 500 Most Influential Business Leaders
In all, nine people from the Pensacola area made Florida Trend's inaugural list. The special issue celebrates the monthly magazine's 60 years of covering Florida business, industry, education and leisure. Florida Trend used the Bureau of Economic Analysis of the U.S. Department of Commerce to help compile its list. It omitted elected officials and limited selections to no more than three people from any one firm. The magazine also avoided defaulting to the CEOs of companies on their own "350 Biggest Companies" list.
Pensacola business leaders on the list:
Eugene Franklin, President & CEO, Florida Black Chamber of Commerce
Fred Levin, Chairman & Attorney, Levin Papantonio Thomas Mitchell Rafferty & Proctor
Mark Faulkner, EVP/COO, Baptist Health Care
Lewis Bear Jr., President & CEO, Lewis Bear Co.
Quint Studer, Founder, Studer Family of Companies
Deborah Calder, Executive Vice President, Navy Federal Credit Union
Michael Myhre, CEO, Florida Small Business Development Center Network
Ken Ford, Founder & CEO, IHMC
Michael Murdoch, President & CEO, AppRiver
by admin | Oct 17, 2018 | Issue, News