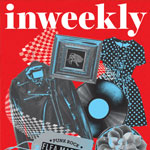 By Savannah Evanoff
Bari Kyle and Jeremy Barrick have lived in many places, but Pensacola is the first to feel to like home.
Their love of the city is what inspired the co-owners of vintage clothing store Nearly Dead Threads to host their first Punk Rock Flea Market Pensacola in 2017.
"We love Pensacola, and we really wanted to just be part of the community somehow and try to start something," Kyle said. "This is an area that's very supportive, like, 'If you want to try to do it, we will support it.'"
The title of the event might confuse some people, but Barrick will assure you, it's simple.
"It's just like your regular flea market, but it's filled with DIY oddities and people being themselves, not the conventional items you would find at a traditional flea market. You're not going to find a shovel at a punk rock flea market," Barrick said.
Some of the items at the first Punk Rock Flea Market Pensacola included artwork, vintage clothing, succulents, stained glass, prayer candles and home décor.
Punk rock doesn't hold the same connotation it once did, Barrick explained.
"It means being able to express yourself the way you want," Barrick said. "It's taken a whole different term from what it was 30 years ago, where it was more of a rebellious term. Now, it's more about you can be expressive and do it different ways than conventionalism."
The idea stemmed from a punk rock flea market in Knoxville, Tenn., Kyle said. She considered setting up and selling their vintage clothing at that event.
"Then, it dawned on me, 'Why would we drive eight hours to go to one in another city?'"
Kyle recruited help from the coordinator of the Knoxville event, and the idea took off from there. They had 60 vendors at the first Punk Rock Flea Market Pensacola and plan to have about the same amount this year.
"I feel that last year was the stone to create it, and this year's a castle," Barrick said. "I've got a good feeling about it."
This year will feature several new vendors from the region, including Pensacola's own Big Jerk Soda Co., a craft soda company. People will also have the opportunity to purchase snacks from some of the vendors or eat at chizuko, Kyle said.
Despite its success, circumstances didn't align for the inaugural event. They had to push the date back a week because of an impending tropical storm and change the location at the last minute.
Kyle was worried, she said. But it turns out she didn't need to be.
"At 2 o'clock, the floodgates opened up," Kyle said. "Most of the vendors said they sold out of items they brought."
Kyle believes part of the event's success was a result of a community feeling. The vendors have a Facebook group to support each other leading up to the event.
"There's a lot of people out there that sell different things and see it as competition," Barrick said. "We see it as we want people to be a part of a bigger thing, a huge thing we've started."
Kyle and Barrick have made many friends through the event. They sell some of the vendors' items in their store today.
"It's a lot of like-minded individuals," Barrick said. "We all share a common bond. We all have become friends and networks."
Multiple vendors will sell vintage clothing at this year's event. Kyle thinks people are attracted to the secondhand clothing for different reasons.
"You're never going to show up to an event wearing the same thing as someone else," Kyle said. "You can usually find a modern-day knockoff version at the mall, so why not get the original one that has natural history to it?"
Barrick feels vintage clothing is another way of expressing yourself. New clothing is so re-hashed, he said.
"It's almost like wearing a costume in a different era," Barrick said. "'Hey, I'm '50s.' 'Hey, I'm '60s.'"
Sifting through old clothes is also nostalgic, which is part of the fun.
"You walk in that one store and you want to see a bunch of old-school T-shirts or combat boots that you had in the 1990s," Barrick said. "It's the same thing with the flea market. It's like being a kid on Christmas Eve."
Coordinating the flea market is tons of work—measuring tent spaces, sorting through applications and organizing, Barrick said. But it's worth doing because they can see the reward, he said.
"You see people coming together," Barrick said. "You see this subculture starting to develop more like it was 20 to 30 years ago when we weren't here. Now we're here, and we want to start something unique and different everyone can be a part of. It's a friendly atmosphere full of collaboration of artists and freaks and geeks—you name it."
PUNK ROCK FLEA MARKET PENSACOLA
WHEN: 2 p.m. Sunday. Oct. 21
WHERE: chizuko, 506 W. Belmont St.
COST: Free entry
DETAILS: facebook.com/punkrockfleamarketpensacola