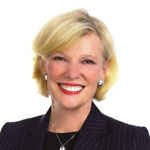 Winners
Mary McDuffie
Navy Federal Credit Union board of directors has selected McDuffie as the new president and CEO of Navy Federal. McDuffie will assume her new role effective Jan. 18, 2019. She currently serves as the chief operating officer for Navy Federal. Previously, McDuffie served as the executive vice president of Delivery Channels and Communications. In this role, McDuffie led the expansion of the credit union's marketing efforts, launched Navy Federal's mobile banking initiative and developed a voice of the member program. McDuffie has also served as Navy Federal's executive vice president for lending.
Bill Hamilton
The Pensacola State College athletic director has been inducted into the FCSAA Hall of Fame. Hamilton led the Pirates to their first-ever state baseball championship in 2004. He also was awarded the FCSAA Coach of the Year, NJCAA Region VIII Coach of the Year and the ABCA/Diamond Regional Coach of the Year for NJCAA Division I. Hamilton holds the PSC record for career wins.
Betty Bowers
UWF President Martha D. Saunders has appointed Bowers as vice president for finance and administration. Bowers, who was named interim vice president for the division in September 2017, previously led UWF's Internal Audit and Compliance Department. The Division of Finance and Administration includes facilities management, campus buildings, financial services, campus police, environmental health, procurement, business services and Business Enterprises, Inc. Bowers also serves as UWF's chief financial officer.
Losers
Pay Equity
The American Association of University Women this week released a report showing that working women lose $500 billion a year in salary because of the persistent pay gap, with women still paid on average only 80 cents for every dollar paid to a man. The report identified the top five professions with the most substantial pay gaps: financial managers, physicians and surgeons, accountants and auditors, retail sales supervisors and registered nurses, where men make up only 10 percent of the field. The wage gap widens over a woman's lifetime with significant implications for her well-being, including the ability to buy a home and save for retirement.
ECSD Purchasing
The procurement department of the Escambia County School District appears to exact once again its vengeance of companies that challenge its authority. This time, the health of students was at stake. The district's selection committee has once again awarded the $1.8 million health care contract to a company that was formed last year and, prior to being awarded the deal earlier this year, only had two employees, no clients and failed to prove it had the funds in the bank to cover even a month of operations. The earlier contract had been thrown out by a county judge because of the used "arbitrary and capricious" methods used to award it. In 2016, a judge had thrown out the award of the system's custodial contract for similar shenanigans. Would this happen under an appointed superintendent?