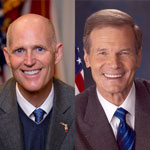 The U.S. Senate race pits two politicians against each other that are very familiar to most Floridians. The race is one of the most watched and most contested in the country. It may decide which party has control of the U.S. Senate.
The Democratic incumbent, Bill Nelson, has served three terms in the U.S. Senate. He was first elected to the Florida House of Representatives in 1972 and later served in Congress for 12 years. In January 1986, Congressman Nelson flew in space on the Space Shuttle Columbia. He unsuccessfully ran for governor in 2000.
His challenger is Republican Governor Rick Scott, who is terming out of office after serving two terms. His experience prior to seeking office was in health care. Scott co-founded Columbia Hospital Corporation, which later merged with another corporation to form the nation's largest private for-profit health care company, Columbia/HCA. He spent about $75 million of his money to win the 2010 governor's race.
Both candidates amazingly have very similar stances on the issues. Scott has distanced his campaign from many of the stances of President Trump. Critics say that the governor has also distanced himself from his prior stances.
With little to fight over on campaign platforms, the two campaigns have focused on personally attacking the opponent while touting their accomplishments. Scott, 65, has tried to make Nelson's age, 76, an issue, as well as the senator's over four decades in politics. He ties Nelson to the gridlock in Congress.
The governor has stressed how he has gotten rid of burdensome regulations, cut taxes, attracted businesses to the state and created jobs. He wants to repeat his successes on a national level, a message which is very similar to Rep. Matt Gaetz's mantra in 2016.
Nelson's campaign has hammered Scott's finances. In 1998, federal authorities raided Columbia/HCA facilities in Texas. Four months later, Scott resigned as CEO of the company.  Eventually, Columbia/HCA paid out more than $2 billion to settle civil lawsuits. At the time, this was the largest Medicaid fraud settlement in American history. Financial records of Scott's blind trust have shown the trust invested in several companies that have done business with the state.
Nelson has been considered a moderate Democrat and described himself as an "independent voice" in hopes of distancing his campaign from the politics of Rep. Nancy Pelosi and Sen. Chuck Schumer. However, he has shied away from his opposition to the rhetoric and policies of the Trump administration. His campaign has received a boost from having Andrew Gillum on the ballot.
Gun Reform
Nelson has cosponsored legislation to ban assault weapons and expand universal background checks to include the transfer of any firearm.
Scott touts that he signed the Marjory Stoneman Douglas High School Public Safety Act that helps to keep firearms out of the hands of mentally ill and dangerous individuals; requires all individuals purchasing firearms to be 21 years old or older; bans the sale or possession of bump stocks; and creates a three-day waiting period for all firearms sales.
Tariffs
Nelson believes the tariffs imposed by the Trump administration have ignited trade wars with U.S. allies. He has called on the Trump administration to take the steps necessary to end this trade war immediately.
Scott has heard from Florida companies that tariff policy isn't consistent or fair between countries. He supports open trade with the world because it is good for Florida and our economy.
Off Shore Drilling
Along with Sen. Mel Martinez, Nelson wrote the 2006 law that currently bans oil drilling as far out as 235 miles off of Florida's Gulf Coast until 2022. He has filed new legislation to make the ban permanent.
Scott also opposes offshore drilling.
Robert Mueller Investigation
Nelson wants the Mueller investigation to continue, uninterrupted. Scott believes there needs to be complete transparency with the investigation.
Immigration
Nelson wants a comprehensive immigration reform plan and has called for an end to the administration's policy of separating children from their parents at the border with no plan to reunify.
Scott has said the failure to secure our border is a bipartisan problem. He has spoken out against illegal immigration but believes children shouldn't be punished for the actions of their parents.
For more information about the candidates, visit nelsonforsenate.com and rickscottforflorida.com.