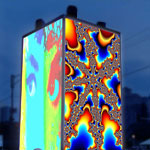 By Savannah Evanoff
Evan Levin and Ashton Howard have always thought outside the box—or at least around it.
That's why the co-founders of Cubed conjured up the idea of using large cubes as art installations during Pensacola's Foo Foo Fest in downtown Pensacola last year. The two collaborated with the University of West Florida Pensacola Museum of Art to receive a Foo Foo Fest grant for the inaugural event, which featured live outdoor mural painting.
This year the cubes will be back but will be different.
"Everyone loved it, and so we wanted to do it again this year but change up the theme," Levin said. "We felt like going digital was something that hasn't really been done before here. It's a really exciting concept."
This year will feature digital art projected onto the cubes plus live music. It will boast 16 sides worth of projected art and videos along with four more on what they're calling the LED "Megacube," Levin said.
The LED "Megacube" is 18 feet tall and 12 feet wide.
"It's entirely LED panels," Levin said. "It's going to be pretty impressive. I'm really excited to see this get put together."
The projections and videos will run from about 5 p.m. to midnight.
"Then an LED tower will allow us to have loops of digital videos running all day long, so that will be nice to have something going on all day and not have to wait for it to get dark," Levin said.
Cubed Luminous will also feature art projected onto a screen behind the stage as the musicians perform and the Digital Graffiti Wall, an interactive wall where art is made while it's being projected.
"People can walk up to it like a tablet and draw digitally, then have it project onto the wall," Levin said, "and have this constantly evolving digital art piece going over the four nights."
The first year was ambitious, but this year is even more so, Levin said.
Many of the technical aspects of a digital art festival are out of his realm, he said with a laugh.
This is where people like technical director Ryan O'Keeley of O'Keeley Media come in.
His job is to make sure the artists' images make it up to one of the 20 screens they have, he said.
"From a technical standpoint, it's everything I learned in school plus all the skills I've gained from doing video work for the last decade," O'Keeley said. "It's very challenging, but it's the most enjoyable puzzle I've ever done professionally."
Designing the event was really fun, O'Keeley said.
"What we envisioned was something that would just wow people," O'Keeley said. "As soon as they walked up, they'd be hit with so many things too look at that it would be an event people wanted to stay at for a while."
The projectors are really bright HD projectors, O'Keeley said. He believes the quality will intrigue people.
"We're hoping that's going to be a really diverse experience for everybody that shows up because they have 16 different things to look at on the artists' cubes," O'Keeley said.
The spirit of Cubed Luminous is exposing the area to what's possible with technology and art, O'Keeley said. He hopes the event will invigorate the Pensacola art community.
"A city that has a strong artistic community, it overflows into other pieces of the city that make it great," O'Keeley said. "I hope this event inspires people to keep sharing art and using technology to get it in front of the people that enjoy it."
Amy J Bowman-McElhone, the assistant vice president of the University of West Florida Historic Trust Museums and director and chief curator of UWF's Pensacola Museum of Art, teamed up with Levin and Howard to make Cubed happen the first year and now this year.
Her organizations' focus is to handle the art, education and administration aspects of the event.
"We generated an open call for artists and are working with guest curators and UWF art faculty and students to bring in a lot of amazing visual content that highlights local, national and international artists," Bowman-McElhone said.
Public art events are extremely valuable, not only to the art community but to all of Pensacola, she said.
"Public art intervenes in the landscape and streetscape and makes us pay attention to our built environment," Bowman-McElhone said. "Spaces that would otherwise be overlooked now become activated, providing a sense of curiosity, interest, affiliation and association."
CUBED LUMINOUS
WHAT: A digital art and music festival
WHEN: Thursday, Nov. 8-Sunday, Nov. 11
WHERE: UWF Museum Plaza
DETAILS: cubedgulfcoast.com