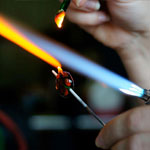 By Sam Smith
Since the discovery of fire, this powerful element has been viewed as a universal symbol of strength and passion. First City Art Center (FCAC) and Pensacola State College (PSC) have joined collaborative forces as part of this year's Foo Foo Festival to present female artists that have mastered the flames—creating art and burning down stereotypes.
On view through Dec. 7 at Anna Lamar Switzer Gallery, the "Women of Fire Exhibition: Celebrating Women Making Art with Fire" exhibit will showcase the vitality of blacksmith Corrina Sephora, glassblowers Hillary Heckard and Rene Culler, mixed media glass artist Rachel Wright, clay artist Maya Blume-Cantrell, pottery maker Osa Atoe and torch work glass artist Meredith Hartsfield.
Managing Director of FCAC Caitlin Rhea confirmed the origins of this exhibit to discussions shared with others about gender equality, double standards and prevailing female stereotypes.
"The best path toward social progress is to be proactive and host an event that celebrates the tenacity and the creativity of female artists who work with fire, an element which inherently has a masculine energy."
The opening reception will kick-start the exhibit on Thursday, Nov. 1, from 6-8 p.m. at Anna Lamar Switzer Gallery. This event will include demonstrations of torch work, blacksmithing, glassblowing and the opportunity to engage with the artists.
"The arts and crafts are only made richer by the diverse backgrounds and experiences of its participants. I think we should take time to pay specific attention to all of these different groups or people, to learn what they have to offer," said musician and pottery artist Osa Atoe.
FCAC will also host a multi-sensory event Saturday, Nov. 3, which will include glassblowing, flameworking, ceramics, Raku firings, and blacksmithing demonstrations. There will be fire dancing performances by Mariah McCay and Nicolette Dugas, live music from Trist Weeks and Zena Carpenter, vendors and food trucks.
FCAC new glass art fellow Hillary Heckard expressed gratitude for being a part of such a progressive art community that allows art to be shown as a genderless language and medium. "I think it is good to challenge the bias perspectives through art because without asking questions and trying to find answers, progress and change can't take place. And I think this is where the language of art draws out emotion and triggers a reaction."
"Women of Fire" Opening reception
WHEN: 6 p.m. Thursday, Nov. 1
WHERE: Anna Lamar Switzer Center for Visual Arts, 1000 College Blvd.
DETAILS: visualarts.pensacolastate.edu
"Women of Fire" night of demonstrations and multi-sensory event
WHEN: 6-9 p.m. Saturday, Nov. 3
WHERE: First City Arts Center, 1060 N. Guillemard St.
COST: Free for FCAC members, $10 suggested donation for non-members; VIP tickets are also available
DETAILS:  firstcityart.org