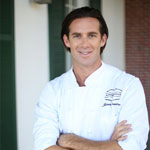 They don't call them the "culinary arts" for nothing. Foodies can stake their claim to Foo Foo at events ranging from sake tastings to barbecue competitions this year.
ATLAS BEVERAGE CLASS
Spend the evening with Milton-based Scratch Ankle Distillery exploring the flavors and versatility of Florida-grown grains outside on the Deck bar at Atlas Oyster House. The Atlas Beverage Class series focuses on sharing the history, product and craft of the featured brewery or distillery. Attendees of the Foo Foo Fest edition of ABC will sample four cocktails featuring Scratch Ankle spirits paired with four corresponding mini appetizers from the culinary crew at Atlas.
Atlas Oyster House, 600 S. Barracks St.
$20 per person
5 p.m. and 7 p.m. Thursday, Nov. 1
atlasoysterhouse.com
TASTES OF JAPAN
The Japan-America Society of Northwest Florida will bring five nights of hands-on cooking demonstrations, tastings and cultural immersion to Foo Foo Fest by way of So Gourmet.
"Food is kind of the perfect cultural exchange. By experiencing other cultures' cuisines, we can understand them better. And through that synthesis of new flavors and ideas, we enrich ourselves," explained Joe Vinson.
Guests can elevate their meal prep game by learning the subtle charm of the Japanese bento box, calm their election night jitters at a sake tasting, dive into the fascinating blend of Japanese and Cajun flavors with a guest chef, taste from the cultural melting pot of Okinawa and get schooled on sushi technique. For the culinary ambitious, you could close out the week with a serious Japanese culinary repertoire and a deeper understanding of Japanese culture, too.
So Gourmet Event Space, 407 S. Palafox
$35-$45 per class
6-8 p.m., Monday, Nov. 5-Friday, Nov. 9
jasnwfl.org
Viva Italia
Want a sneak peek from the soon-to-debut Angelena's Ristorante Italiano? Executive chef James Briscione and wine director Brooke Parkhurst are hosting a five-course tour of the Angelena's menu and wine program at sister restaurant Jackson's Steakhouse. In the best type of Foo Foo tradition, the dinner will also feature a live performance from a soloist with the Pensacola Opera.
Jackson's Steakhouse, 400 S. Palafox
$75 per person
Thursday, Nov. 8, 5:30 p.m.
jacksonsrestaurant.com
Pensacola EggFest
Once again, Pensacola sees an unusual harvest of Big Green Eggs, and they will be smoking, grilling and baking up some of the tastiest treats of Foo Foo Fest. Over 100 Big Green Eggs enthusiasts, visiting chefs and cooking teams from all over the Southeast will face off at Blue Wahoos Stadium. Guest judges will include barbecue legend Big Moe Cason and columnist Sean Dietrich. Not only are you guaranteed to eat good food but do some good in the process. A portion of the proceeds of Pensacola EggFest will support the Rally Foundation and other local nonprofits.
Pensacola Blue Wahoos Stadium, 351 W. Cedar St.
$25 advance, $35 at the gate
12-3 p.m., Sunday, Nov. 11
pensacolaeggfest.com