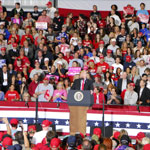 Trump Caravan Pops In President Donald Trump made a 25-minute campaign stop at the Pensacola International Airport on Saturday night, three days before the Nov. 6 election.
As with his previous visits, the area outside the venue, which this time was the ST Engineering Aerospace hangar, took on a carnival atmosphere. The crowd began arriving early in the day, filling a makeshift parking lot set up on fields along Langley Avenue across from the airport. They formed a long, snaking line past vendor tables and food trucks, countless red MAGA hats bobbing upon the surface of the crowd as they waited for one of the looping school buses to shuttle them to the rally.
Several of the Trump fans weren't from the Pensacola area.
Set up in a prime location on the corner near the shuttle stop, Bob Kunst enjoyed what he said was his 126th Trump rally. The Miami man wore a Star of David pendant around his neck and a Hillary Clinton mask. He's following the Trump train along its stump tour.
"Yeah, tomorrow I go to Macon," Kunst said, pushing the Hillary mask up on top of his head.
Though he identifies himself as a registered Democrat (or "Demo-rat") and gay activist, Kunst said he is on board with many of Trump's initiatives. He particularly appreciates how the president relocated the U.S. embassy in Israel to Jerusalem and also how he ditched the Iran nuclear deal, which he described as "disgusting."
"Don't forget about Hillary!" Kunst slid the mask back over his face and waved a Hillary for Prison sign at passersby.
At a vending table, Keisha Jenkins offered an array of Trump fare as well an assortment of conservative-themed options, such as a T-shirt featuring an uzi-packing, somehow-still-adorable panda with the phrase "Right to Bear Arms."
Jenkins is from Michigan and made the trip to Pensacola to help her brother vend Trump gear. Her brother follows the campaign trail. The pair is traveling a bit lighter after unloading a bunch of merchandise during an Indiana event. She declined to discuss politics.
"I wanted to see what it was like," Jenkins said, looking around at the people filling the parking area. "This here is off the hook."
Waiting in line, William Biggs wore a large Trump flag as a cape, affixed to his neck with a button that read, "Deplorable Lives Matter." He couldn't be happier with the president's performance thus far.
"I think he has flipped the table over on corruption in Washington," Biggs said.
Once folks made their way through the shuttle line and were transported to the hanger for the rally, volunteers supplied them with signs—Finish the Wall, Jobs Not Mobs, Drain the Swamp—and they began listening to a soundtrack alternating between newscast replays of Trump's 2016 election night surprise and a heavy rotation of Lynyrd Skynyrd's "Sweet Home Alabama" and "Freebird."
Waiting for the rally to begin, attendee Jeff Lloyd took a moment to discuss his assessment of Trump. A veteran of the oil and gas industry, he's happy about the president cutting regulations and also appreciates his hard stance on immigration issues. While Trump may be rough around the edges, he said, he's preferable to his predecessor.
"Obama was a great orator, a nice guy, but he's full of shit," Lloyd said. "Trump, he could tone it down a bit, but it doesn't bother me."
Lloyd is from Houston. He missed a recent Houston rally and decided to attend the Pensacola engagement because he was already in the area. He sees parallels between Florida's races and the senatorial race in Texas pitting Republican Sen. Ted Cruz against Democrat Beto O'Rourke.
"They're of the same ilk," he said, comparing O'Rourke with Tallahassee mayor and Florida Democratic gubernatorial candidate Andrew Gillum.
"Where'd you get that shirt?" a man asked Lloyd, laughing approvingly at the message.
Lloyd's T-shirt featured a variation of the traditional Calvin-pees-on-target-of-derision cartoon, with Trump urinating on the CNN logo.
"Everything is presented through a prism of hating Trump," Lloyd said. "I go on there just to laugh at how outside the mainstream of America they really are."
Bruce Beach Opened The City of Pensacola held a ribbon-cutting ceremony at Bruce Beach on Saturday, Nov. 3, to mark the opening of downtown Pensacola's only beach on Pensacola Bay. Mayor Ashton Hayward hosted the event, which included remarks from Dr. Marion Williams, a local African-American historian.
Up until last June, Bruce Beach was to be the site of a proposed fish hatchery run by the Florida Fish and Wildlife Conservation Commission. The hatchery had been in the works for seven years until two residents, Dan Lindemann and Jerry Holzworth, challenged the process and how the city staff missed a critical deadline to begin construction.
In August, after FWC canceled the project, Mayor Hayward directed staff to begin the process of creating public access to Bruce Beach. City crews cleared the site and removed the overgrowth.
The administration worked with several groups to make sure the environment and history of the site are protected. City staff also met with the Native Plant Society to assess the site vegetation. University of West Florida's Archaeology Institute also surveyed the site to identify any history needing to be preserved.
The UWF Historic Trust had paid for markers to commemorate the history of Bruce Beach, its significance to the African-American community and the Tanyard neighborhood.
"I am extremely proud of my team and the work they have done to complete this project," Mayor Hayward said. "This is just a start to get Bruce Beach activated, and I look forward to the future to how we develop Bruce Beach because it will be a great asset for the citizens of Pensacola."
LETF Dollars Disbursed The Board of County Commissioners last week approved Sheriff David Morgan's recommendations to distribute of $30,800 to local nonprofit organizations from State Law Enforcement Trust Fund.
The sheriff's office will be the presenting sponsor for the Pace Center for Girls' annual Believing in Girls Society Event, contributing $20,000. The ESCO will also be a sponsor of the Fellowship of Christian Athlete's Joe Durant Golf Tournament. For $800, the agency gets a four-person team in the tournament and can send two representatives to any of the seven FCA sports banquets held in the county.
Funds will be used to purchase transmitters, batteries and wristbands and underwrite other costs of Covenant Alzheimer's Services' Project Lifesaver program, which provides tracking devices to individuals who have Alzheimer's and Dementia, contribution $5,000.
The Epps Christian Center will receive $2,500 to help put on its annual Thanksgiving dinner, and Waterfront Rescue Mission will receive $2,500 for its Recovery and Career Development program. The mission had requested $15,000.
Cheaper Electricity The Florida Public Service Commission approved Gulf Power Company passing on to its customers additional savings from the Tax Cuts and Jobs Act of 2017. What Gulf Power would have paid in corporate income taxes will instead be used to reduce rates.
"We want customers to benefit from the federal tax reductions, and we will continue to find ways the law can help lower electric bills," said PSC Chairman Art Graham.
As a result, Gulf's base rates will be reduced by $9.6 million, allowing residential customers to see a monthly bill reduction of $1.11 per 1,000 kWh in January 2019. In addition, Gulf Power proposed to reduce its 2019 fuel cost recovery amount by $9.9 million. The proposal will be considered at the PSC's annual cost recovery clause hearing in November.
"We're so pleased to be able to pass these additional savings along to our customers," said Stan Connally, Gulf Power chairman, president and CEO. "The bottom line for the average customer is savings of about $32 per year that will begin in January. This will be the eighth time in 10 years we've been able to decrease prices."
Gigablast Cox Communications has launched its gigabit internet service for residential customers in Pensacola, Gigablast, which offers speeds 85 times faster than the average speed in the U.S. today.
Cox made the announcement at a special event at the Southtowne Apartment Complex in downtown Pensacola, the first neighborhood in Florida to receive Cox's new service.
"We are excited about our roadmap to offer gigabit speeds to all of our residential customers," said David Deliman, Cox's Gulf Coast market vice president. "We are deploying new technology and infrastructure that will offer our customers the choice of gigabit speeds in all markets we serve."
Cox has been deploying gigabit speeds to businesses for more than a decade, and the company will offer residential gigabit speeds to all customers in all of its markets by the end of 2019.
The Devil We Know The Levin Papantonio law firm with the help Edward Jones, John L. Peacock, Jr. CFP, CRPC, Financial Advisor, and Inweekly will host a screening event of "The Devil We Know" Monday, Nov. 12 at the Rex Theatre, 18 N. Palafox. The doors open at 7 p.m. and seating is limited to 300 so please come early.
"The Devil We Know" is a documentary that how citizens in West Virginia take on the powerful chemical corporation, DuPont, after they discover it has knowingly been dumping a toxic chemical into the local drinking water supply. Attorney Mike Papantonio and his Levin Papantonio legal team helped secure a $670.7 million cash settlement over lawsuits related to the exposure of a toxic chemical from the company's plant in West Virginia.
The documentary has earned accolades from at least a dozen film festivals across the globe for chronicling one of the biggest environmental scandals of our time.   Both the Sundance and Sun Valley film festivals lauded the film as one of the top documentaries released this year.
Beyond Cli-Fi Join 350 Pensacola and University of West Florida English professor Dr. Kelly Bushnell as they go beyond the science to explore climate change through the literary arts. The meeting is 6 p.m. Wednesday, Nov. 14, at Pensacola Public Library, 239 N. Spring St.
Dr. Bushnell explores how the literary arts are grappling with the climate future of our planet.  She concludes with a discussion of her role on an all-women expedition to the Arctic and the literature being produced in indigenous communities in the north who are least responsible for climate change but already the first to feel it.
The presentation is part of a monthly speaker series on climate change and related issues sponsored by 350 Pensacola. For more information, email 350pensacola@gmail.com.
Milton Rhythm & Ribs Festival For the first time in the panhandle, the Professional Florida Barbeque Association teams will be setting up shop in downtown Milton for an all-out BBQ Brawl for the Rhythm & Ribs title and valuable state and national championship points in four categories – chicken, brisket, pork and of course, ribs.
The Milton Rhythm & Ribs Festival is a salute to our veterans.  During the weekend-long celebration of Veteran's Day, Rhythm & Ribs will take place 10 a.m.- 9 p.m.  Saturday, Nov. 10.  The festival includes Professional BBQ competition, live music, food and art vendors, beer garden, kids zone, and car show.
Entertaining the crowd at the event will be local bands, She & the It's and Swingtown.  The headliner, going on at 7:30 p.m., is Sizemore, featuring Jack Sizemore and Amy Dally.  Best of all, Milton Rhythm & Ribs is free to attend.  No outside food or drink is allowed.  Bring your chairs and blankets, spend the day at Milton Rhythm & Ribs.
Mark Your Calendar Pine Forest United Methodist Church is hosting its 29th Annual Arts and Crafts Festival and Car Show 9 a.m.-3 p.m. Saturday, Nov. 10, at 2800 Wilde Lake Blvd. The day features over 180 vendors, food and live music. Proceeds will be used for community ministries. For more information, visit pineforestumc.org.
The Junior League of Pensacola will hold its Market Basket 10 a.m.-5 p.m. Saturday, Nov. 10, and 11 a.m.-4 p.m. Sunday, Nov 11, at the Court of De Luna Event Space, 116 E. Gonzalez St. One-day shopping passes are $10, two-day passes are $15 and kids under eight are free. To purchase tickets or for vendor information, visit pensacolamarketbasket.com.
Free Historical Lecture—"The Trials & Tribulations of the Old Villages of Warrington & Woolsey," by Norm Haines, M.D.—at 6:30 p.m., Thursday, Nov. 15, St. John's Episcopal Church, 401 Live Oak Ave. The event is free and open to the public, but tickets are required. Admission is limited to 150 people. To obtain tickets, visit eventbrite.com. Doors open at 6 p.m.
Black Friday Shopping Expo, sponsored by the Gulf Coast Minority Chamber, is 3 p.m. Friday, Nov. 16, at the Pensacola Improv Event Center, 375 N. Pace Blvd.
Opening Doors Northwest Florida will host "Path of Light" Candlelight Vigil 6-8 p.m. Saturday, Nov. 17, at Veteran's Memorial & Admiral Mason Park, 200 S. 9th Ave. The memorial event aims to bring closure to friends, families and communities for the homeless men and women who have passed away this year.