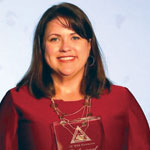 Winner
Libbie Johnson
The agricultural agent for UF/IFAS Extension Escambia last month received Florida Farm Bureau Federation's 2018 Extension Professional of the Year Award. Johnson was nominated by Jimmy Cunningham, president of Escambia County Farm Bureau, for her success at building exceptional relationships with farmers and ranchers in the local community. Florida Farm Bureau Federation offers the Extension Professional of the Year Award as part of a continuing program of recognition for excellence as part of its commitment to strengthening Florida agriculture.
Stepping Out in Style Fashion Show
The 42nd annual fundraiser, presented by the Women's Board of the Baptist Health Care Foundation and Gulf Coast Health Care, raised nearly $125,000 for The Meridian at Lakeview Center. The Meridian provides mental health treatment and substance abuse services for children between the ages of 7 and 17. The fashion show is the largest fundraiser for the Women's Board of the Baptist Health Care Foundation.
Rita Dotson
USTA Florida recognized the director of junior tennis at the Roger Scott Tennis Center as the October Florida Tennis Volunteer of the Month. Dotson has served as a year-round Special Olympics tennis coach in Escambia County and a local Net Generation trainer and facilitator. She also maintains the local nonprofit she founded, Tennis-4-Everyone, which provides free lessons to area youth at community center summer camps and provides tutoring to the children attending the Fricker Center after-school program.
Losers
National Republican Congressional Committee
The NRCC, the political committee devoted to increasing the Republican majority in the U.S. House of Representatives, saw its party lose more House seats than in any election since the Watergate era, despite raising $17 million more than it did on campaigns in 2016. NRCC chairman U.S. Rep. Steve Stivers (OH) probably won't be asked to chair the committee in 2020. We can expect shakeups in the coming months.
Florida House Republicans
Democrats reduced the GOP majority, netting at least six additional Florida House seats. Depending on the recounts, they may pick up two more. Regardless of the recounts, the Democrats will have 47 representatives in the lower chamber, the most since 1998. It wasn't exactly a blue wave, but Republicans' grip on state government has begun to loosen.
Broward County Supervisor of Elections
Elections happen every two years. This wasn't the county's first rodeo. Out of Florida's 67 counties, Broward had the most difficulties with mail-in ballots. Why? We suspect the issue is due to the incompetence of Supervisor of Elections Brenda Snipes, not fraud. We hope that every reliable vote is counted.
Malcolm Thomas
The Superintendent of Schools and his administrators were utterly shocked that the voters approved doing away with elections for the superintendent and have the school board appoint the position. The next two years will be very interesting.