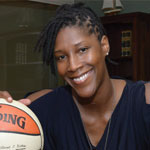 By Duwayne Escobedo
When her uncles would play basketball after Sunday dinner every week, little Michelle Snow would run onto the court, too.
No one told her that girls couldn't play against men or that they must sit on the sidelines and cheer. Her mom, Rosa, after all, told her since she was little that she could do anything she set her mind on doing.
Her uncles made one rule clear—there was no crying or quitting if Snow caught an elbow or got knocked down.
"They were tough," Snow recalled. "They didn't take it easy on you. I got hit by a lot of elbows. They hurt. But it made it so much easier when I played ladies. They helped advance my career."
The 6-foot-5 Snow ended up playing professional basketball in the WNBA and overseas for 16 years and became well known as the best women's basketball player from Florida. Her recent Florida Sports Hall of Fame induction confirmed it.
Other athletes from Pensacola to join the Florida Hall of Fame this year included sprinter Justin Gatlin, boxer Roy Jones Jr. and golfer Jerry Pate. The four joined fellow Pensacola athletes Derrick Brooks, a Tampa Bay Buccaneers linebacker, and Emmitt Smith, a Dallas Cowboys running back, who both earned NFL Hall of Fame honors. Additionally, Don Sutton, a Los Angeles Dodgers pitcher, is a Florida Hall of Fame and Major League Baseball Hall of Fame member.
The 38-year-old Snow accepted the honor on behalf of her mom, who succumbed to Lupus in 2004 after a 14-year battle. Snow plans to create a foundation named after her mom that will help those with the same condition.
Her mom served in the military where she met her father, Michael. The young couple moved back to Pensacola, where Snow grew up with three other siblings in the humble Montclair and Lincoln Park neighborhoods. She looked up to her mom, who worked as a teacher, dean's assistant, juvenile justice counselor and Sunday school teacher.
"From the time I was two years old, she was always drilling her values and beliefs in me," Snow said. "She made it very clear you have to choose who you are. You have to decide who you want to be. In basketball and the classroom, she was my biggest supporter."
Snow recalled when she was 12 she proclaimed to her mother that she would earn 17 scholarships one day. Instead, Snow has 150 athletic and academic offers.
"She burst into tears," Snow said.
It was Rosa who inspired the skinny, introverted Michelle to excel, especially in basketball. She also credited her Pensacola High School Lady Tigers coach Allison Davis and legendary Tennessee Lady Volunteers coach Pat Summitt with believing in her.
Snow led Pensacola to a state championship in 1998, was named the state's Miss Basketball and earned All-American honors. At Tennessee, she led her team to four Southeastern Conference championships and two Final Four appearances.
"They believed in me, even when I didn't," Snow said of her mom and coaches.
Because of her mom's illness, Snow said she often cried herself to sleep at Tennessee knowing her mom could not afford prescriptions that cost as much as $500. Snow said she never shared with anyone just how sick her mom had gotten.
In 2002, the Houston Comets drafted Snow 10th overall. The now disbanded team is tied with the Minnesota Lynx with four WNBA championships. Finally, she earned enough money to pay for her mom's prescriptions, cover the mortgage and buy her siblings new clothes.
"I was trembling and scared," Snow said of her first professional game. "I knew I had to be darn near perfect. I needed that job to pay for the medication my mom needed to live."
Snow, who has an upcoming book, "Shell-SHOCKED — The Unstoppable Mindset of Success," recounted that she had to take a nine-hour flight home from Russia as her mother lay dying in the hospital. Snow reported she never experienced a more "gut-wrenching" moment than when her mom finally passed.
Her death inspired Snow to empower others like her mother did. She encourages youth and adults by sharing her "Game Changer" strategies for success that she learned during her pro career that took her to 20-plus countries. It also saw her become the first woman to dunk three times in a college game and the first woman to dunk in a WNBA All-Star game.
"My mom told me I could play in the WNBA, but I couldn't go overseas," said Snow, chuckling at the pleasant memory.
Gatlin said he chose to attend the University of Tennessee in 2000 because of "his big sister," as he calls Snow. The 36-year-old Gatlin, who won the 100 meters in the 2017 World Championships in London, defeating Usain Bolt, plans to run in his fourth Olympic Games in 2020.
"(Snow) gave me confidence. She made me feel comfortable," said Gatlin, who joked they had planned a dunk contest after the Florida Hall of Fame awards.
One thing became clear during the ceremony—Pensacola athletes' pride in how many elite professionals their small Gulf Coast hometown has produced.
"Accepting the Florida Hall of Fame honor on behalf of my mother in my hometown, I do not see anything surpassing that," Snow said. "Definitely, there is that Pensacola pride."
Roy Jones Jr. said he enjoyed answering questions from Snow, Gatlin and other star athletes from Pensacola.
"Michelle believed in herself," Jones said. "Just because you're from Pensacola doesn't mean you can't succeed. I always try to encourage them and be positive."
Meanwhile, Snow knows the well-documented disparity in salary, endorsements and attendance for women basketball players and men basketball players. However, she believes the WNBA, which formed in 1997, will eventually achieve the same success as the NBA. Already, for example, Candace Parker of the Los Angeles Sparks has endorsements with Adidas and Gatorade while WNBA rookie sensation A'ja Wilson represents Mountain Dew Ice.
"I believe equality should not even be a question," Snow said. "There is no difference. There is so much progress that eventually it will all fall in place. The WNBA is here to stay."
Meanwhile, she will track the league's success from the sidelines as she teaches others to overcome those obstacles that might knock them down—such as her uncle's elbows—get back up, dust themselves off and achieve their goals.
"I enjoy people having that 'aha' moment," Snow said. "It's wonderful when that light come on in people. I love it because I know what that means."