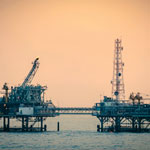 by Jeremy Morrison
Oil rigs dot the waters off the coasts of Alabama, Mississippi, Louisiana and Texas. Those states benefit economically from the arrangement but risk environmental tragedy, be it a spill the magnitude of 2010's Deepwater Horizon blowout or more akin to the recently reported, 14-years-long leak off of Louisiana.
Florida has always stood in contrast to other Gulf states when it comes to offshore drilling for oil and natural gas. Whereas the rest have chosen to embrace offshore energy exploration, the Sunshine State has always balked at the idea.
Officials in Florida have generally based their arguments against allowing drilling because a spill or leak could ruin both the state's coastal environment as well as its tourism economy. On Nov. 6, voters codified this opposition with their approval of Amendment 9, a constitutional amendment that prohibits drilling for oil or natural gas in state water.
But Florida's constitutional ban only goes so far—about three nautical miles off the Atlantic side and around nine nautical miles into the Gulf. And it turns out the state's real drilling prospects lie well beyond those protected boundaries, farther out in the Gulf in an area currently protected by a drilling moratorium that's set to expire in 2022.
A couple of days after the November election, Hunter Miller barely sounds excited about the passage of Amendment 9. He describes the measure as "great," but the tone in his voice betrays a more profound concern.
"We know that only offers us so much protection, whether it's three or nine miles," said Miller, who serves as the Florida Gulf Coast campaign organizer for environmental organization Oceana. "This federal offshore drilling plan is the big one."
Miller is referring to The National Outer Continental Shelf Oil and Gas Leasing Program for 2019-2024. The plan, which will serve as a roadmap for future energy exploration, was announced last January by U.S. Interior Secretary Ryan Zinke, and it proposes opening up more than 90 percent of the nation's total outer continental shelf acreage to exploration.
Of particular importance to Florida, the current draft version of the federal plan calls for opening up the eastern Gulf of Mexico to oil and gas drilling following the expiration of a moratorium designed to safeguard the area for military training exercises. Even with bi-partisan opposition from Florida's legislators in D.C., Miller thinks the eastern Gulf will still be on the table when the final version of the plan is released sometime later this year or early 2019.
"I wouldn't put it past the Trump Administration to include portions of the eastern Gulf because industry really wants it bad," Miller said. "That's what we're prepared for."
Shortly after President Donald Trump announced he would be undoing Obama-era restrictions on offshore energy exploration in 2017, the American Petroleum Institute hosted a conference call, during which an executive zeroed in on the eastern Gulf.
"We're optimistic," noted Erik Milito, API's upstream and industry operations group director, calling it "essential … to take a serious look at the eastern Gulf of Mexico."
When Zinke released the OCS draft plan, Florida officials and legislators were none too happy. In an apparent effort to quell their fears, the secretary fired off a tweet after meeting with Gov. Rick Scott that Florida was being removed from the offshore drilling plan.
But tweets don't carry any official weight. And Zinke's assurances didn't calm too many environmentalists in the state.
Miller points out that Florida is, in fact, still on the current OCS draft plan being considered.
"I think that statement was vague, and we don't really know what that means—'off the table'—it's kind of like, is there a scenario in which you can appear to protect our coasts, while at the same time making deals and saying, 'Oh, we're going to carve out this portion here, and this portion here, but we're still going to have a permanent moratorium.' But it's not really a permanent moratorium because if we were to compromise our currently protected areas, that's a loss," Miller said.
The moratorium, which puts the eastern Gulf off limits to energy exploration—and serves as Florida's saving grace in this instance—was put into place in 2006 to safeguard the so-called military mission line. The protected area allows for the military to conduct exercises without the impediment of exploration activities.
According to the Bureau of Ocean Energy Management, the eastern Gulf has between 2.55 billion and 3.19 billion barrels of undiscovered, recoverable oil. It's an area the energy industry is salivating to get into, and following the moratorium's expiration in 2022, it may be coming up for grabs.
There have been some efforts to extend the current moratorium or make it permanent. One such attempt in May by Rep. Kathy Castor, a Democrat from Tampa, and Rep. Francis Rooney, a Republican from Naples, was blocked from consideration by the Senate.
Also in the spring, a coalition of Gulf Coast legislators met with officials from the departments of Defense and Interior to discuss how the military could continue to use the eastern Gulf, while also allowing for drilling in the area. Those talks, led by Rep. Steve Scalise (R-La.) and Rep Rob Bishop (R-Utah), appear to have dissolved without too much resolution.
Now, with the midterm elections over, environmentalists like Miller are worried that there may be a renewed effort during the lame-duck session to take some action concerning the eastern Gulf.
"Here's what we know—the House flipped," Miller reasoned.
The concern is that Republicans—particularly Gulf Coast Republicans from oil-centric states—will attempt to get something passed legislatively that formally green-lights oil exploration in the eastern Gulf with or without certain portions left protected before the newly Democrat-controlled House might try to extend the current moratorium or even make it permanent.
"We know that they have been nervous about this moment," Miller said.
The Oceana organizer points to Florida's officials, both in state and in Washington, as the best line of defense protecting the state from drilling. Regardless of political stripe, he noted, they tend to line up behind the no-drilling banner.
"The strongest opposition we have seen has come from Florida lawmakers," Miller said, also pointing to governor-elect Ron DeSantis as having run on a platform of keeping offshore drilling out of Florida—"We are counting on him to be a big champion of that; governors' voices are really important."
But recognizing the energy industry's appetite to get at the eastern Gulf, and the Trump Administration's seeming predisposition to let them have at it, the environmental field organizer can't help but be a bit on edge during this vulnerable lame duck session.
"What we do know," Miller said, "is that a lot of Gulf state members and the oil industry are looking at the eastern Gulf and looking at the next couple of months as an opportunity to try to make a deal."