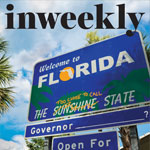 The Recount State
Once again, the election process in Florida has become fodder for late night television. Republicans saw their leads shrink in the races for U.S. Senate and Governor as Broward and Palm Beach counties struggled to tabulate their mail-in ballots in the days after the polls closed.
In the Commissioner of Agriculture race, the Democrat edged ahead of the Republican after trailing on election night.
The vote margins between the candidates have triggered machine recounts in those races, and the U.S. Senate and Agriculture Commission races may also require manual recounts if their tight margins hold after the machine recount.
Florida law, passed by a Republican-controlled legislature and signed by a GOP governor, established the standards. The recounts aren't conspiracies to steal the elections. As Escambia County Supervisor of Election David Stafford told us, "It's math."
Regardless, Florida should have its official results by Tuesday, Nov. 20—unless one of the half dozen lawsuits filed delay the certification.
How the Recount Works
According to Florida Statues, Section 102.141 (7), if the unofficial returns reflect that a candidate for any office was defeated or eliminated by one-half of a percent or less of the votes cast for such office, the Florida Secretary of State shall order a recount of the votes cast with respect for such office.
It doesn't matter if one of the candidates issues a verbal concession statement. Only a written statement from the candidate losing the race by half of one percent or less requesting the recount not be conducted can stop it from happening.
"There's a lot of misconceptions about the recounts," Supervisor of Elections Stafford said. "People think that someone can request a recount, but it's really all math. The margin of votes between the candidates determines whether there will be a recount."
Machine recount
Deadline: 3 p.m. Thursday, Nov. 15
Three statewide races are under mandatory machine recounts—U.S. Senate, Governor and Commissioner of Agriculture. For federal, state and multicounty races, only the Florida Secretary of State may order a recount.
Each supervisor of elections must re-feed ballots into county or central count tabulators for the mandated machine recount. Ballots with overvotes and undervotes in the affected races are subsequently set aside in case a manual recount occurs.
The re-tabulated results from all 67 counties are due to the Florida Secretary of State by 3 p.m. on Nov. 15. The results are known as the "Second Unofficial Returns."
Manual recount
Deadline: Noon, Sunday, Nov. 18
If after the machine recount the results from any of these races has a margin of 0.25 percent or less, a hand recount will be ordered for undervotes and overvotes only in affected races. An undervote occurs when a voter didn't pick someone in the recounted races. An overvote happens when a voter appears to have chosen more than one candidate in the recounted races. The results from the manual recount will be reflected in the Official Returns due to the state on Nov. 18.
Overseas military and civilian ballots
Deadline: Noon, Sunday, Nov. 18
These ballots are due to the appropriate supervisor of elections office by Nov. 16. All overseas ballots postmarked and signed by Election Day, Nov. 6, are considered valid.
Once all returns are in, the county canvassing boards must certify the results and submit them to the Florida Secretary of state by noon on Nov. 18.
Statewide Election Certification
Deadline: 9 a.m., Tuesday, Nov. 20
Following the submission from the counties, the Election Canvassing Commission, which is made up of Gov. Rick Scott and two Cabinet members, will meet to certify the results.
————————————————-
Statewide Races
Results as of Nov. 10
U.S. Senator *Recount Mandated
Rick Scott (R) 4,098,107 | 50.07%
Bill Nelson (D) 4,085,545 | 49.92%
Governor *Recount Mandated
Ron DeSantis (R) 4,075,879 | 49.59%
Andrew Gillum (D) 4,042,195 | 49.18%
Attorney General
Ashley Moody (R) 4,231,794 | 52.11%
Sean Shaw (D) 3,743,102 | 46.10%
Chief Financial Officer
Jimmy Patronis (R) 4,151,455 | 51.75%
Jeremy Ring (D) 3,870,776 | 48.25%
Commissioner of Agriculture *Recount Mandated
Matt Caldwell (R) 4,025,011 | 49.97%
Nikki Fried (D) 4,030,337 | 50.03%
—————————————————————————————–
Amendments

Amendment 1: Increased Homestead Property Tax Exemption   Failed
Amendment 2: Limitations on Property Tax Assessments   Passed
•Makes permanent the 10 percent limit on increases in tax value for non-homestead property.
Amendment 3: Voter Control of Gambling in Florida  Passed
•Requires that voters approve a constitutional amendment through citizen initiative to authorize any new casino gambling in Florida.
Amendment 4: Voting Restoration Amendment  Passed
• Grants ex-felons—excluding those convicted of murder or felony sex crimes—the right to vote after completing all the terms of their sentence.
Amendment 5: Supermajority Vote Required to Impose, Authorize or Raise State Taxes or Fees  Passed
•Requires a two-thirds vote by the state House and Senate to increase existing taxes and fees or impose new ones.
Amendment 6: Rights of Crime Victims; Judges  Passed
•Enshrines in the state Constitution an array of victims' rights, many of which are currently in state law.
•Raises the mandatory retirement age for Supreme Court justices and judges from 70 to 75.
Amendment 7: First Responder and Military Member Survivor Benefits; Public Colleges and Universities  Passed
•Universities' boards of trustees and the state Board of Governors must get supermajority approval from their members to increase student fees or impose new ones.
•Requires state and local governments to pay death benefits to first responders and members of the U.S. military who are either residents of Florida or are stationed in the state.
Amendment 9: Prohibits Offshore Oil and Gas Drilling; Prohibits Vaping in Enclosed Indoor Workplaces  Passed
•Bans oil and gas drilling beneath Florida state waters.
•Adds new restrictions to the Constitution on the use of electronic vaping devices, largely mirroring current constitutional restrictions on indoor workplace smoking.
Amendment 10: State and Local Government Structure and Operation  Passed
•Fix the date for state legislative sessions in even-numbered years as the second Tuesday in January.
•Creates an Office of Domestic Security and Counterterrorism within the Florida Department of Law Enforcement.
•Makes the Department of Veterans' Affairs mandatory.
•All of Florida's counties must hold elections for sheriff, property appraiser, supervisor of elections, tax collector and clerk of the circuit court.
Amendment 11: Property Rights; Removal of Obsolete Provision; Criminal Statutes Passed
•Repeals a provision that allows the Legislature to restrict the property rights of non-citizens.
•Deletes language that requires criminal suspects to be prosecuted under the provisions of the law they're accused of breaking, even if that law is changed by the Legislature.
•Deletes a section of the Constitution—concerning high-speed transportation—that was repealed by voters in 2004.
Amendment 12: Lobbying and Abuse of Office by Public Officers  Passed
•Extends the ban on state lobbying by legislators and statewide elected officials from two to six years and prohibits them from lobbying federal and local government agencies while in office.
•Prohibits top state agency employees from any lobbying while working for the state and from lobbying state government for six years after leaving their job.
•Prohibits local elected officials from getting paid to lobby anyone while in office and from lobbying their own governing body for six years after leaving office.
•Prohibits judges from lobbying any branch of state government for six years after leaving the bench.
Amendment 13: Dog Racing  Passed
• Bans all dog racing in Florida by Dec. 31, 2020.