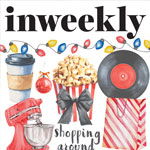 Black Friday Alternatives To Keep You Sane and Entertained This Weekend
We all know there are better ways to spend Thanksgiving than standing in line for a half-priced Keurig that you don't really want or need. But every year we get sucked in by the bargains and end up hating ourselves (and everyone else at the mall) for buying into Black Friday.
But not this year.
This time around, we're here to help you avoid the black hole that is Black Friday with some cool alternatives. Most of these suggestions are of the non-retail variety, but because we know shopping is pretty much unavoidable this time of year, we included some local options on that front too.
•See a movie
We know a lot of people do this on Christmas Day, but there are more than enough good movies out this time of year to justify taking in a few holiday weekend double features.
You can go festive with "The Nutcracker and the Four Realms" and "The Grinch" or musical with "Bohemian Rhapsody" and "A Star Is Born." Or you can get a jumpstart on the Oscar buzz and let Timothée Chalamet and Steve Carell make you cry with "Beautiful Boy."
If you want to stay away from the Cordova Mall area all together, you can still see a movie Friday and Saturday too. Pensacola Cinema Art is showing the Mr. Rogers documentary "Won't You Be My Neighbor?" Friday and the indie drama "Eighth Grade" Saturday. Both screenings are at 1 p.m. and cost just $5 (cash only).
Details: pensacolacinemaart.com
•Or some live music
If you're looking to entertain yourself and your long-distance family and friends Friday night, Vinyl Music Hall has just the thing.
They're hosting Nirvana and Green Day tribute bands, which sounds like the perfect way to get your cool uncle out of the house and having fun if you ask us.
Details: vinylmusichall.com
•Begin a binge
Sure, movies and bars are great, but you could also decide to go in a totally different direction for the long weekend and not leave the house at all.
But if you're going to stay put, you're going to need something really good to binge. Thankfully, there's lots of fresh, good stuff out there, like the new season of "House of Cards" and "Narcos: Mexico."
Another option is watching or rewatching an old show that's been in your queue forever. If you decide to go that route, we always vote for "The West Wing" because Josiah "Jed" Bartlet really is the greatest fictional president of all time.
•Donate something
There's no better alternative to mass consumerism than doing something charitable. So no matter what you do on Black Friday, you should commit to volunteer in some way this season. At the very least, you could declutter a little and make a donation to a local thrift store like Waterfront Rescue Mission or Pensacola Humane Society's Thrift Store, Beverly Barkway.
Details: waterfrontmission.org
pensacolahumane.org/thrift
•"Elf" it up
If you're hanging out with kids on Black Friday, the Winterfest Elf Parade is where you need to be. In addition to the annual parade (which kicks off at 4 p.m.), they also have lights, fake snow, games and tours, too.
Just make sure you wear your elf ears because there is a costume contest.
Details: pensacolawinterfest.org
•Take in some lights
Another family-friendly activity is checking out a large-scale holiday light display—many of which open for season on Black Friday. But just so you know, to see the good stuff, you have to be game for a little road trip.
First up, there's Bellingrath Gardens in Mobile. If you've never been to this walk-thru wonderland, you should make it a must this year. ZooLights at the Gulf Breeze Zoo is also opening Black Friday, and to celebrate, they are offering free admission in exchange for a donation to Toys for Tots. Sowell's North Pole Christmas Light Display in Milton will also open for the weekend (Friday, Nov. 23 and Saturday, Nov. 24) before opening nightly for the season Thursday, Nov. 29.
If the Winterfest Elf Parade is on your to-do list, make sure you stay put downtown after for the First City Lights Festival Lighting Ceremony. During that, they will be unveiling this year's holiday decorations along Palafox Street.
Details: bellingrath.org
gbzoo.com
facebook.com/sowellsnorthpole
downtownpensacola.com
•Ride it off
If you haven't tried out a class at Ride Society yet, Black Friday might just be the perfect day to saddle up. They're offering a class at 8:30 a.m. that day.
Details: ridesociety.com
•Trim the tree
One great thing about Thanksgiving is that once it's over, it's officially time to move into Christmas mode if that's your thing. And if it is, you know there's no better place to start than picking out a tree.
Our favorite tree shopping spots are the ARC Gateway Nursery and Bailey's Produce and Nursery.
Details: arc-gateway.org
facebook.com/baileysproduce
•Upgrade your leftovers
Sure, you can just eat turkey sandwiches until you're ready pop. Or you could step up your leftover game with something like turkey tortilla soup or mashed potato pancakes.
Details: Google "Black Friday Recipes" and go from there.
•And if you have to shop, shop local
We understand that you've got a gift list that's a mile long and you've got to get started sometime. But just because you're going to give in and go shopping on Black Friday doesn't mean you have wait in a long line or get up super early. Most local retailers are open that day, too, and some even have their own totally awesome exclusives and sales—like Revolver Records. They are opening at (the very reasonable time of) 10:30 a.m. to participate in Record Store Day's annual Black Friday tradition.
And don't forget about Small Business Saturday the following day. More than 3,000 communities across the country are set to celebrate shopping local the day after Black Friday—including ours.
Details: facebook.com/revolverfl
facebook.com/smallbusinesssaturday