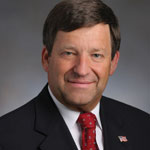 Winners
Malcolm Thomas
The Florida Association of District School Superintendents named Escambia County School District Superintendent Malcolm Thomas as its Florida 2019 Superintendent of the Year. First elected in 2008, Thomas has been subsequently re-elected twice. As the state's winner, he will represent Florida in February 2019 by attending the American Association of School Administrators' National Education Conference in Los Angeles.
Sacred Heart Hospital
IBM Watson Health ranked Sacred Heart Hospital as one of the nation's 50 Top Cardiovascular Hospitals for inpatient cardiovascular care. The Watson Health 50 Top Cardiovascular Hospitals study is in its 20th year, and Sacred Heart has made the list twice. The study uses 2016 and 2017 quality data from Medicare as well as Medicare cost reports. IBM Watson ranked hospitals in key performance areas including mortality, complications, readmission rates, the average length of stay and the average cost per case.
Stan Connally & Rishy Studer
Junior Achievement of Northwest Florida selected Connally and Studer as its Hall of Fame Laureates for 2018. They were selected on criteria including support of Junior Achievement's mission, volunteering in the classroom, assistance with fundraising for the organization, dedication to improving the community and distinguished community leadership that directly impacts young people. Connally topped the Inweekly Power List in 2015, and Studer was No. 1 in 2017.
Losers
General Motors
The auto giant announced its plans to cut 15 percent of its 54,000 North American salaried jobs and to end production at five North American plants in 2019. Among the plants expected to closed are the iconic Detroit-Hamtramck Assembly in Detroit and Lordstown Assembly in Warren, Ohio. GM said it also would close two unidentified plants elsewhere in the world by the end of next year. Ouch!
Town of Century
Town Clerk Kim Godwin last week filed a report with the Escambia County Sheriff's Office alleging her notes and audio recordings from September town council meeting had been stolen. On Nov. 20, the Century Council approved minutes from an Aug. 3 budget meeting but had not received the minutes from two meetings in September, one in October and one in November. A week later, Godwin filed a theft report. Is there a city government version of "Bar Rescue?"
Florida's Uninsured Children
The number of children without health insurance has increased to about 325,000 uninsured children in Florida in 2017, up from 288,000 in 2016, according to a recent report by the Georgetown University Center for Children and Families. Florida ranked 42nd in the country among states for its uninsured rate. Nationally, the number of uninsured children increased for the first time since the CCF began doing the study eight years ago, jumping from 3.649 million in 2016 to 3.925 million last year.