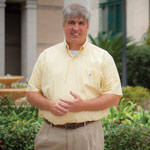 By Jeremy Morrison
It didn't take long for Pensacola Mayor Grover Robinson to get down to business. Within hours of being sworn into office, the new mayor's transition team was already knee deep in the thick of it, mapping out the city's governmental topography to better chart the course forward.
As Robinson's team members outlined the scope of their work during the group's initial Nov. 27 meeting, it was apparent they were gearing up for a deep dive into the city. Charged with taking an in-depth read on Pensacola, the team intends to assess the needs facing the community and make recommendations for how city government can best work to address such needs.
Headed up by businessman-developer-philanthropist Quint Studer, the mayoral transition team is examining things like governmental efficiency, neighborhood relations and the environment. Some areas of interest, such as budgetary or legal concerns, will require wading into the interior of city government. Other areas, like education and traffic-related concerns, will rely on team members reaching out into the community for feedback.
Following the team's first meeting, Studer said he felt good about the group's potential.
"I think we're going to get some good input," Studer said. "I think we're going to have some good ideas. I think our recommendations are going to be solid recommendations."
An Exciting Journey Ahead
In addition to Studer, Mayor Robinson's transition team is fielded with 11 volunteers. Each is charged with assessing a particular aspect of the city. The team is casting a wide net, looking at both the day-to-day logistics of operations as well as farther afield, philosophical items that city officials don't have direct control or influence over, like education.
The transition team has set a March 1 deadline for issuing Robinson and his new city manager, Chris Holley, a final report.
"I hope to get this report done sooner than 90 days," Studer noted, hinting at a potentially early finish.
In preparing for their work, team members have been studying the mayoral transitions of other cities, specifically Long Beach, Calif., and Birmingham, Ala., and studying the "Transition Manual for Newly Elected Mayors" from the Harvard University John F. Kennedy School of Government.
The various categories divvied up between transition team members consist of crime and safety, education, neighborhoods, governance, environment, transparency, economic development/entrepreneurship, traffic/walkability, government efficiency, finance and budget and legal.
Studer requested that members get as much public input on their respective subject matter as possible and also noted that the categories shouldn't be expected to encompass everything the team will encounter.
"We know this is just a start," Studer said. "We know we're missing some things. We know some things are going to fall in the middle."
To get the ball rolling, each team member spoke for a few minutes about how they viewed their categories. They talked about engaging neighborhood associations, about creating a more transparent and accessible atmosphere at city hall, about the city's economic strengths and weaknesses and its environmental concerns, about the need for more sidewalks and street lights and so forth, depending on their purview.
The transition team also heard from the public during its inaugural meeting, with people listing off issues they thought members should consider. People asked that the team consult with neighborhood associations and existing city committees, they expressed concerns about issues ranging from mass transit to vocational training to juvenile incarceration, they requested the team hold after-hour meetings away from the confines of city hall, and they noted how it'd be nice to splash the city with more art and color.
The issue of diversity was also addressed. Robin Reshard told the team that although the issue of diversity was not assigned its own category, she was sure the subject was "woven into each of your hearts and minds" and stressed that it was not something to be shied away from.
"I want to make sure that when you enter a room and everyone looks like you, you are bold enough to walk out of this room and say, 'This is not okay,'" Reshard said, "and then walk back into that room and say, 'We need to work on this.'"
Studer said that the decision to not have a diversity-specific assignment was purposeful, as the issue would be intertwined with any given category. "We believe it should be integrated into everything," he stated.
Looking ahead to its three months of research and fieldwork assessing Pensacola's strengths, needs and priorities, Studer told the transition team he found the scope of its work inviting.
"I think we've got an exciting journey ahead of us," he said. "I think we've got an exciting task."
From Quick Wins to Big Picture
It appears Mayor Robinson's transition team will work at a steady clip. The group convened for a second session a week after its first meeting, ready to discuss a skeletal version of what a final report may look like.
Sometime in between the two meetings, Studer paused to consider the transition team's purpose and mission.
"I look at this transitional team as one in helping get a lot of input to give to them," the chairman said.
Studer described the team as working as an extension of Mayor Robinson and his administration. They will be amassing information and public input and acting as his liaisons in the community.
"If each one of them touches as many people as they can, he's gonna get a lot of input," Studer said.
Aside from the aspects of its work that requires assessing the city's internal workings, the team will be depending heavily on this public input aspect to guide its research. That input ultimately will be synthesized into the recommendations forwarded to Robinson to guide his tenure as mayor.
It's important work that stands to shape not only the city's practical plans but perhaps philosophical approaches to various issues as Robinson takes office. Studer, however, tempers placing too much importance on the team's mission.
"I think the transitional team is important, but I don't think it's as important this time as it was eight years ago," the team chairman said. "Eight years ago, people were adjusting to a whole new form of government."
Studer said that he thought Pensacola's first mayor under the city's so-called strong-mayor form of government—outgoing Mayor Ashton Hayward—was looking for "quick wins."
"You know, looking to show that the strong mayor worked. So, 'what're some quick things we can do right away?' That made sense. This is a different scenario," the chairman said.
Robinson is stepping into a now-established model of government. And unlike his predecessor, he's had years of governmental experience sitting on the Escambia County Board of County Commissioners.
Studer said that Mayor Robinson, and by extension his transition team, is thinking "bigger picture." They plan to assess the city inside out, see what's working well and what needs improvement.
For starters, Studer said, there could be staffing changes aimed at efficiency, such as beefing up the city's legal division in hopes of utilizing less outside legal representation.
"It can look like you're adding expense, but you might be reducing it long term," Studer said.
Another out-the-gates effort will include assessing the city's managerial training practices.
"Because they have rough jobs, they have employees. This is a $220 million business, and I think being a manager is hard in any business," said Studer. "We're talking about how to hire, how to do process improvement, how to handle customer complaints. And you want consistency, so for me, that would be one of the recommendations right off the bat. The city's got to invest in their managers and their people to make sure the employees have good supervision."
Something else the team is likely to address with its work, Studer said, is the formulation of a strategic plan. The team chairman explained that when doing interviews regarding his book, "Building A Vibrant Community," he typically researches the strategic plan of whatever locale the interviewing outlet is based in.
"They'll always have their strategic plan, and I'll pull it up, and they're pretty good. And so another type of recommendation might say we should have some type of strategic plan, what fits and what doesn't fit," Studer said. "If you don't have a good strategic plan, everything that shows up might make sense."
Whatever recommendations Mayor Robinson's transition team ends up offering, the chairman said they would all be aimed at improving the city and the way it serves citizens.
"Our mission is to leave in 90 days," Studer said, "to give them a plan that says these are some things we really think would be beneficial to the community."