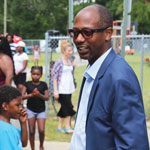 By Duwayne Escobedo
This past year, Lumon May worried about more than serving Escambia County District 3 as its county commissioner. His mother, Mary, underwent heart surgery. However, her surgery failed to keep her from watching his board meetings or continuing to hand out political advice to her son.
She tells him in her soft, motherly voice to remember to hold his head up, to wear a tie and to flash his smile but most of all to "always be nice, baby."
May can recite his mother's motto, "It's nice to be nice. Nice to know how to be nice. Nice to know when to be nice. It's nice to be nice."
The 48-year-old May recalls her words when dealing with the difficult job of being an elected official, which is about to get even more difficult for the second-term commissioner as he takes on the extra responsibilities and duties of being the chairman for the second time.
"I'm a social worker in many ways," said May, the Southern Youth Sports Association co-founder.
Indeed, being "nice" has guided him to make human capital his top priority, not things, like roads, economic development projects, a new jail and use of Triumph Gulf Coast funds from the 2010 BP oil spill.
Instead, May prides himself on spearheading job training, internships for young adults with the county and new community centers where neighborhoods can learn, play and socialize.
During the next year, May said he plans to put affordable workforce housing at the top of his agenda. Like progressive communities across the nation, he wants to see projects where those who need subsidized housing live next door to professionals, such as teachers, police officers and nurses.
"Outlying Field 8, The Bluffs (Industrial Campus) and the jail all obviously are critical," May said. "But we need innovative workforce housing instead of cramming a bunch of poor people in poor housing developing poor habits. Our children need to see people doing positive things."
Steven Barry, the District 5 commissioner, expressed confidence in May's leadership.
"I am excited to have my good friend serving as chairman this year," Barry said. "While there will always be a number of contentious issues for the board members to address, I am confident Lumon will preside over our meetings in the calmest, fair and rational way."
One of many immediate tasks includes embarking on a national search to replace county administrator Jack Brown, who retired Oct. 19 to take care of his ailing wife, Ursula. Brown, a retired U.S. Army lieutenant colonel, took over June 2014. He helped the five-member commission in the aftermath of flooding that year that led to an explosion that destroyed the Escambia County Central Booking and Detention Facility and killed two people. The county recently hired Jobe's Dirt Works to begin a $584,000 demolition of the mangled eyesore.
"I'm saddened Jack will be gone," May said. "But I'm excited to lead the county in hiring a new administrator in 90 to 120 days during this pivotal time."
May, his fellow commissioners and the new administrator also must work together to complete the new 720-bed, $129 million jail by 2020. Escambia County has paid about $5 million a year for Walton County to keep its overflow of inmates.
If it were up to May, one of the few elected Democrats in Northwest Florida, the county would have more programs in place to reduce the inmate population.
"Incarceration is not the answer to having a healthy community," said May, who pushes job training and other crime prevention programs.
The county also has several major economic development initiatives it's working on, such as the 636-acre OLF 8 property the county is buying for $17.3 million this month. It also has the 1,758-acre The Bluffs Industrial Campus that looks to attract 60 companies and to employ 15,000 people when entirely built out.
Also, May wants to give similar incentives to local small and minority-owned businesses just like it does when attracting a major company, such as ST Engineering. The company at the Pensacola International Airport, which opened in June, plans to employ 1,200.
"We need to cast our net wider and invest in existing local businesses and sustain them," May said. "We need skills training, and we need to develop our own talent. We are not helping Escambia County if we hire people from outside to do these jobs."
After serving as chairman once already, May said he plans to run more timely commission meetings this time around. This includes going back to allowing each citizen only three minutes to speak during the public forum of regular meetings and not let them pass their time onto other people. He said he regrets missing a few important family events while involved in "non-productive" talks during meetings in the past.
"We get too bogged down and too much into the minutiae," May said. "Even as chairman, I will make no apologies to go see my children and family."
In the end, May said his primary goal is simply to improve his hometown.
"I want to make this place so great that everybody from here who graduates college decides to stay in Escambia County," May said. "I want them to say, 'I want to live in Pensacola.' I want to bring the community together."
You can thank Mary and the former Rev. Theophalis May for their son's strong commitment to improving the lives of citizens and the community. May admits they are "the greatest influences on my life."
"Most of my siblings and my counterparts have all moved away," May said. "They didn't believe in Pensacola and the dream they could be successful here. But I believe you can."