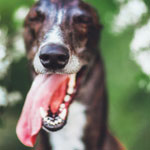 By Sydney Robinson
With Sea World ending their killer whale program, Barnum and Bailey retiring their elephant acts and now Florida banning greyhound racing, it's becoming clear that the public is beginning to care more for animal rights than their own entertainment.
On November 6, Floridians voted overwhelmingly to end the decades-old practice of racing greyhounds in the state by 2020. But what does the ban mean for the thousands of exotic racing dogs in the state who will be out of work after the two-year grace period?
While many applaud the passage of the 13th Amendment to Florida's constitution, the language in it fails to mention how these animals are to be handled in the aftermath.
In the Pensacola area alone, there are between 150 and 250 dogs who will need to be adopted by 2020. Statewide, that number is between 3,000 and 8,000. To prepare, local adoption group Greyhound Pets of America Emerald Coast (GPAEC), the local branch of a national organization, has already begun raising funds and sending groups of retired racing dogs to different states for adoption.
The amendment passed 69 percent to 31 percent, a decidedly bipartisan issue. Opponents of the bill argued that it could lead to bans on other activities like sport fishing, while former NRA president and lobbyist Marion Hammer penned an op-ed arguing that passage of the amendment was a slippery slope of hidden activist language that could lead to forced veganism and a ban on petting zoos.
Proponents of the amendment pointed to the large number of dogs euthanized on the track due to injury and illness, evidence of drugging dogs to enhance performance, and the mistreatment of retired dogs as vital flaws in the industry.
461 dogs have died at tracks since 2013 when the state began collecting data on the topic. Reasons for death include injury, illness and other issues.
Nick Breland, grassroots coordinator for the Protect Dogs—Yes on 13 campaign in Escambia County, shared his reasons for advocating for the amendment.
"Aside from the direct effect of liberating greyhounds, Amendment 13 was also important because it elevated an issue of animal exploitation to a statewide conversation," said Breland. "As a vegan and animal rights activist, I hope that supporters of Amendment 13, as well as the Florida public at large, will begin to notice other forms of animal suffering, such as animal agriculture and the use of animals in entertainment."
While some fear-mongering opponents of the amendment have warned that dogs may face being mass-euthanized if racing was ended, rescue organizers say no such thing will occur.
"No dogs are at risk," said GPAEC Vice President Lois Phillips. "The adoption community is already working together to ensure every greyhound will be placed appropriately upon their retirement."
The local dog track, Pensacola Greyhound Track & Poker Room, has not yet decided how long they will continue to operate in light of the ban.
"The property will remain open, and our leadership is evaluating the options related to racing before making any operational changes," said track PR Director Magi Thomley Williams. "We will continue to work with a number of rescue organizations to re-home retiring greyhounds."
The business also has a page on their website to promote adopting greyhounds, and they direct those interested to the GPAEC to inquire further.
Even before the amendment passed, GPAEC has been setting up shop at adoption events like the one held weekly at PetSmart on Davis Highway. Along with several other pet rescues and adoption organizations in the area, GPAEC brings eligible retired racing dogs for meet and greets to drive interest in adoption as well as raise awareness about the breed.
Currently, there are 10 operating dog racing tracks in Florida, including the one that's located right here in Pensacola. Though the amendment passed in early November, many tracks will continue operations up until the 2020 deadline.
"Several tracks in Florida have decided to continue racing for now," said Phillips. "It will be business as usual" until the ban is instituted.
The first U.S. professional dog-racing track opened in 1919 in Emeryville, Calif. Today, over 40 states have laws on the books banning the sport. When Florida joins that list in 2020, there will be just a handful of remaining tracks in Alabama, Arkansas, Iowa, Texas and West Virginia.
The amount of money being spent by the public betting on greyhound racing has dramatically decreased in recent decades, in Florida and nationwide. State filings show that dog tracks in Florida lost $34.8 million of revenue in 2016 alone. Before the passage of Amendment 13, betting venues could not stop hosting dog racing without also giving up their ability to offer card games like poker. Many cite that as the main reason many tracks remain at all.
To adopt, the GPAEC requires that no members of the family be younger than four years of age. Adopters must pay a standard $250 adoption fee, which covers medical care. They must also agree to always keep their sighthounds on a leash when outside in an unfenced area (because greyhounds are able to spot prey at greater distances than a human and can reach speeds of 45 miles per hour in just a few strides).
Those interested in adopting can visit the dogs of GPAEC at meet-and-greet opportunities, like the one coming up Tuesday, Dec. 11 at Perfect Plain Brewing Co.
The greyhounds, most of whom retire between the age of two and five, are screened by the organization to determine their personality and compatibility with possible owners. Before they are put up for adoption, the retired dogs are tested for compatibility with people, children, cats and other dogs.
"Because we use a foster-based program, we get a really good profile of the dogs that are locally adopted," said Phillips. "We work really closely with our adopters to ensure good placements."
Though known for their speed and agility, Philips points out that living with a greyhound isn't an exercise in elite athletic training, and adopting one won't mean you have a nervous working animal in your home.
"Greyhounds are well socialized during their racing careers with other greyhounds and people. Trainers, turn-out people and lead-outs all interact with them regularly," said Phillips. "This helps them easily transition into the wonderful 45-mile-per-hour couch potato pets they are."
GREYHOUND HAPPY HOUR
WHEN: 5-7 p.m. Tuesday, Dec. 11
WHERE: Perfect Plain Brewing Co., 50 E. Garden St.
DETAILS: facebook.com/gpaec