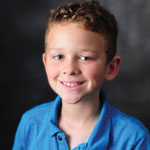 By C. Scott Satterwhite
Since Barbara Robinson's book appeared in 1971, "The Best Christmas Pageant Ever" has been a beloved holiday classic. Thousands of people across the world have read the book or seen the movie. This month, locals of all ages will have the special opportunity to see the stage adaptation of the children's novel thanks to the Pensacola Little Theatre.
Speaking of special opportunities, although we at Inweekly like to see ourselves as part of a journalistic family, it's rare that our jobs ever involve our actual families. But all that changed this week.
I recently had the unique pleasure of interviewing one of the play's main characters, who just happens to be my 10-year-old son.
Prior to his work with PLT, Desmond Anzaldo-Satterwhite played in the University of West Florida's "Christmas Carol" and "Music Man." His largest role to date, however, was as Michael in PLT's recent production of "Mary Poppins."
Besides all of that, Desmond's currently a 5th grade student at NB Cook Elementary School. And I know I'm a little biased, but he's also a really a sweet kid.
Sitting in the car-rider line, waiting to pick up his sister from Workman Middle School, Desmond told me about all about PLT's 2018 holiday play and his role in it.
DAD: What's it like working on PLT's production of "The Best Christmas Pageant Ever?"
DESMOND: It has been fun. It's sometimes hard with some of the dancing to remember because most of the show is dancing and singing, which is sometimes hard to remember. The dancing has been the only really hard bit in the show, but the rest has been fun.
DAD: What is the play about?
DESMOND: The play is about these really mean kids called the Herdmans. They are really, really mean. Charlie is the character I play, and the Herdmans are bullies in their school. They've been taking Charlie's lunch for a long time, and he's fed up with it. He tells them that he didn't care if they took his lunch because at Sunday school, he can get any type of treat that he wants and get it for free, basically. So the Herdmans go to the church.
DAD: So the Herdmans are the bullies?
DESMOND: Yeah.
DAD: Who's the other family?
DESMOND: The Bradleys. Charlie is the son, who I play.
DAD: So what is the…
DESMOND: Wait! There's more!
DAD: Hold on. Don't tell the whole show, I just need a summary.
DESMOND: This is literally on the back of the book! This is the summary. So anyway, the Herdmans are coming to Christmas pageant.
DAD: The bullies are coming to disrupt the pageant?
DESMOND: No, they're coming for the snacks, but the Christmas pageant is happening … the Herdmans end up doing the Christmas pageant. Everyone thinks it's going to be the worst, but it turns out to be the best Christmas pageant ever.
DAD: Hence the name. Have you enjoyed your experience working with the Pensacola Little Theatre?
DESMOND: Yes, I've very much enjoyed it.
DAD: What's the best part about working on this play?
DESMOND: This is mainly just for me, but I have a solo—a whole song. I really like that … I learned a little more about singing [in this play]. Like I said, I have that whole song. There's a few other moments where other people sing. Those parts really help me with my singing.
DAD: What's the song you sing?
DESMOND: It's the song where I tell the Herdmans about the Sunday school. I have that whole song. That's my favorite part of the play, but I know for other people, that's not their favorite part because they're not singing.
DAD: It's a team effort. Besides singing, what else do you like about this production?
DESMOND: I'd say besides that, there's a lot of dancing in the show. Although it's hard sometimes, it's also very fun.  I like when people laugh at the jokes. The play is really funny. Oh, and another thing is meeting the rest of the cast; making friends. That's always fun.
DAD: Outside of school plays, what other major plays you were in?
DESMOND: At UWF, I did "A Christmas Carol." I was Tiny Tim. Also at UWF, I did "Music Man."
DAD: What about your last play?
DESMOND: I was Michael in "Mary Poppins." That was fun.
DAD: Do you see yourself doing more work with PLT?
DESMOND: I do because PLT has been really cool, really nice, and especially because I know most of the people who will be working backstage. I know the director and assistant director.
DAD: Has it been a lot of hard work?
DESMOND: Yes, it has.
DAD: Being in a play about Christmas, has it helped get you into the "holiday spirit?"
DESMOND: It has, kind of, but when you think about Christmas, you don't think about a story where bullies come to church and start fights. The bullies are the main characters … but the last scene gets me most into the Christmas spirit because that's the pageant. I feel like that [scene] is a very touching kind of moment. I think it's the best scene in the play.
DAD: Are we going to cry when we see it?
DESMOND: I mean, I'm 10, so I don't know how adult feelings are. It matters how emotional you are because, I mean, I wouldn't necessarily call myself emotional and I didn't cry, so I'm not sure if you are emotional that you will cry. I know no one in the show has cried during that scene.
DAD: Have your parents been supportive?
DESMOND: Yes, you have, Dad.
THE BEST CHRISTMAS PAGEANT EVER
WHEN: 7:30 p.m. Friday, Dec. 7, Thursday, Dec. 13, and Friday, Dec. 14; 2 p.m. Saturday, Dec. 8; 3 p.m. Sunday, Dec. 9, Saturday, Dec. 15, and Sunday, Dec. 16
WHERE: Pensacola Little Theatre, 400 S. Jefferson St.
COST: $9-13
DETAILS: pensacolalittletheatre.com