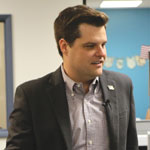 Winners
Matt Gaetz
Politico has named Congressman Matt Gaetz (R-Fort Walton Beach) to its annual Power List, showcasing 19 politicians, activists and behind-the-scenes players whom it believes will "play a critical role in the political landscape leading up to 2020." Gaetz easily won re-election this year. He has President Donald Trump on speed dial. He also was an early supporter of Ron DeSantis for governor and has been a key player in DeSantis' transition team. Gaetz has become the most influential politician in Northwest Florida.
Russenberger Foundation
The University of West Florida has announced a $50,000 gift to the Argo Athletic Band from The Russenberger Foundation. Inspired by a passion for music, this donation will grow and support one of UWF's newest traditions. A check presentation was held at an event in the music parlor of the Russenbergers' home last month, where the band performed and guests were encouraged to make contributions to the program. The Russenbergers' gift will be used to meet a variety of needs for the band including scholarships, instruments, uniforms and potential travel costs.
Avalon Middle School
National Beta recently announced Avalon Middle as a 2018-2019 National School of Distinction. This award is an honor for Beta Chapters striving towards academic achievement, exemplary character, demonstrated leadership and service to others. With an ongoing quest to instill these qualities in more students, the National Beta School of Distinction Award honors those schools that show an increase in membership for the current school year.
Losers
Marjory Stoneman Douglas Safety Commission
The panel released its school safety recommendations that included calling for the arming of teachers. The Florida Coalition to Prevent Gun Violence blasted the recommendation, "We believe that arming teachers is, for many reasons, a bad idea. For example, there are liability issues, increased costs to school districts, workplace shootings and the threat of unintentional gun discharges that school districts must confront if school personnel are armed."
Accenture Federal Services
Office of the Inspector General revealed that the consulting company hired by U.S. Customs and Border Protection to recruit and hire 7,500 applicants, including Customs and Border Protection officers, Border Patrol agents and Air and Marine Interdiction agents, is "nowhere near" completing its hiring goals and "risks wasting millions of taxpayer dollars." The audit found that as of Oct. 1, CBP had paid Accenture Federal Services approximately $13.6 million of a $297 million contract but had processed only "two accepted job offers" after 10 months.
Brevard County School District
The Florida Department of Law Enforcement found that district officials manipulated the process for hiring a lobbying firm two years ago, after a 12-month investigation. The FDLE report was critical of certain district officials, including former Superintendent Desmond Blackburn who resigned from the district in August. While the agency found no laws had been broken, the report said the school officials' conduct was "highly improper, highly unethical and very disturbing." This sounds very familiar.