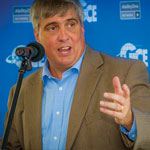 By Jeremy Morrison
The gears within Pensacola City Hall are constantly churning. Sometimes, such as when communication breakdowns between the executive and legislative branches of city government devolve into petty squabbles, kamikaze ego trips or the occasional lawsuit, the gears make a stomach-wrenching, teeth-gnashing sort of sound. Other times, when affairs unfold with a minimum of hiccups, the gears hum along reasonably smoothly.
A few weeks into Mayor Grover Robinson's term, the gears at city hall appear to be humming along nicely, even with whispers of alligator wrestling.
"Right now, we've been trying to handle the alligators closest to the boat," Robinson joked with city staff and city council members during a Dec. 13 meeting. "If I haven't gotten to you yet, that means you don't have any alligators."
Heading into what he described as his "biggest week so far," Mayor Robinson had a full calendar that promised to offer citizens a good taste of what they might expect from the new mayor. If the snapshot proves to be any indication of what lies ahead, they can expect efforts at a smooth running apparatus built on collaboration both inside and outside city hall. The mayor's week entailed meeting with his newly elected counterparts in Milton and Gulf Breeze, holding a meeting with Escambia County officials and also sitting down for the first time with the Pensacola City Council.
Reaching Out
Joint meetings between the city of Pensacola and Escambia County have not been a common occurrence in recent years. Mayor Robinson, who spent 12 years on the board of county commissioners, has said he wants to begin meeting regularly with the county and held his first such meeting Dec. 11 to discuss a handful of issues he considers ripe for city-county collaboration.
"It went well, very well," Robinson said after the meeting.
Among the topics discussed with county staff and Escambia County Commissioner Lumon May was working together on improvements along Burgess Road, which has portions in both the city and county, and the possibility of accommodating activities of the Gulf Coast Citizens Diplomacy Council at city hall to alleviate a county space crunch.
Robinson also dug into a matter that Assistant County Administrator Amy Lovoy had brought to him earlier. County employees and their dependents enjoy county healthcare services, and she suggested the city consider also taking advantage of those services.
As the mayor explained during his Dec. 10 press conference, he had always thought the county and its employees fared well under such an arrangement.
"What we saw at the county was it helped slow down the acceleration for the cost of health insurance for our employees by us having that opportunity to be able to catch things faster, solve things faster," Robinson said. "Having that amenity there for the employees, it also really helped us save money."
Another discussion the mayor began with Escambia County was the notion that the city and county should attempt to work together toward dealing with the issues of homelessness and panhandling. The city has traditionally leaned toward punitive ordinances on this front, some of which have been critiqued as inhumane, unconstitutional or both and attracted successful lawsuits from the American Civil Liberties Union and others.
Robinson painted homelessness and panhandling as separate issues that are sometimes linked. He hinted at a multi-pronged approach that continued to rely on ordinances to deal with panhandling but also explores potentials for easing the local pains of homelessness, such as the creation of a come-as-you-are shelter that does not have the same prohibitions other area shelters have.
"I do believe that it is essential that we work together with the county and create some kind of master plan for how we deal with this that will really tackle not only ordinance issues for us to deal with panhandling," the mayor said, "but to come forward with a plan and probably some funding to tackle homelessness and put some resources towards homelessness."
Robinson said he hopes to make the city-county meetings a regular thing, getting together perhaps twice a month.
Dancing in the Lion's Den
Pensacola City Council's first engagements with Mayor Robinson weren't all sunshine and rainbows, but they weren't bad, either. They were about what you would expect from executive and legislative branches.
"There was a discussion; there was give and take and the beginning of a relationship," Robinson said, looking back at his first two city council encounters. "We're not always going to agree, and I don't expect them to agree with me always. I expect them to work with me, and they have my commitment that I'll work with them."
Pensacola City Council began its week with an agenda review session on Monday and then held its December meeting on Thursday. Robinson attended both, readily striding into the weeds of whatever matter found itself before the council.
In addition to more routine items that required council's weigh-in, there were a few issues on this month's agenda that provided a playing field on which the mayor and council could volley opposing views. While the disagreements were more cordial than dramatic, such discussions gave a glimpse of how the city council and the new mayor might work on matters with inherent divides.
The mayor, in fact, dove headfirst into a pool of slight contention when he requested the city council tweak rules governing public input portions of municipal meetings. After some members of the public did not get an opportunity to speak during a Dec. 5 meeting of the city's Architectural Review Board, Robinson asked the council to require a verbal call for public comments during meetings.
"I would like us to give every opportunity for individuals who want to speak," he told council members.
While city meetings—ranging from advisory boards to the city council—all feature a required public forum, people typically have to fill out a comment form and turn it in for a turn at the lectern. The mayor asked that comments be verbally solicited.
"I would rather amend our policy, so we go overboard," Robinson said.
Not everyone on the city council seemed thrilled at the request. They pointed to the already-mandated public input forum and began "wondering if there's a lighter touch" than changing policy. In the end, council acquiesced on a 5-2 vote.
The mayor found more unanimous success on another ask from the council—the approval of the city's legislative priority list—though he had to field some pushback there, too. Primarily, council members were ticked that the list had been provided to them just days shy of its presentation to the area's legislative delegation and also that some of their preferred projects hadn't made the list.
Robinson explained that the list had needed quick attention and that he wished there had been more time to bounce it around with council. The mayor said he understood the frustration and agreed with them.
"I don't like this process either," Robinson said. "I can assure you, next year we will be engaging you much earlier in the process, but at this particular time, we don't have a lot of time; we've got to approve something."
And while the mayor's first foray into council's chambers had a few moments of back-and-forth, council members seemed optimistic and encouraged to have someone in the room and engaged.
"It is wonderful to have you with us," Councilman P.C. Wu told Robinson. "There were several cases today of things that came up that probably would have been delayed two months, and you were able to give us an answer. I remember one time, Councilwoman Myers just looked over and said, 'How do you feel about that?' That helps."