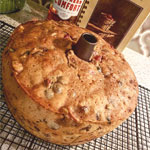 By Sydney Robison
Folks hate fruitcake.
From sea to shining sea, north and south, and all the way down home here in Pensacola, it seems to be an agreed-upon universality that fruitcake is bad, bizarre, undesirable and unpalatable. But is that the verified truth, or is the public simply falling for the anti-hype?
Back in the 1960s, America's late-night sweetheart Johnny Carson coined a cruel joke about the classic recipe.
"The worst gift is fruitcake," Carson joked. "There is only one fruitcake in the entire world, and people keep sending it to each other."
Har-dee-har, Johnny.
That joke is all it took to forever stain the reputation of an innocent dessert. The lie expanded so that folks who had never so much as tried a crumb of fruitcake were bemoaning its mystery contents, swearing that they would never try it; and if they did, they would never actually like it.
Meanwhile, people like me—honest, decent people who actually like fruitcake—have had to keep our desire for a fruit-and-nut speckled, nutmeg-spiced slice on the down low.
My own good friend and Pensacola native Derek Cosson said it best (or worst):
"I submit—and I'm pretty sure Jesus would agree with me—that fruitcake is trash, an abomination thought up by poor souls in an era before refrigeration that somehow won't escape our collective consciousness to assume its rightful place on the trash-heap of history."
I suspect there is a deeper psychosis there, but nevertheless, we trudge on.
Fruity Facts
This is serious business, folks, which is why I went to the source of my own love for fruitcake to see if I could separate fact from unfair fiction. I went to my mother's kitchen in Milton and tracked down her recipe, the one I was sure could convert all naysayers into true believers.
The fruitcake I have been eating since infancy was first cooked by my mother, Kathy Robinson, in the Christmas of 1994.
Her recipe came from "Southern Sideboards" cookbook 1994 edition, which was published by the Junior League of Mississippi. The particular recipe,
White Fruit Cake, was created by Mrs. Luther Flowers and features one-and-a-half pounds of candied cherries and pineapple, a pound of white raisins, a pound of pecans, a dash of love and a whole lot of whiskey.
It was actually Joshua Broxson, A Milton native and work-from-homer, who also happens to be my partner, who inspired my fruitcake journey home and my need to pen this entire article. A lover of many desserts, he did not hesitate to shout down the virtues of fruitcake by going on a mad rant about orange peels. I determined to make him eat his words (and some fruitcake), but my mother went one further and enlisted his assistance in making it, too.
"Here," she said, pushing the bowl full of candied cherries, raisins, pineapples and pecans covered in a light dusting of flour, "You stir."
When the cake had done its baking (three hours) and its cooling (two hours, including one hour in the crisp December weather to speed up the process), Broxson rendered his verdict:
"Good!"
But I knew I couldn't stop there. Rome wasn't built in a day, and I knew I wouldn't right the wrongs committed by Mr. Carson all those decades ago with one converted critic. I would need to share my mother's fruitcake with as many reluctant tasters as I could.
Over lunch, Levin Papantonio employee Justin Ritchie educated me on the virtues of tres leches cake. But when it came to fruitcake, he said he had never actually tried it, having been frightened away by its image.
So what did he think when he tried it? He noted the presence of nutmeg and cinnamon as well as the whiskey liqueur Southern Comfort.
"It certainly doesn't deserve the decades-long mockery."
Matt Warren, my good friend and food snob of the highest degree, was adamant that while he wanted to try my fruitcake, he didn't want to be quoted. But when he took a bite and said, with a mouthful of candied fruit and pecans, "Why don't people like this!? It's like banana bread with cherries," I knew I would have to quote him anyway (he later relented).
Have I converted you? Are you curious to explore the truth behind the myth? You can try and make one yourself using our trusted family recipe.
Or if cooking scares you more than fruitcake, local deli and delicatessen Shirley's Cafe & Bakery is ready and willing to churn out fruitcakes for your holiday celebrations. Accepting Christmas orders until Sunday, Dec. 23, you can quickly scoop up a fruit-and-nut bundt for your holiday table or order yours after Christmas for a hearty winter dessert. Shirley's also offers fruitcake cookies if you're still afraid to go all in.
Manager Maylin DiRienzo says the cookies have already been selling well.
"I can tell you that when we put them out right after Thanksgiving, they sold out almost immediately."
It would appear that the new, not totally negative, gospel of the fruitcake is already spreading.
——————————————————————
Recipe for the fruitcake Sydney's mom makes, from the "Southern Sideboards" cookbook, 1994 edition
Serves 20
1.5 cups butter
2 cups sugar
6 eggs
1/2 cup plus 4 tbsp whiskey, divided
1 teaspoon vanilla
1 teaspoon nutmeg
1 teaspoon cinnamon
2 teaspoons baking powder
4 cups sifted flour, divided
1 pound candied pineapple, diced
1/2 pound candied cherries
1 pound pecans
1 pound white raisins
Cream butter and sugar.
Beat in eggs, one at a time; then add 1/2 cup whiskey and vanilla.
Mix spices and baking powder with three cups flour and add to mixture.
Dredge with remaining flour the pineapple, cherries, pecans and raisins; add to batter.
Bake in 2 (9×5 inch) loaf pans or 1 (10 inch) tube pan which has been lined with heavy paper and greased. (paper bags may also be used.)
Bake 2 hours at 275 degrees.
This cake must not be baked dry. While cake is still hot, pour remaining whiskey over each loaf. Cover cakes with dish towel while they cool. Do not remove from pans until cold.
——————————
Shirley's Cafe & Bakery
1521 N. 9th Ave.
facebook.com/shirleyscafepensacola