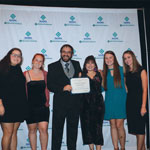 Winners
Take Back the Night
The University of West Florida Peer Educators program was recently honored at the Outstanding Peer Education Program for its annual Take Back the Night event during the National Association of Student Personnel Administrators General Assembly Conference. Held at UWF since 2000, Take Back the Night is an international event intended to educate, protest and bring awareness to violence, inspiring young adults to confront issues including rape, stalking and dating violence.
Gulf Power Transformers
Stan Connally, chairman, president and CEO of Gulf Power, along with members of the energy company's service organization presented checks totaling $90,000 to representatives from Pensacola's Waterfront Rescue Mission, Mary Esther-based Air Commando Association and the Bay Education Foundation in Panama City. The donations were from the proceeds of the Transformers' sixth annual Clay Shoot for America's Heroes.
VetCV & EBI Management Group
The Pensacola companies were recognized by the Department of Labor (DoL) as HIRE VETS medallion award winners. VetCV received a Platinum Medallion, and EBI received a Gold Medallion. The awards recognize job creators for their leadership in recruiting, employing and retaining America's veterans. The DoL recognized 238 companies across the nation. EBI Management Group specializes in providing financial, business, project management and technology services to the Department of Defense and federal agencies. VetCV is a tech company that has built a free highly secure online "personal data-vault" software platform to support our active military, veterans and their families.
Losers
ACA
A federal judge in Texas declared the Affordable Care Act, also known as Obamacare, was unconstitutional. U.S. District Judge Reed O'Connor made his decision after 18 Republican state attorneys general and two GOP governors brought their case. When the Supreme Court upheld ACA as constitutional in 2012, it was because Congress could legally impose a tax penalty on people who do not have health insurance. In the Texas case, the states successfully argued that since the individual mandate was removed, the rest of the law was now unconstitutional.
Boy Scouts of America
In a December letter to employees, Mike Surbaugh, its chief scout executive, said the nonprofit is working with experts to explore all options available to keep the organization's programs running in the face of lawsuits over alleged sexual abuse by Boy Scout workers and volunteers. One option under consideration is filing Chapter 11 bankruptcy, which would allow Boy Scouts of America to keep control of its business operations but would be subject to the oversight and jurisdiction of the court.
Workman Middle School
According to Florida Department of Juvenile Justice, Workman Middle had more arrests, 25, than any other middle school in Escambia County and the second most of any middle school in Florida during the 2017-18 school year. Only Bay County's Jinks Middle School had more, with 27 arrests. Workman Middle had more arrests than the county's high schools, except for nearby Booker T. Washington High, which had 40 arrests.