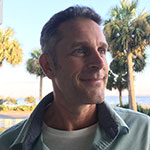 By Jeremy Morrison
Throughout 2018, Pensacola has been given an education of sorts, an education on planning and culture, an education, really, on how to think about things.
Christian Wagley, who cultivated this education, remembers its inception. It was the summer of 2017, during a time when businessman-philanthropist Quint Studer was hosting a run of regular dinners where community leaders tossed about concepts, notions and ideas.
During one such occasion, Wagley, of Sustainable Town Concepts, laid out his thoughts about urban planning and the need to create a connected, walkable environment. He pointed out that the area had some big questions to answer ahead and also opportunities with the funds it stood to receive in environmental penalties stemming from the 2010 oil spill.
Wagley recalls Studer pulling him aside later.
"He said, 'Let's do an educational series; let's help inform the community so we can make better decisions on these issues we're facing,'" Wagley said. "He said, 'Let's call it CivicCon. Go get whomever you want, and we'll bring 'em in.'"
CivicCon unfolded as a year-long series—sponsored by Studer as well as the Pensacola News Journal—featuring premier thinkers on matters like walkability, parking, infrastructure and community character. Looking back on what amounted to a tutorial on urban thought, Wagley said he hopes the series will be helpful as the area progresses.
"I'm pleased how the community embraced so many of the things they heard and learned," he said.
Cities for People
CivicCon featured speakers almost every month that addressed topics such as urban waterfronts and coastal resilience, civic engagements and creating optimal neighborhoods. The overall mission was pretty simple.
"First and foremost," Wagley said, "it was really to educate the community so we could make better decisions in the face of a lot of important decisions that were coming our way."
It's a unique confluence. At the same time the area is seeing some significant funding opportunities related to the oil spill penalties, it's also experiencing an era of growth that is forcing conversations about developments, urban planning and community character.
Wagley saw CivicCon as an opportunity to provide the area with a foundation of knowledge that could be helpful when navigating the years to come.
"I didn't think about it until later, but I guess the theme that I chose without thinking about it at the beginning was 'Cities for People,'" he said.
Taken as a whole, CivicCon serves as a pretty good primer on this particular philosophy.
"I brought in speakers that spoke to that issue of creating communities for people from a variety of different angles, whether it was economic or social equity or environmental or whatever," Wagley said.
The series presented concepts that are already in play around the country in larger urban areas, aspects of a community you might notice while traveling.
"A lot of people travel, and they may see neat things happening in other communities," said Wagley on the value of CivicCon. "Then they hear a speaker come to town and maybe talk about how that was done and know that we can absolutely do those same, wonderful things here if we set ourselves to it."
Studer is quick to point to CivicCon as a portal to possibilities, too.
"If you're in New York, Manhattan, today you'll see 'em take two parallel parking spots and make them into tables for the restaurants to use. Some unique things are happening around the county," Studer said. "But if you don't see it, how do you know it exists? Or you think it can only exist there."
He added, "I think CivicCon was an opportunity to bring in the best of the best to help our community recognize and see what's happening around the United States."
Conversations about issues like walkability and urban planning were already occurring in Pensacola before CivicCon, but Wagley thinks those conversations have become more informed.
"I hear more and more people talk about how they want to see Pensacola be more walkable and more bikeable, and I think that was already there," he said. "But I think CivicCon raised our awareness and education levels and helped us understand more what it takes to be that kind of community."
Raising the Civic I.Q.
The 2018 CivicCon series was successful by the numbers.
"The reception from the community was just beyond my wildest dreams," said Wagley.
"We're even stunned," Studer said. "I was hoping we'd get a hundred people. To get 275 people to come and another 5,000 to watch it streaming?"
But the series' creators also feel that CivicCon was successful in a deeper way than attendance counts or stream views.
"When you look at CiviCon, it's raising the community's civic I.Q.," Studer said.
"I have described CivicCon as a gift to the community," Wagley said. "I mean, we were able to experience something that I'm not sure any other community's really has done in this way. It's something that's citizens and elected officials would have to pay thousands of dollars and probably travel to some other place to hear this quality of information and talent and great ideas."
And to be sure, the education imparted during the series is already entering into municipal conversations. Both officials and the public reference CivicCon presentations during city meetings.
"I think right now, we're certainly seeing people utilize it in their conversations," Studer said. "And I think this next year, we'll continue to take some of the awareness now and continue to put it into action."
Studer calls back CivicCon events often as head of Mayor Grover Robinson's mayoral transition team. He is also bringing in a series speaker—Jeff Speck, an urban design expert—to assist with creating a master plan for the Maritime Park and a nearby 19-acre parcel he owns next to Pensacola City Hall.
Wagley, who also sits on Robinson's transition team, hopes that CivicCon lessons and information sources will continue to inspire municipal planning decisions. He cites the city's new mayor as a reason for such hope.
"Mayor Robinson was probably the star pupil at CiviCon. He seemed to have been there most every time," he said. "I'm very hopeful that he will apply some of the lessons learned to his new position as mayor of Pensacola."
But, at the same time, Wagley understands that the real thrust of energy concerning such things has to come from the community, one that he now hopes is girded with the appropriate knowledge.
"It takes the community pushing on our elected officials and letting them know what changes we want," he said. "And I know that we have a much better-informed citizenry now because of CivicCon, so it's my sincere hope that people will continue to push forward these ideas to our elected officials."