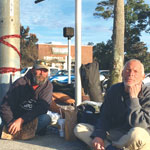 By Jeremy Morrison
James and J.W. sit on the sidewalk at the corner of Cervantes and Ninth Avenue, their bags and bikes leaned against a signpost. Both find themselves currently homeless and are requesting money from drivers stopped at the intersection traffic light.
"We stand on the corner because this is our position right now," James said.
When asked about the available services, or lack thereof, to assist the area's homeless population, both men pointed to insufficient shelter space, especially a shelter without prerequisites or sobriety requirements.
"I don't mean this in a bad way, without having to go to chapel three times a day," James said.
Besides, that shelter—they motion towards the other side of town—isn't in a good area.
"That's a nasty area, Fairfield and Pace," J.W. said. "I mean, you can get shot, shanked."
In addition to housing needs, the men also said healthcare services were in dire need among the homeless.
"You know, health, dental, all of that," James said.
These types of issues, healthcare and housing, and in particular a come-as-you-are shelter are among the issues to be explored jointly by the city of Pensacola and Escambia County as they attempt to address both homelessness and panhandling.
Pensacola Mayor Grover Robinson recently announced the initiative with the county, saying he'd met county staff and discussed the issue.
"We haven't figured out how it's going to happen yet," the mayor said, "but we've promised each other we're going to work on it."
Robinson is working on this issue with Escambia County Commissioner Lumon May, who said efforts need to be holistic—"you've got to address it from all angles"—and stressed that the goal shouldn't be viewed as eliminating homelessness.
"I don't think that's a reasonable expectation, that you're going to eliminate homelessness," May said. "A reasonable goal is how do you begin to reduce it. I think you do that by lifting a man up or a woman up or a child up, one person at a time."
One Problem, Many Solutions
Some panhandlers are homeless. Some homeless people panhandle.
"The mayor and I both agree, panhandling and homelessness are two different things," May said.
The leaders have agreed to find ways to address the issues in tandem. They will look to pull in public, private and nonprofit entities for ways to assist in areas ranging from housing to health to job training.
Robinson said he'd like to create solutions that offer the homeless assistance beyond that of a handout, which he argued was not helpful.
"They need housing and services because many of them deal with either some kind of an addiction, health or mental health problem, and just giving them money is not solving any of those things," the mayor said.
Robinson sees the need for a come-as-you-are shelter that would admit individuals without the requirement of sobriety. Such a shelter is critical, he said, when assisting a population where addiction issues are common.
"If you want to go to Waterfront, you have to be sober, and so many of these people deal with addiction issues, and it's addiction issues that wind up making them homeless," Robinson said. "A lot of these people don't have the ability on their own to first get sober and then go in. They need to get shelter first, then figure out how to put the rest of their life together."
Several organizations already assist the homeless community, but their capacities and offerings are limited.
Michael Kimberl, co-founder of Sean's Outpost and director of the Alfred Washburn Center, both of which serve the homeless, pointed to a University of West Florida Haas Center study that contrasted a 3,000-person homeless population with 300 existing shelter beds.
"We're not even addressing 10 percent of the homeless population in Escambia County," Kimberl said. "So, we have a lot of work to do."
Kimberl said it'd take a collective of remedies to address the issue of homelessness fully.
"I'm a proponent for everything," he said. "We need it all for it to be successful. We need emergency, come-as-you-are shelters. I think we also need campgrounds, parking lots and good case management. We need good alcohol and drug rehabilitation that is affordable. Same with mental health, we need affordable mental health."
And this gets expensive quickly.
"I think we do have the money," Kimberl said, "I don't think we have the political will to spend the funds necessary to do what needs to be done."
May disagrees.
"Honestly, it will be a heavy lift, but we have an opportunity to make our community better by investing in it," the commission chairman said. "We invest millions and millions in economic development and tourism. I think it's fair and reasonable to invest in our community, in the quality of life of our citizens, to make it better."
He added, "I don't think the amount of money should be a deterrent from doing what is right and what is good for our community."
Trepidatiously Hopeful
The city of Pensacola and Escambia County have each tried to deal with homelessness and panhandling before. Their "fixes" tended to lean on punitive ordinances targeting panhandlers, especially in the downtown area.
When Kimberl heard the city and county were teaming up together to tackle these issues, he's wasn't immediately thrilled.
"Extreme trepidation," Kimberl laughed. "I hope this time around it's the real deal and we're going to address some real solutions."
Kimberl has been involved in lawsuits against both the city and county over their respective approaches to these issues. He was among the plaintiffs suing the city the last time it attempted to pass an ordinance banning panhandling.
Benjamin Stevenson, attorney for the American Civil Liberties Union, found it curious the city even passed that ordinance in the first place.
"We kept on saying, 'Hey, don't pass it, it's unconstitutional. We'll likely sue you,'" he sighed.
The ACLU challenged the city's most recent panhandling ordinance on First Amendments ground, with the solicitation of money being the speech in question.
"Listen, everyone has a right to free speech in this country," Stevenson said.
Robinson isn't interested in discussing the city's multiple flubs on these issues.
"We are not concerned about what has happened in the past," he said. "We want to focus on something that we are going to do in the future."
The mayor said he would invite the ACLU to collaborate in the conversation, one that still includes ordinances targeting panhandling as unlicensed commerce—"I welcome the ACLU to work with us."
ACLU North Florida Director Sarah Latshaw said she'd be happy to discuss the issue, "But we're not going to help them write a panhandling ordinance."
Commissioner May, meanwhile, said he wasn't too interested in discussing the punitive side of the equation but instead wanted to focus on helping people improve their lives.
"This is not about arresting somebody because they're hanging out in the park," May said, "but it's about providing opportunities so people won't have to loiter in a park and won't have to utilize a park bench as their bed.
May said, "We should be able to provide an opportunity for a man to earn a decent wage where he can purchase a bed and where he didn't have to use public facilities as his resting place."