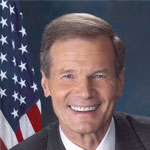 'An Incredible Honor' After more than four decades of public service, U.S. Sen. Bill Nelson (D-Fla.) delivered his farewell remarks on the Senate floor on Wednesday, Dec. 12.
"Grace and I have been overwhelmed by the outpouring of support," Nelson said. "I stand before you today, and I don't think anyone could have been more blessed."
"It's not easy when you take your leave from the people that you love and the work that you love," Nelson told his colleagues who had assembled in the chamber to hear his final speech, "and it causes a time of intense reflection."
Nelson took a moment to reflect on the weeks leading up to his eventual launch onboard the Space Shuttle Columbia in 1986. He and his crew were scrubbed four times before they successfully launched from the Kennedy Space Center on Jan. 12, 1986. As Nelson explained, when NASA engineers examined the shuttle after each of those four unsuccessful attempts, they determined that all of them would have likely ended in a catastrophic loss for the shuttle and its crew had the flights not been aborted.
"Why was I spared?" Nelson asked. "Now, upon intense reflection, I think I'm beginning to see. Because it has been the great honor of my life to serve our country and the people of Florida."
"We still have much work to do," Nelson told his colleagues. "We need now, more than ever, to focus on building the kind of relationships here in Washington that can solve the great problems that our nation faces. And I caution our colleagues, and I caution those who will join this body, to resist the pulls of partisan acrimony and the forces that seek to divide us."
"So, my parting words are that there's no greater challenge for this Senate than to have the moral courage to choose country over party or power," Nelson said. "There are a great many challenges that our country faces, and I call upon all of those of you who serve in this Senate to act with moral courage when these obligations come calling in the future. As I depart, I'm putting my trust in you."
Nelson then concluded his final speech on the floor of the Senate by saying, "I leave this Senate today filled with hope for the future and the fondest memories of my fellowship with great friends here. But I admit, it is hard to leave the friends and the work that I love.
"I intend to keep fighting for all that I've talked about in this short final speech, and I intend to keep fighting for Florida. When it comes down to it, I'm just a country boy who loved serving my state and our country for all of my life.
"It's been an incredible honor."
Don't Feed The Bears Grant funds are available to businesses that generate organic waste, including restaurants, camping/RV sites, daycares, assisted living facilities and apartment buildings, in the Bear Wise ordinance area, which includes all of Santa Rosa County south of the Yellow River, including Holley, Navarre and the unincorporated area of Gulf Breeze.
Customers must have a front-load dumpster; side-loading or individual cans are not eligible. To apply, complete the online form at santarosa.fl.gov or call 850-981-7143. The funding, provided by the Florida Fish and Wildlife Commission to qualified applicants, is available on a first-come, first-served basis until April 2019 or until funds are depleted.
A bear-resistant dumpster looks and operates very similarly to a standard dumpster, with the exception the bins have a security bar and reinforced plastic lids. County staff will make the necessary arrangements for the modifications.
Waste Pro, Republic and Waste Management will modify existing dumpsters to be bear resistant. There is no additional charge for servicing them, and the customer unlocks the dumpster for it to be serviced. The security bars are gravity locks that open automatically.
Because the companies, not the restaurants own the dumpsters, the only request to the business is for them to agree to use them properly.
Bears are attracted to garbage in commercial dumpsters, specifically those associated with restaurants. Modifying these dumpsters in the county's bear ordinance zone will help reduce drawing bears in to feed where people frequent. For more information, contact the county's environmental department, environmental-dept@santarosa.fl.gov or 850-981-7143.
Port Magic The Port of Pensacola will serve as the winter training base for the New York Yacht Club American Magic, U.S. Challenger for the 36th America's Cup. The team was formed in 2017 to win the America's Cup, the highest prize in sailing and the oldest trophy in international sports.
Until warmer weather returns to the team's primary training location in Newport, R.I., over a hundred American Magic personnel will sail and support the Mule, the team's advanced 38-foot test boat, on the sunny waters of Pensacola Bay. American Magic's presence represents the first time an America's Cup syndicate has trained on the Gulf Coast of Florida since 1970.
"Pensacola brings a lot to the table for our team," said Terry Hutchinson, skipper and executive director of American Magic. "Pensacola will give us consistently good sailing weather, a large and protected flat water training venue, efficient logistics and a welcoming community. The Port of Pensacola has been very accommodating as we set up our base and stepped up to create an ideal facility for an America's Cup team."
American Magic's first exposure to Pensacola came during July 2018, when Team Principal and CEO Hap Fauth and team sailors Bora Gulari and Caleb Paine gave an America's Cup presentation to over 500 junior sailors, coaches and families at the Optimist U.S. National Championship hosted by Pensacola Yacht Club.
"We're excited and grateful that Pensacola Yacht Club and the local sailing community have embraced American Magic and extended their hospitality since our first visit," said Hutchinson, a 16-time sailing world champion. "Pensacola Bay is a world-class sailing venue, and hopefully our time here will help raise awareness of just how great it is to race and train in this region of the U.S.
Small Business Help The Santa Rosa County Board of County Commissioners approved a memorandum of understanding between the University of West Florida Small Business Development Center and Santa Rosa County to assist more small businesses in Santa Rosa County.
"I think we have a common mission with the economic development agencies, and I like to consider us as the business retention and expansion arm of economic development agencies," said Kelly Massey, Regional Director of the Florida SBDC at UWF.
Through this one-of-a-kind partnership, the UWF SBDC and Santa Rosa County will collectively champion entrepreneurial progress in Santa Rosa County.
"It's a good fit with the economic development organization. We frequently talk about what we can do to better promote small businesses and give them better opportunities," said District 3 Commissioner Don Salter.
Christa Wilson will act as ombudsman by assisting small businesses and entrepreneurs located in Santa Rosa County with navigating through city and county regulations and will also help those businesses outside the county who wish to do business in or with Santa Rosa County. She will be located at the Santa Rosa County Economic Development Office, 6491 Caroline St. in Milton. Her email address is ctiffany@uwf.edu.
Wetherell Passes Florida State University President Emeritus Thomas Kent Wetherell, who passed away Dec. 16 at the age of 72, left a legacy as one of higher education's most dynamic and lifelong champions.
At the helm of his alma mater from 2003-2010, Wetherell was the first alumnus of Florida State to become its president. After retiring from the presidency, Wetherell continued working to improve higher education as a professor in the College of Education and director of the Center for Higher Education Research, Teaching & Innovation.
"As a veteran lawmaker, a tireless supporter of higher education and then as president, T.K. used his energy and intellect to not only lead FSU through a severe budget crisis but to make sure it flourished in so many ways," said President John Thrasher. "He was a remarkable person and a great friend."
Under Wetherell's leadership, Florida State increased the academic quality of its students, the number of doctoral degrees awarded and the number of research dollars it received while experiencing a boom in campus building. Soon after assuming office, Wetherell launched the ambitious Pathways of Excellence initiative that included hiring additional faculty members in interdisciplinary clusters built around academic themes, significant investments in graduate-level programs and $800 million worth of new construction and renovations, including state-of-the-art chemistry, biological science, psychology and medicine buildings that transformed the northwest corner of campus into a research quadrangle.
Wetherell achieved a major coup in 2005 when Florida State lured the Applied Superconductivity Center from the University of Wisconsin in Madison, where it had been housed for two decades. The center became the materials research division of the National High Magnetic Field Laboratory.
A new Alumni Center, new general classroom building, parking garages, residence halls, dining halls and other projects followed. Wetherell took a particular interest in the $33 million repurposing and renovation of Ruby Diamond Auditorium into one of the finest concert halls in the country.
Under Wetherell, the university saw its students reach unprecedented national academic recognition. He established the Office of National Fellowships in 2005, which guided students to win three Rhodes scholarships and dozens of other competitive national awards.
He established the Office of Undergraduate Research and Creative Endeavors, now called the Center for Undergraduate Research and Academic Engagement, which allowed undergraduate students to work directly with professors beyond the classroom, and innovative programs dramatically increased retention and graduation rates.
Under Wetherell, the College of Medicine graduated its first class, in 2005, opened six regional campuses and established research collaborations with the Mayo Clinic in Jacksonville and Tallahassee Memorial HealthCare.
And it was Wetherell who pushed successfully for Florida's public universities to assess a tuition differential to make up for budget shortfalls and continue to offer high-quality education to students. This laid the groundwork for preeminence funding later.
A career educator who served in the Florida House of Representatives 1980-1992, including two years as House Speaker, Wetherell earned his bachelor's and master's degrees, as well as a doctorate in education administration, from Florida State.
He served as president of Tallahassee Community College 1995-2001. Previously, he was president of Independent Colleges and Universities of Florida and was responsible for coordinating and promoting postsecondary higher educational opportunities and programs in the state's private colleges.
Wetherell had served in several positions at Daytona State College, including provost and dean of instruction. Before that, he was associate professor of education at Bethune-Cookman College.
A native of Daytona Beach, Wetherell attended Florida State on a football scholarship and played on the 1963-1967 football teams.
Decades later, as president, he advocated a closer relationship with the Seminole Tribe of Florida. The university created a Seminole history course, began a new tradition of tribe members participating in every commencement ceremony and unveiled a bronze statue at the University Center depicting a Seminole family during the wars of the 1830s. In 2005, the Seminole Tribe of Florida approved a historic resolution supporting the university's use of the Seminole name and honored Wetherell with an invitation to the Big Cypress Reservation.
Wetherell also devoted significant attention to a matter close to his heart—preserving and honoring the history of his alma mater through the Heritage Protocol Committee, construction of a Legacy Walk, restoring campus traditions such as Convocation and campus beautification.
He and his wife, Virginia, left a permanent legacy with the creation of the stately President's House on West Tennessee Street. The house includes large areas for public events and was built and furnished completely with donated funds and materials. Ginger Wetherell served as Pensacola's Florida House representative from 1982-1988 and as secretary of the Florida Department of Environmental Protection from 1991-1998.
Mark Your Calendar Mayor's Transition Team will host a public input session on public safety 11 a.m.-noon Thursday, Dec. 27, at Pathways for Change Family Center, 2050 W. Blount St. Police Chief Tommi Lyter and Fire Chief Ginny Cranor will attend.