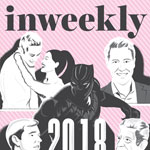 From "Black Panther" to Beto-mania, 2018 was a headline machine. Seriously, it never slowed down. Not even on holidays.
Here's a recap of the year in news, pop culture and local stories.
—————————————–
National Headlines
1. The White House
The President's tweets, the cabinet turnover, the Mueller investigation…it's never a dull moment on Capitol Hill. It's hard picking just one headline to define 2018.
2. #NeverAgain
On Feb. 14, 19-year-old Nikolas Cruz walked into Marjory Stoneman Douglas High School in Parkland, Fla., and opened fire, killing 17 students and staff members. It wasn't the first or last shooting of 2018, but it did spark a national conversation when school survivors began advocating for gun control and organized the March for Our Lives event in Washington. Similar marches were held all over the country.
3. Midterm Elections
The Nov. 6 midterm elections had the highest voter turnout of any midterm in the past century. It was a big night for Democrats, but perhaps not as big as they hoped. Dems took back the House, while the GOP retained the Senate. There were slim margins in some races, such as the Texas Senate race between incumbent Ted Cruz and Rep. Beto O'Rourke. In Florida, the gubernatorial and Senate races were razor thin—the Senate race was even recounted. Former Gov. Rick Scott defeated three-term Senator Bill Nelson, and Ron DeSantis won the governor's race over former Tallahassee Mayor Andrew Gillum.
4. Net Neutrality
The Obama-era regulations known as net neutrality were repealed in June. The regulations were to ensure that internet providers couldn't block or slow down websites or prioritize their content over others'. The repeal narrows what the federal government would consider a net neutrality violation and leaves the responsibility in the hands of the Federal Trade Commission.
5. U.S. Border
In June, multiple news agencies were reporting about the child separation policies at the U.S. and Mexico border. Photos of kids sleeping in caged facilities started to circulate around social media and made many Americans ask "why?" Earlier this month, the Trump administration announced it would ease security requirements for sponsors of migrant children, allowing for them to be released and reunited with families in a shorter timeframe.
6. California Wildfires
California has had the most destructive wildfire season on record this year. Wildfires started erupting across the state in mid-July. In November, strong winds caused a new batch of wildfires, including the Camp Fire in Northern California, which has claimed 86 lives and at least 19,000 buildings. It is said to be one of the deadliest wildfires in the U.S.
7. Brett Kavanaugh
President Trump's first Supreme Court nominee, Neil Gorsuch, came and went without much fanfare. But the nomination of Brett Kavanaugh was different. When Christine Blasey Ford, a psychology professor at Palo Alto University, claimed Kavanaugh had sexually assaulted her when she was 15 and he was 17, his nomination process was halted. Both Ford and Kavanaugh provided testimony in front of the Senate Judiciary Committee, and the entire country watched. In the end, Kavanaugh had the Senate votes and was sworn in Oct. 6.
8. Hurricane Michael
This year's hurricane season had a slow start but was intense. In September, Hurricane Florence caused damage in the Carolinas, with many places receiving record-breaking rainfall. In October, Hurricane Michael made landfall as a Category 4 hurricane in Panama City. Michael was the third-most intense Atlantic hurricane to make landfall in the contiguous United States. It destroyed most of the city, killed nearly 60 people and has left about 20,000 homeless. Local, state and federal agencies are working to help residents rebuild, but it will take a long time.
9. Cambridge Analytica
Earlier this year, it was reported that Cambridge Analytica, a political consulting firm hired by President Trump's 2016 election campaign, accessed data from 50 million Facebook users without their permission. The news put the social media platform and its CEO, Mark Zuckerberg, in the hot seat. And a solution to prevent further incidents has yet to be implemented.
10. George H.W. Bush
At the end of November, George H.W. Bush passed away at the age of 94. He was the 41st president and, before that, vice president. He enlisted in the Navy after the attack on Pearl Harbor. After his service, he entered the oil business before he started his political career. He was known for his pragmatic approach to politics. He was preceded in death by his wife of 73 years, Barbara.
—————————————–
International Headlines
1. Iceland Signs Equal Pay into Law
Starting at the beginning of 2018, companies in Iceland are required to prove that they pay male and female employees fairly or face daily fines. While equal pay has been a mandate in the country for some time, this is the first time the burden has been placed on companies. United States: take note.
2. Vladimir Putin Re-elected
The Russian president secured his fourth term in office in March with 76 percent of the vote. Despite growing evidence of his interference with the 2016 U.S. Presidential election, President Trump has been a strong supporter of Putin.
3. Prince Harry Marries Meghan Markle
The world's most eligible bachelor wed American actress Meghan Markle in royal fashion on May 19 at St. George's Chapel at Windsor Castle in the United Kingdom. In October, Harry and Meghan announced they were expecting a royal baby.
4. Brexit Still a Thing
It's the headline that won't go away. Fifty-one percent of voters chose to leave the European Union (EU) in a referendum vote in 2016. Since then, politicians have been figuring out the logistics before the split becomes official on March 29, 2019. Prime Minister Theresa May has faced most of the backlash and narrowly escaped a "no confidence" vote in Parliament earlier this month. The U.K. is very divided, which should feel familiar for Americans.
5. Kim Jong-un
In April, the North Korean leader became the first of his nation to cross the Korean Demilitarized Zone since 1953 and shook hands with South Korean President Moon Jae-in. He also made headlines in June when he met with President Donald Trump. The two signed a document promising peaceful relations and denuclearization of the Korean peninsula, although the details of the agreement were not released.
6. Saudi Women Get Behind the Wheel
June 24, 2018, marks the day when the Saudi government gave women the right to drive—a first for Saudi Arabia. It's a small step forward in a country where women's rights are limited.
7. Thai Soccer Team Rescue Mission
The world watched as 12 Thai boys and their soccer coach were trapped in a cave in northern Thailand this past summer. The team had been missing for almost a month when monsoon rains flooded the cave and trapped them two and a half miles from the cave's mouth. Rescue teams from all over the world helped bring the boys to safety. It was a happy ending we all needed.
8. Water on Mars
In July, MARSIS, a radar instrument on the European Space Agency's (ESA) Mars Express orbiter, was able to confirm the possibility of liquid water on Mars. This could mean that there's a possibility of life on Mars besides Matt Damon.
9. Love is Love
Human rights activists celebrated in September when the Supreme Court of India decriminalized homosexual sex, which was banned by a 160-year-old law that claimed the act was "against the order of nature."
10. Cannabis in Canada
In October, Canada became one of two countries to legalize marijuana for recreational use. Prime Minister Justin Trudeau said the move will allow the government to regulate the drug and keep it out of the hands of criminals. Now, the country just has a problem meeting the supply demands.
—————————————–
Local Headlines
1. ST Engineering
After years of combined community effort, ST Engineering (formerly known as VT Mobile Aerospace Engineering, Inc.) opened its $46 million maintenance, repair and overhaul facility at Pensacola International Airport in June. The MRO facility is capable of serving a number of aircraft, such as Airbus A320 planes and Boeing 757s and 777s, and will employ over 400 people. ST Engineering, FloridaWest and the city already are working on adding four more hangars.
2. Appointed Superintendent
Escambia County School Superintendent Malcolm Thomas and his administrators were utterly shocked that the voters approved a referendum that did away with elections for the superintendent of schools and will have the school board appoint the position beginning in late 2020. The Pensacola Young Professionals championed the cause with the help of community leader Quint Studer and manned the polls, winning votes on election day.
3. Recycling Debacle
In May, former City Administrator Eric Olson was forced to admit to the Pensacola City Council that the city had stopped recycling its trash in September 2017, when Tarpon Paper, the city's recycling vendor based in Loxley, Ala., had stopped taking recyclables. Residents, who had been faithfully sorting their trash and putting the recyclables on the curb every week, were enraged. ECUA began accepting the city's recyclables in July. Olson resigned on Aug. 3.
4. Newpoint Conviction
Marcus May, the founder of Newpoint Education Partners, which ran charter schools throughout Florida, was convicted of robbing the school districts of Escambia, Bay, Broward, Duval, Hillsborough and Pinellas counties for more than $5.2 million. He was found guilty of two counts of racketeering and one count of organized fraud and sentenced to 20 years in prison. Inweekly first broke the story of grade tampering and financial irregularities in March 2015.
5. Bruce Beach Victory
Dan Lindemann and Jerry Holzworth challenged former Mayor Ashton Hayward's plan to have DEP build a fish hatchery at Bruce Beach. Hayward blasted them on the radio, fought them in court and refused to look at other locations, even though Gov. Rick Scott said he was open to another site. In June, DEP pulled out of the deal. This fall, Bruce Beach was cleaned up and made into a nature park.
6. Escambia Firefighter Harassed
In late January, Inweekly broke the story that a female professional firefighter had filed a harassment complaint against Escambia County. Her journal reflected incidents of workplace harassment, sexual harassment, a hostile work environment and miscellaneous policy violations. After the news report, Escambia Rescue Chief Pat Grace was relieved of duty. The Escambia County Commission approved a $175,000 settlement with the firefighter and made policy changes recommended by the U.S. Equal Employment Opportunity Commission.
7. Expensive Local Elections
Escambia County had 51 candidates running for local offices. The candidates raised over $1.41 million for their campaigns, plus an estimated additional $300,000-$500,000 was spent by political action committees on local races. By far, the most expensive race was the Pensacola mayoral contest, which had six candidates that raised $580,570. Councilman and mayoral candidate Brian Spencer was the top fundraiser, $312,880, despite not filing until minutes before the qualification deadline.
8. Downtown Parking
The Downtown Improvement Board went digital with its parking management earlier this year, only to cancel its contract with its vendor six months later after the downtown business owners complained the new system was too confusing and had driven away customers. The DIB currently has assumed control of the parking management, but Mayor Grover Robinson has talked about having the city taking it over. Could free two-hour parking on South Palafox Street end in 2019? Stay tuned.
9. Workforce Training
Local workforce training received considerable attention. In February, Gov. Rick Scott announced a $1.86 million Florida Job Growth grant for the Greater Pensacola Career Pathways initiative, a partnership with Pensacola State College, Escambia County School District, CareerSource Escarosa and FloridaWest. The grant will increase the number of students earning industry-recognized credentials and degrees for advanced manufacturing, aviation maintenance, cybersecurity, construction trades and other targeted industries.
10. Budget Impasse Ends
In March, a mediation agreement between the Escambia County Board of County Commissioners and the Escambia County Sheriff's Office fell apart after the board approved the deal that would have budgeted $9.1 million over four years for pay raises for deputies. The ECSO had appealed its budget to the governor in October 2017, but Gov. Scott showed little interest in getting involved. Finally, all parties agreed to a new four-year deal, which should keep the peace through 2021. Maybe.
—————————————–
Pop Culture Headlines
1. Wakanda Forever
2018 pretty much belonged to "Blank Panther." Not only did it shatter box office records and make T'Challa a household name but it also sparked important and long overdue conversations about representation. And who can forget "The Black Panther Challenge"—where GoFundMe campaigns helped kids see the movie who couldn't otherwise afford it.
2. "Thank U, Next"
For about five minutes, Ariana Grande and Pete Davidson were the hottest celebrity couple of 2018. Then they weren't a couple at all. Ariana won the break-up though, turning her pain into one of the biggest songs (and videos and catchphrases) of the year.
3. Crazy Popular Asians
Hollywood hasn't made a mainstream movie with an all-Asian cast since the "The Joy Luck Club." But after "Crazy Rich Asians" became the highest-grossing rom-com of the decade, you can bet they won't make that mistake again. In fact, a sequel is already in the works based on another book by Kevin Kwan called "Rich People Problems."
4."Everything Is Love"
It had been rumored for years, but this June, we finally got a collaborative album from Beyoncé and Jay-Z. Of course, fans went totally "Apeshit" (pun intended), especially when the couple shut down the Louvre for a music video and launched their second co-headlining world tour.
5. Bill Cosby
The 81-year-old actor finally faced justice for his crimes this April and was sentenced to three to 10 years in prison for sexual assault. He's currently appealing the charges though, so this story will likely carry over into the new year.
6. Fortnite
Technically, it came out in 2017, but it wasn't until this year that the third-person shooter game really took off and took over. For starters, Drake played it, plus there were Fortnite dances at the World Cup, and streamers like Tyler "Ninja" Blevins became famous enough to get interviewed by Jimmy Fallon.
7. Kanye West
We don't have room here to fully recap the year in Kanye, but we don't really need to, do we? We all remember when he rocked a MAGA hat and what he said about slavery being a choice. Despite those lows, he also had some highs—in the form of records (his own and ones he produced) and a new baby with wife Kim Kardashian.
8. Roseanne
Remember when Roseanne Barr got fired from her own show for tweeting racist insults and she blamed Ambien? Yeah, that really happened.
9. Kevin Hart
Or how about when Kevin Hart had to step down from hosting the Oscars after homophobic tweets from his past came back to haunt him? Maybe in 2019 celebrities will learn to think more and post less.
10. "Queer Eye" Comeback
Not all reboots are a good idea, especially in the hands of Netflix (yeah, we're talking about you "Gilmore Girls: A Year in the Life") but thankfully they got it right with "Queer Eye." The first two seasons were fun and uplifting and exactly what we all needed.
—————————————–
Rest In Peace
A truly American "Queen." A POTUS. Plus his First Lady.
And don't even get us started on Anthony Bourdain. We still aren't over that one.
Here's a look back at the influential and inspiring souls we lost in 2018.
Penny Marshall
Actress
George Bush
41st POTUS
Stephen Hillenburg
Creator of "SpongeBob SquarePants"
Stan Lee
Superhero of Marvel Comics
Mac Miller
Rapper
Burt Reynolds
Actor
Neil Simon
Playwright
Robin Leach
"Lifestyles of the Rich and Famous" host
Richard Swift
Singer, songwriter, multi-instrumentalist, producer
Aretha Franklin
The "Queen of Soul"
Jonathan Gold
L.A. food critic
XXXTentacion
Rapper
Anthony Bourdain
Author, host, culinary globe-trotter
Kate Spade
Fashion designer
Scott Hutchison
Frontman of Frightened Rabbit
Philip Roth
Novelist
Robert Indiana
Artist
Tom Wolfe
Author
Verne Troyer
Actor, best known for playing Mini-Me
Avicii
DJ, producer
Barbara Bush
First Lady
Tom Benson
New Orleans Saints owner
Hubert de Givenchy
Fashion designer
Russ Solomon
Tower Records founder
Billy Graham
Evangelist
Ingvar Kamprad
Ikea Founder
Dolores O'Riordan
Singer of The Cranberries