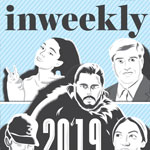 Sometimes it's hard to believe that 2018 is already over. Other times, it's hard to believe we survived it at all.
Maybe that's because the news cycle never stopped and somehow managed to get crazier and more infuriating every other day. Or because the 2020 speculation started while midterm ballots were still being counted. Or because Kanye West just couldn't quit Twitter.
No matter what wore you out or made you cry out, "Enough!" this past year, most of us would agree that we're collectively overdue for a fresh start.
So in the spirit of the year's biggest and best anthem, we here at Inweekly are more than ready to say "thank u, next" to the marathon shit show that was 2018 and start 2019 on an optimistic note.
————————————–
We can't think of a better way to start planning a good year than by having a packed list of events as a guide.
From popular festivals like Hangout to concerts and cultural performances, here's a snapshot of some of the upcoming year's local happenings you won't want to miss.
—ANNUAL FESTIVALS AND MAJOR COMMUNITY EVENTS—
Pensacon: Pensacola Comic Con
Feb. 22-24
pensacon.com
Pensacola Grand Mardi Gras Parade
March 2
pensacolamardigras.com
Ciclovia Open Streets
March 24
pensacolaopenstreets.com
Blue Wahoos Home Opener
April 10
bluewahoos.com
Pensacola Crawfish Festival
April 26-28
fiestaoffiveflags.org
Hangout Fest
May 17-19
hangoutmusicfest.com
Grand Fiesta Parade
May 31
fiestaoffiveflags.org
Pensacola Beach Air Show
July 13
newsairshow.com
Pensacola Interstate Fair
Oct. 17-27
pensacolafair.com
Pensacola Seafood Festival
Sept. 27-29
fiestaoffiveflags.org
Foo Foo Festival
Early November
foofoofest.com
Great Gulf Coast Arts Festival
Nov. 1-3
ggaf.org
Frank Brown Songwriter's Fest
Nov. 7-17
fbisf.com
———————————————————————
—CULTURAL PERFORMANCES—
BALLET PENSACOLA
balletpensacola.com
Performances at Pensacola Cultural Center
Divas
Feb. 8-10
Cinderella
April 5-7 & 12-14
PENSACOLA OPERA
pensacolaopera.com
Performances at Saenger Theatre
Romeo & Juliet
Jan. 25 & 27
Some Enchanted Valentine
Feb. 14
Florencia in the Amazon
March 15 & 17
Other Opera Events:
Brown Bag Opera
Jan. 29, Feb. 26 (at the Pensacola Opera Center)
Opera on Tap
Jan. 31 (at Perfect Plain)
March 21 (at Seville Quarter)
Master Class
Feb 8-17 (at Pensacola Cultural Center)
PENSACOLA LITTLE THEATRE
pensacolalittletheatre.com
Performances at Pensacola Cultural Center
Improvable Cause
Jan. 5
The Cemetery Club
Jan. 8-27
The Velveteen Rabbit
March 8-17
Short Attention Span Theatre
April 12-20
The 39 Steps
May 3-12
Venus in Fur
May 17-25
Sister Act
June 14-30
PENSACOLA SYMPHONY ORCHESTRA
pensacolasymphony.com
Performances at Saenger Theatre
Beethoven & Blue Jeans
Jan. 19
The Envelope, Please
Feb. 2
Mozart Madness
Feb. 16 (at First United Methodist Church)
Mahler: Symphony No. 6
March 9
Center Stage: A Benefit Concert Featuring Dee Daniels
March 29 (at Vinyl Music Hall)
Russian Spectacular
April 6
Concerto For Orchestra
April 27
Music for Families
May 18
BROADWAY IN PENSACOLA SERIES
pensacolasaenger.com
Performances at Saenger Theatre
Kinky Boots
Jan. 9
Evita
Jan. 17
Finding Neverland
March 27
Cruel Intentions
May 14
—————————————-
SELECT LIVE MUSIC EVENTS AND SHOWS
VINYL MUSIC HALL
vinylmusichall.com
Evil Dead: The Musical
Jan. 3-6
Lake Street Dive
Jan. 21
Drive-By Truckers
Jan. 24
Grizfolk
Feb. 2
Neko Case
Feb. 5
Matt and Kim
Feb. 14
Lettuce
Feb. 17
Dr. Dog
Feb. 28
Dropkick Murphys
March 2
Tank and the Bangas
March 7
STRFKR
March 13
Marc Rebillet
May 8
PENSACOLA BAY CENTER
pensacolabaycenter.com
Kane Brown
Jan. 11
Kevin Hart
Jan. 13
James Taylor and Bonnie Raitt
Feb. 10
Old Dominion
March 7
Jeff Dunham
March 27
Casting Crowns
March 28
Monster Jam
March 30-31
Disney On Ice
April 18-21
SAENGER THEATRE
pensacolasaenger.com
Black Jacket Symphony Presents: Queen's Night at the Opera featuring Marc Martel
Jan. 11
White Tie Rock Ensemble – The Wall
March 1
Celtic Woman Ancient Land
March 2
American Girl Live!
March 20
Kyle Cease: Evolving Out Loud Tour
March 25
Three Dog Night
April 4
Black Jacket Symphony Presents: Journey's Escape
April 19
PJ Masks Live: Save The Day!
May 16
—————————
SIGNATURE ROAD RACES, TRAILS AND TRIS
Pensacola Beach Run: Half Marathon 10K/5K
Jan. 12
pensacolarunners.com
Double Bridge Run: 15K and 5K
Feb. 2
doublebridgerun.com
Blackwater 50K Trail Run & Relay
Feb. 16
werunwild.com
McGuire's 5K Prediction Run
March 9
mcguiresirishpub.com
Rock N Fly: Half Marathon and 5K
March 23
runrocknfly.com
Bayou Hills Run: 10K, 5K and Kids Run
March 30
bayouhillsrun.org
Justice Jog: 5K, 1-Mile Fun Run & Street Party
April 13
AWKOJusticeFoundation.com
Pensacola Triathlon
April 28
tripensacola.com