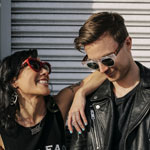 What's a new year without new stuff to obsess over? Here are some of the movies, shows and music we're excited about going into 2019.
1. The Sweetener World Tour
Because we're full-on Ari fans now.
2. Also "Thank U, Next" the album
OK, perhaps we're a little more than fans. Maybe we're obsessed.
3. The fifth and final season of "Broad City"
The last ride with Abbi and Ilana is going to be bittersweet for sure.
4."Game of Thrones"
Same thing goes for this show, which is signing off with a short six-episode final season this April.
5. Hangout Fest 2019
Here's hoping Cardi B can deal with those looming assault and reckless endangerment charges before May.
6. Joaquin Phoenix as "The Joker"
Y'all know that's going to be good.
7. The Oscars
Will they have a host? Will "Black Panther" get any love? Will they have another screw up that steals the show, like the infamous 2017 Best Picture fail? We can't wait to find out.
8. New Orleans Saints
We don't want to jinx them, but the Saints are actually going into the postseason looking pretty damn good.
9. Beto 2020
Even if it doesn't actually happen, it's still fun to think about.
10."Big Little Lies" Season 2
Two words: Meryl Streep.
11. Valentine's Day
Did you hear the exciting heart day news yet? The cutest couple in rock 'n' roll is coming to Vinyl Music Hall to celebrate with us—Matt and Kim.
12. New stuff from Chance the Rapper
About halfway through 2018, he tweeted "Sorry no album this week, def been in the stu tho." So that has to mean a new album is coming soon, right? We'll settle for a few more singles like "Wala Cam."
13. "The Source of Self-Regard" by Toni Morrison
This collection of nonfiction essays by the Nobel Prize-winning author is pretty much certain to become a must-read when it comes out in February.
14. "Us"
No one really knows what it's about yet, but that's not stopping us from saving the date (March 15) for Jordan Peele's next thriller.
15. The Polaroid Kid at PMA
The dates aren't confirmed, but word is Mike Brodie's photographs are going to be on view at the museum sometime in 2019.
16. The live-action "The Lion King"
You had us at Beyoncé.
17. The Weeknd "Chapter 6″
There's no release date, but at a recent show in Toronto, The Weeknd announced that his fourth studio album is coming soon. That's enough to get us hyped.
18. "Once Upon a Time In Hollywood"
Leonardo DiCaprio, Brad Pitt, Margot Robbie, Al Pacino, Dakota Fanning—yeah, that's just enough star power to make us forget that we kind of don't like Quentin Tarantino anymore.
19. Greta Gerwig's "Little Women"
Saoirse Ronan and Timothée Chalamet are reuniting with Gerwig for this upcoming adaptation, and we're so damn excited that we don't even care if the December 2019 release date is still tentative. Our plan is to re-read the book and watch "Lady Bird" at least 10, maybe 20, times until then.