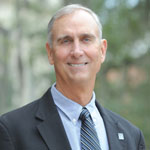 By Jeremy Morrison
Newly hired Pensacola City Administrator Chris Holley isn't any good at retirement. This isn't the first time he's gotten back to work after stepping away to enjoy his golden years.
"I have retired now four times, yes," Holley laughed after a few weeks on the job. "I'm a failure at retirement, as my wife says, a complete failure."
Holley worked for decades in various levels of municipal and county governments, including a 13-year stint managing Okaloosa County. He's been inside Pensacola City Hall at least a few times over the years.
"I think the last time I was in this building, Tom Bonfield was the city manager," Holley recalled.
Holley took the city's top administrative spot upon incoming Mayor Grover Robinson taking office in November. The mayor, in fact, handpicked Holley. And Holley took the job in part because of his faith in Robinson, whom he knows from their respective work with the Florida Association of Counties, where Robinson was president and Holley served as executive director.
"Grover's been a leader in my world for quite a while," Holley said, "so that's the main reason I'm out of retirement and back to work. He's just a fine man and asked for help. So I'm here to help him."
Less than a month on the job, the city's new administrator has already delved into the machinery of the city, taken a look around and made some initial diagnosis. He's also had a little time to take a catch his breath and relax in his new home.
"Walked up and down Palafox and watched some football and watched some people and just kind of got a feel. You know, the vibe downtown is good," Holley said. "I'm enjoying it so far."
A Boatload of Superstars
Pensacola's new city administrator is pretty clear about what he considers to be his strengths.
"I think I'm a good judge of talent. I think I have a fairly good grasp on organizational structure and efficiency," Holley said, "so I can use those skillsets to help an organization get their feet under 'em so to speak."
Holley has carved out somewhat of a niche in taking on challenging propositions and working to better the prospects. Just since 'retirement,' he has worked on economic development for a struggling port near his "get-away house" in Port St. Joe and then took on the Okaloosa County Tourism Development Council at a time when the agency's former director had just committed suicide after it was discovered he had used more than $1.4 million of public funds to purchase a yacht and luxury home.
Holley might be seen as a fix-it man. His assignment in Pensacola entails cleaning up any messes found in city operations and specifically to develop a good team to run the city.
The value of a team, something Robinson has spoken about on multiple occasions, is a subject with which Holley experience.
"I've built good teams everywhere I've been," he said. "A manager, or mayor, is only as good as the people that he or she hires and that work for them. And if you motivate people, give them the tools they need and they're talented, they will make you look good. Having a boatload of superstars on your team is what you want, and then you let 'em run."
Holley continued, "You want them to be risk takers; you want them to stretch. If you keep your thumb on them to where they're scared of their shadow and won't do anything, then you have a stale organization that doesn't accomplish anything."
After being on the job for a few weeks, Holley has some ideas about potential changes that may be in store for the city. Changes to the team, as well as more structural changes.
Right off the bat, Holley is perplexed by the organizational chart.
"I've got 22 people who report to me supposedly. I haven't met them all yet," he said. "That's way too many people."
The administrator would prefer a manager only be responsible for three to six staff members. And he foresees structural shifts, "I'm going to have to do some reorganization."
"I probably overuse the statement, you gotta get the right people on the bus and the wrong people off the bus," Holley said. "And that takes a year or so."
The administrator also lists other priorities: working on the city's ordinances, budgetary concerns, focusing on growth at the port and addressing the city's lack of a human resources manual.
Holley noted that while he already has a running list of changes he thinks need to be made, he's also mindful of the work the mayor's transition team is currently doing. Robinson has assembled a team to look into various facets of city operations and community engagement and make recommendations about where the mayor's administration should focus.
"I'm excited about seeing what kind of ideas the transition team comes forward with," he said.
But, then, Holley has been at this a while and sounds pretty sure his assessments and the team's findings regarding city operations will align, especially considering the team is consulting city staff to obtain the information needed to form their recommendations.
"They're talking to us, and most of the ideas they're going to get are probably gonna be from us, so it's things that we know need to be fixed," said Holley. "The process will give us momentum to do what we probably already know we need to do."
Working Towards Not
Holley is forever trying to improve at his retirement game. The city administrator told the mayor when he took the job that he only plans on sticking around Pensacola a year or so, maybe two.
"I'm 66 years old," the administrator explained. "So, God has a plan for everybody; none of us are permanent fixtures on this Earth. At 66, I'd like to go back to retirement sooner rather than later. There's no set time."
However long he's in town, Holley plans on it being enough time to tighten up city operations and establish a good bench of players at city hall, "I'd like Grover to have a good, solid team under him."
"I told him it'd take at least a year or so to get the ship steered in the right direction and get the recruitment process going," Holley said.
And while retirement will surely be sweet when it finally comes—once again—working isn't too bad, either, for now, when you enjoy the assignment.
"It's really neat to be able to work when you want to and do what you want to and be asked to work and be able to do things that you enjoy," Holley said.