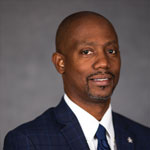 By Duwayne Escobedo
Escambia County Commission Chairman Lumon May came up with a plan to salvage the poorly run Escambia-Pensacola Human Relations Commission.
"In the African-American neighborhoods, this is an important agency," May said. "It's a bedrock in the community."
When Pensacola and Escambia County were a hotbed of community unrest between blacks and whites, the organization was created by an inter-local agreement in 1974 between city and county to resolve civil rights complaints reported by local citizens in housing and employment.
However, a former board member and two former employees stepped forward with complaints about questionable EPHRC practices. It led to an investigation by the Escambia County Clerk of Courts' office that uncovered numerous infractions.
District 2 County Commissioner Doug Underhill said the agency is not on his "speed dial" when it comes to solving problems that pop up with families in need in his district.
"I cannot support continuing to use them in that role," Underhill said. "I'm not comfortable with the lack of direction there."
The Clerk's investigation outlined a number of improprieties by the agency that receives funding from the city, county and Community Development Block Grants that totaled more than $180,000 a year over the past three fiscal years.  Clerk of Courts Pam Childers recommended abolishing the Escambia-Pensacola Human Relations Commission and reducing the staff to handle its duties after it discovered:
•The failure to submit Florida Auditor General financial reports for 2007, 2008, 2009, 2015, 2016 and 2017 and take corrective actions about segregation of duties. Additionally, it has failed to provide mandatory CDBG documentation.
•Health insurance is offered to EPHRC on a reimbursement basis to the county that only Executive Director Rebecca Hale receives. Payments to the county for the coverage are four months behind.
•The agency has failed to advertise its meetings to the public properly and share its schedule with the city or county.
•Property paid for by the city, including two Bluetooth headsets, two web cameras, a laptop and a mobile cart, are unaccounted for.
•Printing for wedding invitations and church bulletins were done and paid for by the agency. Plus, friends and families of Hale and the EPHRC board received funds from the agency, such as the Alpha Kappa Alpha Delta Iota Omega Chapter 2014 Debutante Cotillion.
•Between Fiscal Year 2015 and Feb. 28, 2018, the agency received 445 Fair Housing calls with 41 leading to complaints and nine of those complaints being resolved. During the same period, the Human Relations Commission received 254 discriminatory employment calls with 36 leading to complaints and none being resolved.  The complaints were never reported to the county commission.
May defended the need for the human rights commission. He said the only reason Pensacola has a black-owned radio station, 980 AM WRNE, is because of the agency. He said its mandate is critical but admitted, "I can see this has to change."
The commission chairman recommended making staffing changes, including Hale who reportedly earns $51,525 annually, and replacing the nine board members. The county commission and city council appoint four people each, and the agency board appoints one member. He also proposed more engagement by the county commission by having one commissioner attend all the meetings. May volunteered his services.
"I will never support bringing it in-house," May said. "Its name has value in this community. I understand that sometimes change is needed to move forward."
Underhill wanted to create a county ombudsman to handle the housing and employment issues but said he would support May's proposal that the District 3 commissioner promised to bring to a future meeting for a vote by the five-member board.
District 5 Commissioner Steven Barry also said he would support May's plan. Initially, Barry wanted to seek proposals from other nonprofit organizations to deal with the housing and employment complaints.
"It needs to be standalone; I agree with that," Barry said. "But it must provide service to the county."
He scoffed at the fact that the Escambia-Pensacola Human Relations Commission held only two hearings during the past five years. Barry also pointed out that the EPHRC bookkeeper would not vouch for the agency's financial information.
Meanwhile, Hale and two board members, Anita Hemphill, vice chairman, and Cheryle Allen, finance chairman and treasurer, defended the allegations against Hale and the agency at the Committee of the Whole before Christmas.
Hemphill said the investigation was not fair.
"It was one-sided," she told commissioners. "(Hale) did not have the opportunity to vindicate herself against some of these allegations."
Allen blamed the county for failing to provide more direction to the agency, "You didn't give us clear direction on what we should or shouldn't do. We still want to do the right thing. It seems like it just got muddled."
Meanwhile, Hale had a PDF presentation for the board but failed to get through it. She was clearly nervous, talking in a shaky voice throughout the discussion about the agency's highly questionable performance on discriminatory housing and employment complaints from local citizens. She also continually provided excuses to commissioners' direct criticisms.
"If there was a better relationship between us all, it would have helped and assisted us in the job being done adequately," Hale said.