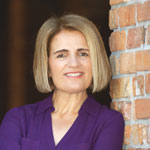 By Sarah Mc Wilson
It's a question raised by local author Trish Taylor as part of the title of her new book, "I'm Never Drinking Again: Maybe It's Time to Think About Your Drinking?" Though the title and question may seem direct, her book serves as both an invitation for dialogue and an offering of support. While for some, drinking alcohol may be black and white, for many, it's gray. Her book speaks to those in this gray area.
"The idea that you are either an alcoholic or a normal drinker stops people from doing anything," suggests Taylor. "If you are a person who your friends and family consider a 'normal' drinker but you know your drinking is a problem to you, where do you go? People need alternatives, and they need to know there is more than one option."
Though in the title of her book Taylor uses the claim, "I'm Never Drinking Again," she explains this is less about her personal stance on alcohol and more about a commonality. As a phrase many have uttered after a night of drinking, often layered with emotions such as shame or guilt, Taylor uses "never again" to relate to others.
"I don't say 'never' in real life. I don't currently drink and have no plans to. [But] never is a long time, and I think the word never sets us up for failure. I wanted to appeal to people who these words resonate with, to get them thinking about the way they drink," she said.
Describing herself as "an enthusiastic drinker from a young age," Taylor grew up imbibing freely in alcohol as part of the norm of British culture. "All socializing revolved around drinking. And people who didn't drink were met with distrust and suspicion. An event that didn't include alcohol—a 'dry do'—would not get many takers," she said. "I happily drank for decades until I started to wonder if it was doing me more harm than good. The more I thought, read and researched, I started to wonder if it was time to change. I discovered that I could quit for a month fairly easily but always came back to feeling uncomfortable with the way I drank."
After Taylor quit drinking, it was a YouTube video she made that showed her this is a topic that speaks to many. In her work as Trish Taylor Coaching, where she offers NLP Mindset Coaching, Taylor frequently posts short videos of the techniques she uses in working with clients. It was one video in particular, showcasing the use of Emotional Freedom Technique (EFT) "tapping" in quitting drinking, that made an immediate impact with a much wider audience.
"I made a video about drinking, including some tapping techniques shortly after I quit. It's my least well-put together video, recorded in my kitchen, but it has over 8,000 views. People tell me they find it helpful. One person messaged me to say he said goodnight to his children on his first sober New Year's Eve in many years after using my video to help him not drink. Stories like this made me think I should share what has helped me," she said.
Ultimately, this experience showed her a greater need and inspired her to share her own journey in book form, with resources and solutions to help others. "I realized how many people are questioning their relationship with alcohol and also recognized that this book would have helped me when I was looking for answers," she explained.
Her book showcases strategies and techniques that helped Taylor quit, including tapping. "Tapping is a really easy one, as you can use it for times when you have a craving or in situations that usually lead you to want to drink in order to deal with emotions," she said. She also shares her positive experiences with using affirmations, visualizations and journaling, even including some of her personal entries.
"It includes a lot of personal information that I would have preferred to stay private, yet I knew that people reaching out to me needed to hear an authentic voice, and I had been helped by others who related to me," she said.
So far, the response she's been met with has been a resoundingly positive one.
"Overall, I am finding people telling me that the book is what they need and are ready. Or surprisingly, I have had people reach out to me and say they already reached the conclusion and quit and are happy that they did," she said.
Taylor states that this book is not meant to be used as an alternative to seeking medical treatment. "The book is just a starting point for anyone questioning their drinking habits," she said.
Booze-Free Book Launch
Friday, Jan. 4, Taylor is hosting an after-work event surrounding her book release and the theme of non-drinking. Whether you're decidedly sober, partaking in the trend of "dry January" by kicking off 2019 with an alcohol-free month or are open to assessing your own alcohol consumption and exploring alternatives to drinking, Taylor welcomes all to the event.
"It will be a celebration of the New Year and looking at healthy and alternative ideas to drinking. I want people to recognize there is a lot that we can do that doesn't involve drinking," she said.
The event features a short reading from the book, a question and answer session, giveaways from local supporting businesses, plus a few surprise activities and light refreshments. Mrs. Jones Cold Brew will be crafting coffee "mocktails." The event will also have a Little Free Pop-Up Library, where guests are encouraged to bring a book of their own to share.
Print copies of "I Am Never Drinking Again: Maybe It's Time to Think About Your Drinking?" will be available for purchase at the event. Print and digital versions are also currently available on Amazon at mybook.to/imneverdrinkingagain. The Kindle edition is available for 99 cents until Jan. 5.
TRISH TAYLOR BOOK LAUNCH
WHAT: "I Am Never Drinking Again: Maybe It's Time to Think About Your Drinking?" book launch & healthy new year party
WHEN: 5:30-7:30 p.m. Friday, Jan. 4
WHERE: Cowork Annex, 13 S. Palafox
COST: Free
DETAILS: facebook.com/trishtaylormindset