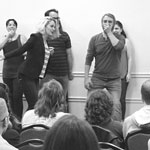 By Sammi Sontag
After 13 years of pure hilarity, Improvable Cause, a Pensacola improve troupe, is gearing up for 2019 with double the jokes and double the shows.
"Pensacola is really an artistic community for being so small, so what I see coming in the future is applying improv to life," Brooke Hardy, Improvable Cause troupe member, said.
She added, "For example, I've done workshops for my coworkers. I think branching out and translating the concepts we've learned in improv into other contexts, whether it's for kids or helping other people, is a goal."
The troupe has spent countless Saturday nights filling Pensacola Little Theatre with laughter and entertainment for their monthly shows, which happen the first Saturday of every month. And because of its success, the 15-member troupe is adding another show to its schedule—so leave your Wednesday evenings open.
"Our new monthly Wednesday night shows will be scattered around the calendar starting in January," Hardy said. "We're calling them 'In betweens' right now, but those are going to feature some of our newer members that may not have performed as much in the Saturday shows."
Though similar to the Saturday night performances, the Wednesday night shows will start earlier in the evening. The first one is Wednesday, Jan. 16.
"The crowd has definitely gotten older," troupe member Jay Bixler said. "It's the adult crowd, whoever is wandering around downtown at 10:30 on a Saturday night, which is a lot of people these days."
He continued, "The Wednesday night show will be geared toward playing it to the top of our intelligence, meaning there are only so many fart jokes you can make before you lose a crowd, but the earlier start time is for a 'less wild' crowd."
On a number of Saturdays, the troupe turned people away because their show had sold out, so it is eager to double the monthly performances.
You can also catch the troupe performing at Pensacon again this February as it has in years past. Ultimately in 2019, Improvable Cause wants to increase its presence in the community.
"Despite being around for so long, there are still a lot of people who are like, 'What? I've never heard of you,'" Hardy said. "And I don't think that's a problem. But the fact that there is something like Improvable Cause that's had longevity is really just kind of cool."
She added, "There are also so many real-life benefits to improv, and it really is so simple."
The troupe has created a space for people who are interested in improv to grow and develop their skills. There is no formal vetting process to join the troupe, and they encourage anyone who is interested to reach out and get involved.
"We're kind of unique compared to other improv groups in larger cities," Hardy said. "Our main focus is short-form improv games, which is more like "Whose Line Is It Anyway." And then we're also a close-knit group of friends, which I think works in our favor most of the time."
She continued, "But you have to have a positive attitude and willingness to take criticism, try new things, don't take things personally and be okay with failure."
Learning improv provides tools for the real world, Hardy said. It has given her confidence in job interviews and meeting new people in crowded, unfamiliar places, which are skills she and Bixler hope to provide the community through workshops or their "Lab Rat" program.
"Improv is as creative as you can get," Bixler said, "It is more about a way of looking at life. It changes your perspective on things."
"Lab Rat," is a way for Improvable Cause to teach people improv techniques, he said. It also helps filter new people into the troupe, simultaneously training teens and young adults.
"Improv is the only art form everyone does all the time. You're not given lines when you wake up in the morning. You improv," Bixler said. "It is really hard when you're an adult because the world has put you in a box. Everyone is talking; everyone has something important to say. But I think improv is a creative outlet that gives everyone an opportunity to talk."
IMPROVABLE CAUSE JANUARY SATURDAY NIGHT SHOW
WHAT: A monthly improv comedy show
WHEN: 10:30 p.m. Saturday, Jan. 5
WHERE: Pensacola Little Theatre, 400 S. Jefferson St.
COST: $11
DETAILS: pensacolalittletheatre.com or facebook.com/improvablecause