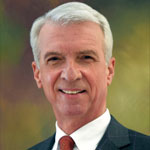 Winners
Henry Stovall
Ascension Florida has named Stovall as the new president and CEO of Sacred Heart Health System. Stovall has served as the president of Sacred Heart Hospital in Pensacola since 2012. He has held many leadership positions in health care for more than 30 years. Before being named the president of Sacred Heart Hospital Pensacola, he served as senior vice president of Special Projects for Sacred Heart Health System. In past roles, Stovall served as a division president for PHNS in Dallas, Texas, a partner in the national healthcare practice of the Hay Group in Dallas, and as a corporate vice president at Presbyterian Healthcare System in Dallas.
David Stafford
The Escambia County Supervisor of Elections began processing applications from previously ineligible voters on Tuesday, Jan. 8, the effective date of the Voting Restoration Amendment approved by voters in the 2018 General Election. The amendment "restores the voting rights of Floridians with felony convictions after they complete all terms of their sentence, including parole or probation. The amendment would not apply to those convicted of murder or sexual offenses, who would continue to be permanently barred from voting unless the governor and Cabinet vote to restore their voting rights on a case-by-case basis." Voters who have previously been removed from the Florida Voter Registration Systems due to a felony conviction but are now eligible can now submit a new voter registration application.
Losers
Town of Century
The Office of the State Attorney announced three members of the Century Town Council—Sandra McMurray Jackson, Ann Cofield Brooks and Luis Gomez, Jr.—have been charged with noncriminal violations of the Florida Government in the Sunshine Law. If found guilty of the charge, they face a civil fine of up to $500. They are scheduled for a court appearance on Jan. 24. The State Attorney also announced that a Grand Jury would be convened to review various matters regarding the operations and management of the Town of Century.
Todd Entrekin
The Etowah County, Ala., sheriff has pocketed at least $1.5 million in federal funds by housing Immigration and Customs Enforcement detainees, according to an investigation published by AL.com. Citing public records and interviews with county officials, AL.com reported County Sheriff Entrekin receives funds from the federal government to house and feed detainees at the Etowah County Detention Center, but he splits whatever's left over in the food budget between himself and the county's general fund. Since October 2011, that food budget has had more than $3 million in surplus, according to the report. That surplus is so large in part because Entrekin has allegedly skimped on the food provided to inmates. Alabama state law reportedly allows Entrekin to claim a surplus of state funds. However, legal experts told AL.com that pocketing federal dollars is almost certainly illegal.