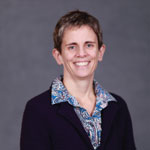 By Jeremy Morrison
Amy Lovoy comes from the world of math. She's a numbers cruncher, a bean counter. But she's been in administration long enough now to really nail the one-liners.
"I don't care what anybody says." Lovoy laughed. "You're not going to get any projects done if you don't have a way to pay for it, and just because you have a way to pay for it doesn't mean you're gonna get the project done."
This one would no doubt slay at a Florida Association of Counties convention. But the zinger runs deep and also serves as an apropos illustration of Lovoy's administrative approach, one that marries her experiences in both the executive and budgetary worlds of Escambia County government.
"I like merging the two," she said.
Since 2014, Lovoy has served as Escambia's assistant county administrator. But she's been with the county for much longer, nearly 20 years.
"I started off as a lowly, lowly, lowly budget analyst," Lovoy said.
A Pensacola native, Lovoy went on to head up the county's budget department before eventually being enlisted as assistant administrator around the time Jack Brown took the administrator's position.
Brown recently announced his intentions to retire. While he has already effectively left— he's on "terminal leave"—the administrator will officially step down in February. During the interim, Lovoy's title has changed to acting county administrator, but her mission is staying about the same—working to navigate Escambia County's course going forward.
The Road Ahead
When Lovoy took on an administrative role with Escambia County, she already had a bit of familiarity with the various departments within county government from her time in the budget office.
"The advantage of the budget office is you get to see every department work, granted, from a financial perspective, but you get to see every department," she said. "When I was there, I got to see something in every department all the time."
After a few years in administration, Lovoy still speaks with the wonder of a dreamer or maybe a student wading deeper into the waters of a lifelong discipline.
"When I made the change from the budget office over to administration, I had a familiarity with the department, certainly, but now I see a whole different side of it," she said, "not just the financial and accounting aspect, but I see the operational portion too, which is fascinating to see how these departments run."
But Lovoy can conversely take the seasoned tone of a practical planner, particularly when discussing the upcoming year of challenges and opportunities facing the county on the other side of the holidays. Heavy lifts, like developing a master plan for a commerce park on the OLF 8 property or the construction of a new county jail.
Most things, Lovoy pointed out, represent both opportunities as well as challenges, like, for example, the construction of a new jail.
"I think that it is an opportunity because you're stepping into a brand-new building. There's going to be efficiencies realized that we just have never had the opportunity to realize over at the main jail just because of the age of it," she said. "But it's also going to be a lot of challenges because it's going to be full."
This peak jail population facing the county is approached like a budgetary equation, "The challenge is going to be reducing the jail population and smart ways to do that."
But this is an equation with lofty aims towards reducing the area's incarceration levels and hopefully realizing the associated societal benefits from such a reduction. It's an effort that appears to excite the acting administrator.
"Without letting too much out of the bag—because we're not starting; we're not going to move forward until next year—I think a lot of it involves alternatives to incarceration," Lovoy said, describing how offering such alternatives could benefit both county and citizens. "Because if you're in jail, one, citizen taxpayer is paying every bit of your room, board, medical, everything, and you're probably going to lose whatever job you had if you're in jail, so you're going to be a burden on the taxpayer for a long time to come."
She continued, "If we can keep them out of jail and keep them working, then I think we have the opportunity to affect some change, and that's going to be a huge, huge—I can't underscore enough how much of a challenge that's going to be."
Lovoy said other efforts the county will be focusing on include addressing the area's homelessness issue as well as poverty in general.
"One of the things that we've always struggled with in the county—and you know this if you've spent any time in the county—is poverty levels," the acting administrator said. "If we can start addressing that in any meaningful way, I think that's going to pay dividends forever. I really just do."
A Changing County
Throughout Lovoy's time with Escambia County, she has served with more than a few county administrators. She's taken note and learned from each.
"I think Jack was my ninth county administrator," Lovoy reflected, offering up some advice learned while working with Brown. "If you do something, it's never done in a vacuum, so what are the ripple effects that are going to occur as a result of that?"
Also, during her tenure with the county, the acting administrator has seen a lot of change.
"When I first started with the county, it was a lot of focus on what I consider small-county things—paving dirt roads, a lot more rural kind of programs. And now especially with this board, we are focusing on things that I consider bigger-city or bigger-area issues," Lovoy said.
She added, "Don't get me wrong, we still focus on paving dirt roads because we still have dirt roads to pave, but we're focusing more on things like poverty reduction and homelessness reduction and staffing and equipping our community centers with programs, which is much more indicative of an urbanized, larger area."
Watching as Escambia County has evolved, Lovoy said she is encouraged with the trajectory.
"Over my time, I think it's changed dramatically," she said. "It's nice to see."