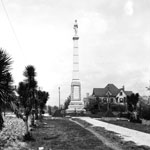 Monumental Steps Recently, State Rep. Mike Hill, who represents the Panhandle area, proposed a bill—House Bill 97—that would prohibit local governments from taking down monuments, including those honoring Confederate soldiers.
When asked his take on the proposal, which Hill calls the "The Soldiers' and Heroes' Monuments and Memorials Protection Act," Mayor Grover Robinson said he didn't support any state law that preempts local governments.
"Every community should be able to make their own decisions," said the mayor. But he also stated that he didn't believe the "Our Confederate Dead" monument should be removed from city property on North Palafox Street.
In August 2017, former Mayor Ashton Hayward told the media that the monument should be removed and possibly placed in a museum in the days after violent protests in Charlottesville, Va.
"We stand completely against this hate," Hayward told the News Journal. "The white supremacists, the KKK and the neo-Nazis, those are unacceptable in our state, country and community. One of the things that I'm proud of is we've done a great job making Pensacola a diverse community, and symbols of hate are not accepted anywhere."
However, Hayward never brought the matter to the Pensacola City Council for a vote. The new mayor has a different view of the monument.
"I've never believed necessarily taking stuff down makes us a better place," Robinson said. "What makes us a better place is being respectful and realizing that we all have differences of how we got here. We all have different histories."
Robinson went on to say that he felt the city should strive to tell the stories of people traditionally underrepresented in the public sphere. He suggested that working to tell such stories would be preferable to taking down a monument some view as offensive and others view as historical.
"I do not think we've done a good job of telling the stories of women or minorities, African-Americans, especially in this community, and that would be the way I'd rather tackle that," the mayor said.
Robinson did note that a series of steps leading up to the monument in Lee Square—steps highlighting the Southern states that left the Union—needed to be changed to reflect unity instead of division.
"I believe the most offensive part of that monument is actually the stairs leading up to it because the stairs are focused on the separation. They're not focused on the reunification, and I think that's what we should be celebrating," Robinson said. "I would rather see those steps reflect the years those states reentered the Union rather than when they separated."
With communities throughout the South wrestling with how to treat Confederate monuments, the mayor suggested that his approach could serve as an example to others.
"If we do it the right way, we can position ourselves in Pensacola as one of those Southern communities that has learned how to deal with this challenge and be respectful," he said.
Keefe Confirmed The U.S. Senate yesterday confirmed veteran Panhandle trial lawyer Larry Keefe to be the new U.S. Attorney for the Northern District of Florida, which includes 23 counties that stretch from Escambia to Alachua counties.
Congressman Matt Gaetz, who once worked in Keefe's law firm, praised the confirmation.
"With Larry Keefe as the U.S. Attorney, he will ensure the laws are applied in our state and that they are applied fairly and equally," said Gaetz. "In Northwest Florida, we are now going to have a heightened sense of integrity, and there are going to be consequences for people who engage in corrupt activities."
He added, "Congratulations to my friend and mentor in the practice of law, Larry Keefe, and congratulations to all of Florida."
If you doubt Gaetz's influence, the congressman got President Trump to nominate his mentor even though Keefe wrote a check for $500 in December 2015 to Hilary Clinton's presidential campaign.
Pitt's Slip Solution? Aiming to wrap up a years-long legal dispute over waterfront property referred to as Pitt's Slip, Mayor Grover Robinson reported that he felt confident the city was working toward a resolution.
"I think we're moving toward a solution," the mayor said at his Dec. 31 press conference.
The issue at Pitt's Slip, where The Fish House restaurant is located, began in 2013 when the city attempted to renegotiate the lease for the property by claiming that the leaseholder, Seville Harbor, had defaulted on its contract. The city was sued and racked up more than $300,000 in legal fees on a loser that went all the way to the Florida Supreme Court, as well as being ordered to pay the leaseholder's legal fees of $535,000.
The mayor said that the potential resolution entails the city selling the Pitt's Slip property for $850,000, which is above the appraised value and also paying a slimmed down $500,000 in legal fees.
"We'd net $350,000," Robinson said.
If the Pensacola City Council approves the settlement, the mayor said he planned to divvy up that $350,000 between the city's seven districts to be used for pedestrian-related projects such as sidewalks, lighting, bike lanes and crosswalks.
"Rather than taking the little money we have and go pay legal fees—which neither this council or this administration incurred; they were all incurred by the prior administration—I would rather go ahead and solve that by dealing with the asset that we have and moving forward," Mayor Robinson said.
Holes in Public Safety On Saturday, Dec. 29, Pensacola citizens had the opportunity to let the city's administration know their thoughts concerning the community's public safety. The meeting at the offices of Pathway for Change was part of Mayor Grover Robinson's transition team's efforts to get the public's input on a wide array of issues.
Throughout an hour, Pensacola Police Chief Tommi Lyter, Escambia County Sheriff's Office Chief Deputy Chip Simmons, Pensacola Fire Chief Ginny Cranor and Assistant Fire Chief Brock Jester fielded questions and comments.
One concern brought up during the meeting was the issue of traffic accidents involving pedestrians, particularly on streets like West Cervantes where people are faced with crossing four wide lanes of cruising traffic.
Chief Lyter acknowledged that routes like West Cervantes Street present challenges for law enforcement. He noted that the areas on either side of the street are largely low-income areas of town with a high number of minority citizens and said the city did not want to focus on any punitive measures aimed at curbing pedestrian crossings.
"They barely have the means to pay for groceries," Lyter said. "I don't want to write them a ticket for jaywalking."
The chief said that the police had previously stepped up ticketing of drivers in the area for speeding but that the effort had little impact on the number of accidents. He said one tactic with some amount of success was running a patrol car up and down Cervantes to serve as a "pace car."
"They just drive Cervantes Street," he said. "No one's going to pass a police car."
Another person in attendance at the forum was interested in how the city's new development, particularly residential developments downtown, would impact the fire department.
"The new housing does tax us as a fire department," Chief Cranor said, explaining that some of the construction wouldn't weather a fire well. "They're never meant to be on fire. You have a five- to 10-minute benchmark to remove the heat from it before it falls on you."
Transition Team member Connie Bookman pressed on this point, wondering if the fire department had enough firefighters to deal with potential events in the city.
"So, how many firefighters do you need if Southtowne is on fire?" she asked, referring downtown's new mixed-use development.
"For Southtowne, we really are looking at 43," Cranor said, citing national standards.
The fire chief said that pulling together that number of firefighters would require "a lot of mutual aides," meaning the city would need to request help from Escambia County and other neighboring fire departments. Currently, Cranor said, the city has 28 firefighters running on a given shift.
"We can get 15 firefighters to a scene immediately," she sized up the city's limits.
After noting the potential staffing shortfalls within the fire department, the discussion turned to the police department, where staffing is also a concern.
"Ideally, we should be having 15 officers per shift," Chief Lyter said. "I'm running about 11 right now."
The chief said that the department was about 30 officers shy of what it needed, and that was forcing the need to work people overtime and leading to "burnout" issues.
"It's been described as relentless," Lyter said about the department's current workload and officer shortfall, adding that the department receives between 270 and 300 calls for service each day and finds the need to prioritize which calls get attention.
Heroin Deaths The latest Florida Medical Examiner's Commission Drug Report revealed the deaths related to heroin use in the Pensacola area are still high compared to where they were a decade ago.
The Medical Examiner report for 2017 was published this past November. In 2007, District 1, which includes most of the Panhandle, had no heroin-related deaths. Since 2013, such deaths have increased significantly.
Year    Deaths
2013       3
2014     12
2015      28
2016      34
2017      30
The rise in heroin abuse is tied to stricter laws regarding opioid prescriptions. The illegal drug is relatively inexpensive in comparison to the prescriptions and more accessible to obtain, according to the recovering addicts Inweekly has interviewed over the past two years.
Committed to Titan Mayor Grover Robinson remains optimistic about Project Titan, the code name given to the construction of three more hangars to create an MRO (maintenance, repair and overhaul) Aviation campus at the Pensacola International Airport. To date, the city has commitments for $180 million but remains about $25 million short of the funds needed, according to the mayor.
On Friday, Dec. 21, the mayor met with State Sen. Doug Broxson and Dr. Rick Harper, the economic advisor the Triumph Gulf Coast board.
"We had everybody there from our team, including our federal lobbyist, Dan McFaul of Ballard Partners, who was here in town and attendance as well," said Robinson at Monday's press conference. "And I can tell you, our team is committed to the project. We're going to find a way."
He added, "I don't exactly know how the 25 million is going be made up, but I can assure you—state, federal and Triumph—we will be looking at all those into having a solution."
Mayor Robinson wasn't discouraged by media reports that Sen. Broxson felt it was unlikely the Florida Legislature would budget any additional funds for the project in the 2019 session.
"It's probably unlikely that we will get that much money in this one fiscal year," he said. "We reminded them on Friday that what we need is the money over four years so it can be pushed out in the latter years. We have a lot of money to move forward with Hangar Two at this point."
While the city didn't have firm commitments for the $25 million shortfall, the mayor felt everyone at the Dec. 21 meeting agreed to find a way to complete the project.
"Nobody was committing to any specific amount," said Robinson. "But I think everybody was around the table saying, 'Okay. We understand in the next four years, we've got to figure out how to close this 25-million gap, and we've got to have sort of the commitments to it to know where we are by the end of March.'"
Mark Your Calendar Public Input Session-Economic Development: City of Pensacola Mayoral Transition Team member Brian Wyer will host a public input session regarding economic development at 7:30-9 a.m. on Friday, Jan. 11, in the Third Floor Conference Room of DeVilliers Square, 321 N. DeVilliers St.
Public Input Session-Engagement & Sustainability: City of Pensacola Mayoral Transition Team member Kristie Tobias will host a public input session at 9-10 a.m. on Friday, Jan. 11, in the Hagler Mason Conference Room, Second Floor of City Hall, 222 W. Main St.
Public Input Session-Economic Development: City of Pensacola Mayoral Transition Team member Brian Wyer will host a public input session regarding Economic Development at 11:30 a.m.-1 p.m. on Monday, Jan. 14, at Fricker Community Center, 900 N. F St.
Pensacola City Council will hold a CRA meeting and Agenda Review at 3:30 pm. On Monday, Jan. 14, in the Hagler Mason Conference Room, Second Floor of City Hall, 222 W. Main St.
Public Input Session-Finance, LOST, Legal: City of Pensacola Mayoral Transition Team members Bruce Vredenburg and Julie Sheppard will host a public input session at 3-4 p.m. on Tuesday, Jan. 15, in the Whibbs Conference Room, Pensacola City Hall, 222 W. Main St.
Community Input Session: The Mayoral Transition Team will host a general input session at 5-6 p.m. on Tuesday, Jan. 15, Asbury Place at Cokesbury Church, 750 College Blvd.
Public Input Session-Transparency: City of Pensacola Mayoral Transition Team will host a public input session at 5-6 p.m. on Wednesday, Jan. 18, in the Downtown Library, 239 N. Spring St.
Mayor Grover Robinson will hold his first town hall meeting at 5:30 p.m. on Thursday, Jan. 24, at the Woodland Heights Resource Center, 111 Berkley Dr.